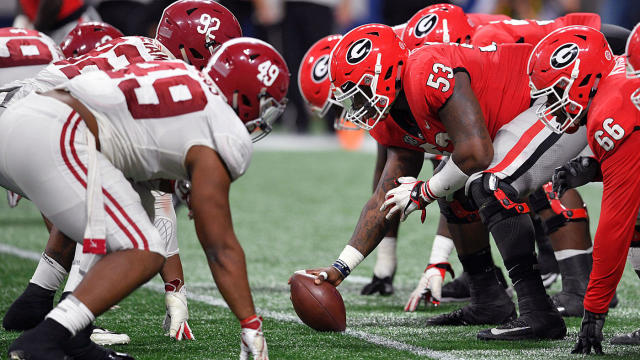 1. Georgia Bulldogs vs. 3 Alabama Crimson Tide: Sec Championship Game Preview and Prediction
The long-anticipated wait is almost over. The Alabama Crimson Tide and the Georgia Bulldogs will face each other in Saturday's Southeastern Conference championship game. The winner of this game is a guaranteed lock to qualify for the college football playoff. Georgia's historical defense has not faced a formidable threat for most of the season. The Crimson Tide will be the first opponent with talent on both sides of the football that can ruin Georgia's playoff hopes.
However, while Alabama may be a talented football team, 2021 has not been a kind year for the defending national champions. Alabama already has one loss on the season, which came against the Texas A&M Aggies, and have played in nail bitters with Florida, Arkansas, LSU, and Auburn. Their resilience to overcome adversity in those games has allowed them to reach another SEC championship game.
In previous years, Bama has steamrolled through their SEC East opponent in previous conference championship matchups. The only team from the East that has given them problems in the SEC title game has been Georgia. In 2020, Florida had a puncher's chance to win, but Alabama being sound in all phases allowed them to control the game's flow.
When facing the Bulldogs on Saturday, things are going to be different. Georgia's offense may not be as potent as the 2020 Florida Gators, but they still present a formidable challenge to Alabama's defense. The Tide's defense must get off the field on third down if they want to be successful on Saturday.
Georgia loves to extend drives with their offense and control the time of possession. They must take away those elements and make QB Stetson Bennett defeat them differently. As for the offense, the o-line must do a better job to protect their quarterback, Bryce Young.
Alabama's o-line has been highly touted as an NFL-ready unit over the past few years; however, they have looked far from it this season. Last week's Iron Bowl against Auburn showed how inept the group looked when facing a pass rush. Young was sacked seven times, and they averaged just 1.92 yards per carry. They also gave up 11 tackles for loss.
The way that Georgia's defense has terrorized quarterbacks this season, Alabama's inability to protect their man under center, could lead to an easy victory for the SEC East champions. As for Georgia, the game plan to defeat Alabama should be simple. As long as they continue to do what they have already done this season, they will have no issues taking down the Crimson Tide.
Unlike previous years, a quarterback that can manage the game's flow may be enough to knock off the defending SEC and national champion. Georgia must utilize their ability to extend drives which could wear out Alabama's defensive front. Their defensive line needs to put enough pressure on Bryce Young so that the offense can get the ball back and dictate and control the flow of the game.
Predicted Outcome
The team that can go up by at least two scores in Saturday's game will become the 2021 Southeastern Conference champions. Right now, Georgia is the better football team, and they will make things difficult for Alabama to knock them off in Saturday's matchup. The Bulldogs will advance to the college football playoff for the first time since the 2017-2018 season.
Georgia  38
Alabama 24
Show Your Support
Support the Strike 7 Sports platform's growth by heading over to Fanatics.com and purchase officially licensed fan gear from the NFL, NCAA, and the NBA. Each purchase made through the text link below goes into the funding of the Strike 7 Sports brand. To proceed, click on the text link below and begin shopping.
Licensed NFL, NBA, and NCAA Football Apparel Gear at Fanatics