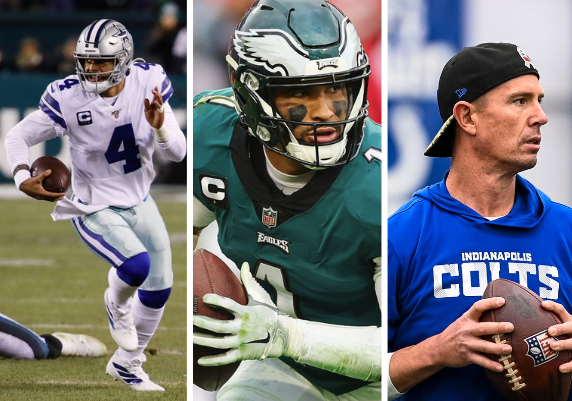 The NFL offseason was its usual wild self, meaning that the number of quarterbacks has either increased or decreased in fantasy value from where they stood at the end of the 2021 NFL season. Wide receivers were busy getting paid this offseason, and the likes of Tyreek Hill (Chiefs to Dolphins) and Davante Adams (Packers to Raiders) have made moves that shift the balance of power in their divisions. Here is a look at the 20 top fantasy quarterbacks for 2022 and their situations with the season just a few months away.
1 – Justin Herbert
Herbert has continued to improve in Los Angeles and tied Tom Brady to lead the league with nine 300-yard passing games last year. He has a cannon for an arm, and in the stunningly efficient Keenan Allen (five seasons of 1,000+) and Mike Williams, he has a pair of elite wide receivers to work with. Not much has changed for Herbert since the end of 2021, but with the fantasy studs he has in place – especially if Williams can increase his touchdown output – this isn't bad.
2 – Josh Allen
Allen has been the best fantasy quarterback (by most rankings) for the last two seasons, and there is no real reason to imagine a drop-off here. Allen has a unique dual-threat ability with his size and body type, allowing him to make contact that would crush most signal-callers. His rushing – third in yards, most in attempts – made up for a slight passing dip where his rating was 97.9 against 104.9 the season before. Look for Jamison Crowder in the slot to be a better version of the released Cole Beasley.
3 – Patrick Mahomes
The loss of Hill is terrible news for Mahomes' future owners. His awe-inspiring talent means Mahomes could still be the best passer in the league – having Travis Kelce at the tight end certainly helps – but without Hill, this will be a different offense. If Juju Smith-Schuster and Marquez Valdes-Scantling can combine to make the loss of Hill irrelevant, then Mahomes is still as good as there is, but that is a big question mark given how high Mahomes will be drafted in most formats.
4 – Tom Brady
The one-month retirement was all Brady needed to know to understand football is everything to him. At 45-years-old it makes no sense that he is so productive, but there are questions about the playmakers around him in 2022. Gronk is still MIA pondering his future, while Chris Godwin is on the mend from an ACL tear. Mike Evans is a legit WR1 about to have a massive season, but can Brady find the parts around him to remain an elite quarterback. I probably wouldn't bet against it.
5 – Joe Burrow
It will be interesting to see what the Bengals do with Burrow this season. The eight touchdowns in the last two regular-season games were fantasy gold, but in the playoffs, Burrow passed for just five touchdowns in four starts. He doesn't have much rushing upside, so Burrow needs to be Rogers-level efficient to be effective. Ja'Marr Chase will have to avoid the dreaded second-season syndrome, but in Chase, Tee Higgins, and the vastly underrated Tyler Boyd, Burrow does have the targets to hit as good as any in the league as a group.
6 – Matthew Stafford
Stafford threw 41 touchdowns last season in his first year with the Rams and first-year under creative – and offensively minded – head coach Sean McVay. The McVay/Stafford connection could even grow in 2022, and while back-to-back 40 touchdown seasons are difficult, it isn't hard to imagine Stafford improving in his second season on the West Coast. The main reason is his cast of wide receivers – led by the uncoverable Cooper Kupp – that was only improved in the offseason with the arrival of former Bear Allen Robinson. Robinson combined over 2,300 yards and 13 touchdowns in his middle two seasons in Chicago and will make an impact in LA.
7 – Aaron Rodgers
All you need to know about the insane chemistry between Rodgers and Adams is that they combined for 33% of Rodgers's touchdowns since 2016. Rodgers did at one point have similar chemistry with veteran Randall Cobb, but someone in that wide receiver room will have to break out in 2022. Allen Lazard is the obvious choice, while the always injured Sammy Watkins has been added via free agency. In addition, Rodgers might have to find instant chemistry with No. 34 overall pick Christian Watson to have anything like his usual fantasy value now that Adams is no longer in the building.
8 – Russell Wilson
This one is interesting. Russell Wilson made fantasy stars out of Tyler Lockett and DK Metcalf in Seattle, and now he moves to Denver to work with a couple of wide receivers with just as much talent. The QBs in the West (Herbert, Mahomes, Derek Carr) mean that the ball is always in the air, so that Wilson will see an increase in his possessions compared to last year. Courtland Sutton is high yards per reception merchant who Wilson will put over 1,000 yards this season, and Jerry Jeudy is about to find his switch clicked with a legit QB1 as Jeudy enters his third year in the league. The depth in Denver is untested. Expect that to change in 2022 with Wilson at the helm.
9 – Dak Prescott
Prescott is another quarterback short of talent around him because of salary cap issues. Losing the incredibly productive Amari Cooper at wide receiver hurt. Still, perhaps more destructive was losing a couple of offensive linemen, Connor Williams and La'el Collins, for no return. An offensive tackle with a giant project label (Tyler Smith) in Round 1 of the draft won't help much in Week 1, while Michael Gallup is hit or miss for the start of the season with an ACL tear. The Cowboys better hope that James Washington (former Steeler) and third-rounder Jalen Talbert hit the ground running.
10 – Lamar Jackson
Jackson hasn't been close to the same player he was when winning the MVP in 2019, but a bounce-back year isn't out of the question here. Jackson's ceiling is as high as any quarterback on this list because of his rushing volume (yards and touchdowns) and a passing volume that is increasing yearly. The issue for Jackson is that after the trade of Hollywood Brown to the Cardinals, there isn't much-proven talent on the roster at wide receiver. However, Jackson might not need it, as the 2019 team led the NFL in scoring without a single wide receiver breaking 600 yards through the air.
11 – Derek Carr
In 2021, Derek Carr overcame many issues with teammates and his former head coach off the field, leading the Raiders to the playoffs. Because of last season's accomplishment, the Raiders decided to acquire Carr's former college teammate, wide receiver Davante Adams from the Green Bay Packers. Adams will be joining an offense that features players such as tight end Darren Waller and wideout Hunter Renfrow. The upgrade in talent significantly raises Carr's stock when it comes to fantasy football. Without question, he will be an individual that you should consider to be QB1 material.
12 – Jalen Hurts
This is a make-or-break season for Hurts as a potential QB1 in fantasy. Adding A.J. Brown to the fold in Philly gives the former Alabama passer a legit No. 1 target, and as a result, the Eagles' offense will have to be more pass-heavy to make use of their new weapon. Hurts went for over 800 yards on the ground with ten touchdowns last season, and his dual-threat abilities give him serious upside. The question will be if he can keep up those rushing numbers in an attack that shifts to a focus through the air.
13 – Matt Ryan
After 14 seasons with the Atlanta Falcons, Matt Ryan has landed in Indianapolis to lead the Colts. It is ironic, therefore, that their entire wide receiver roster is slightly more experienced than Ryan on his own. The hope is that adding Ryan will tap the potential of the likes of Michael Pittman Jr., the injury-prone but talented Parris Campbell, and exciting rookie Alec Pierce. In addition, don't be shocked to see T.Y. Hilton back with the team to work with Ryan and give a veteran presence to the position later this offseason.
14 – Kirk Cousins
Cousins is an often-overlooked quarterback who always manages to outplay his initial value. His main targets both return – Justin Jefferson and Adam Thielen – and the most important piece of business in Cousins' offseason was when wide receiver coach Keenan McCardell was retained after the firing of head coach Mike Zimmer. This was the Vikings' best position group in 2021, and outside of veteran addition Albert Wilson, not much has changed. A viable No. 3 receiver would elevate Cousins on this list.
15 – Jameis Winston
Winston's fantasy value received a boost with the news that Jarvis Landry is now a Saint after returning to his birth state. Winston is working behind one of the best lines in the league, but the question here is all about the status of Michael Thomas. Thomas played just seven games in 2020 and had an injury setback that caused him to miss all of 2021 after ankle surgery. Thomas is one of the best in the game when healthy – in 2019, he went for 149 catches and 1,725 yards with Drew Brees as his quarterback – but it is hard to draft Winston without trusting Thomas will be healthy. These are your 2022 fantasy football QB rankings.
Quarterbacks 16-20
16. Trevor Lawrence
17. Carson Wentz
18. Tua Tagovailoa
19. Kyler Murray
20. Justin Fields
Show Your Support
Support the Strike 7 Sports platform's growth by heading to Fanatics.com and buying officially licensed gear from the National Football League. Each purchase made through the text link below goes into the funding of the Strike 7 Sports brand. To proceed, click on the link below and enjoy shopping over at Fanatics.