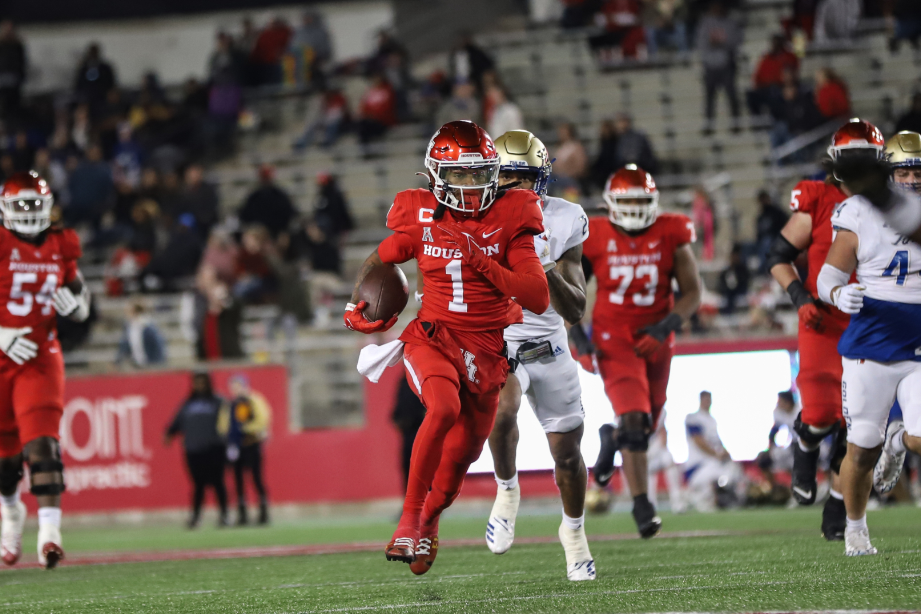 Everyone loves a great story, and there is nothing more remarkable in the NFL than a story about an under-the-radar player who became a prominent athlete and generational talent by overcoming the odds. Tom Brady is the best example of such a draft pick who became the best among the best despite being picked in the 6th round. There are countless other examples as well, including RB Terrell Davis (6th Round pick), Roger Staubach (10th Round pick), WR John Stallworth (4th Round pick), and many others.
In today's article, we are going to take the inherent traits and qualities of the 2023 NFL draft candidates who were dropped due to limited exposure, unforeseen injuries, or just bad luck at the big games or NFL pre-draft workouts and who might become one of the best in their respective fields.
Highlight the challenges that later-round prospects face in the NFL Draft process, such as the limited exposure they may receive compared to highly touted prospects or the pressure to perform at a high level during pre-draft workouts and interviews.
1. Nathaniel "Tank" Dell -WR- Houston
Nathaniel Dell is a perfect example of someone who cannot make NFL analysts happy despite giving his best four productive years in high school and college. Dell gave everything to his college offense. In 2022 seas, he caught 109 passes (leading in NCAAF) for 1,398 yards and 17 TDs. This was a step above his previous, where he also caught for 1,300+ yards with 12 TDs.
Dell's main issue was beyond his control, and that is, of course, his overall stature. Scouts believe he is too small as 5-9 and weighs only 163 lbs. This brought his overall grade down. His strengths in his scouting report say that he is an excellent straight-route runner. Dell's college coaches have told the accounts, and he can also be an ideal fit for someone looking to get a high-value draft pick for the slot receiver.

2. Rashee Rice -WR- SMU
Rashee Rice's had humble beginnings. He was only given a 3-star recruit rating right out of high school, which limited his scholarship options. However, at SMU, he gave everything and had great junior and senior years. Rice is going to be a fascinating pick at any level because he has the potential to become one of the best here. The biggest issue the scouts raised was that most of his yards and offensive productions came from a limited number of routes. Also, the scouts feel he is not yet ready for zone coverage.
On the other side, Rice coaches believe that Rice is a playmaker wideout who can fit into any scheme, whether curls, streaks, deep, medium, or short routes, and can create enough separation even to beat the zone coverage. His production grew every year in his college career, proving he is a genuine hard worker. With a decent NFL QB, Rice can become one of the best in the league.
3. Tucker Kraft -TE- South Dakota State
Everything around Kraft places him in the above-average category, and all his route-running abilities place him in the elite class. Kraft might get scooped up sooner than his current predicted draft value. The big issue that Kraft faced during his college career was that he played limited games, and even more than that, even in those games, he ran limited routes.
However, on the plus side, his strengths include his skill level as a pass and run blocker, and of course, he is equally great at short, medium, and deep routes. His coaches also told the scouts his 2022 injury is one of the reasons for his ranking drops; otherwise, Kraft would have been a tier 1 TE in the current draft class. Kraft will get drafted, which is undoubted because of his overall balanced presentation, but if he can get a good coach, OC, and of course, a decent QB, the sky's the limit for Kraft in his new NFL team.
4. Dalton Kincaid -TE- Utah
2022 was Dalton Kincaid's fifth and senior year, where he gave his best performance by catching the ball 70 times for 890 yards with 8TDs. Scouts believe Kincaid needs to be more flexible to become an NFL run or pass blocker. They also think he is a bigger slot receiver than a tight end, mainly because he ran most of his routes at the slot position. The positive notes from his reports are his ability to catch the ball with soft hands and his higher playing IQ. Kincaid can become a valuable addition to any team with little practice.
5. Siaki Ika -DL- Baylor
Siaki Ika is one example that gets into a pressured environment with impacted performance. After joining the LSU Tigers, Ika transferred to Baylor, which turned out to be a good decision because, in the 2021 season, he played in 505 snaps and had 3 QB hits, 24 QB hurries, and six sacks. In 2022 however, expectations got the best of him, and his performance dipped massively.
The biggest issue Siaki Ika has is missing tackles which also means too many QB escapes from possible sacks and RBs breaking the tackles. His positive reports include his ability to assess the situation and change his direction, having well-built and good hands, and making clean tackles. He will be an excellent fit for any defense that usually runs all-out blitz and generally plays 4-3 defense.
6. Hendon Hooker -QB- Tennessee
Hendon Hooker is a decent prospect who also had to transfer from Virginia Tech to Tennessee to prove his worth. Hooker is a 5-year starter whose 2021 and 2022 seasons were the most productive ones, putting him on top.
The issue often raised that has also impacted Hooker's draft value is that he gets sacked a lot because he holds onto the ball more than he should. Secondly, he tends to rush for yards when he breaks the pocket rather than run and throw the ball. 
Hooker's strengths include his quick-release passing ability, excellent acceleration, and speed. Hooker is a decent scrambler) and his elite accuracy at medium and short throws. Hooker is one of those prospects who are not considered 'A Day 1 starter', but he can progress to become an elite NFL QB. Given his draft position, any team struggling with the QB position should be able to draft Hooker.
7. Dorian Thompson-Robinson -QB-UCLA
Dorian Thompson-Robinson is another dual-threat QB ranked low despite having impressive stats and qualities. According to the NFL scouting reports, his most significant weaknesses are that he is shorter than most QBs, underweight, and has short arms and, thus, a wingspan and low strength. He is also considered mostly a running QB than passing, with average short, medium, and long passing abilities.
On the positive side, Thompson-Robinson is known to make rapid decisions. He is very athletic and flexible and can escape pocket pressure with ease. He also has good arm strength. Given the situation and the current draft class rankings, Thompson-Robinson is projected to be a middle-round pick. He will do well in an already-established offense for dual-threat QBs.
8. Kenny Mcintosh -RB- Georgia
Kenny Mcintosh had an impressive season in 2022, where he played in 13 games and rushed for 704 yards on just 138 carries with 5.1 YPG; he also caught 36 passes for 454 yards. Overall, he had 10TDs. Mcintosh is the kind of player who didn't get to become a top back which impacted his draft value. Mcintosh could be better as a pass protector, but he is a good rusher, especially in third-down and red-zone situations.
His primary strengths are catching the ball and recognizing the pass plays. He should be considered a decent wide receiver with good rushing ability. Mcintosh is projected to be drafted in the late rounds, so any team looking for a secondary RB or receiving RB should be able to get him and start him right away.
9. J.L. Skinner -S- Boise State
Despite having a fantastic senior year, JL Skinner failed to impress the scouts. As a senior in 2022, Skinner played an impressive 618 snaps and made 66 total tackles, 52 of which were solo tackles. He also had four interceptions and two pass breakups and impressively surrendered only a 37.8 QB rating when targeted. This alone puts him into elite-level figures; however, he has a few issues. He has problems breaking tackles, and RBs can break tackles around him; he also doesn't understand the routes in combination with other secondary, which can result in blown coverage. On a positive note, he is good at range and covering the wideout. He can play at an elite level and can recognize offensive plays, specifically when covering. He is projected to be drafted in the late rounds, so many teams can prepare him without giving much.
10. Tyjae Spears -RB- Tulane
If a team wants a great RB for a low price, then Tyjae Spears is a perfect candidate. Spears is equally good at rushing and breaking tackles and is an outstanding receiver. In the 2022 season, he ran for 1,381 yards on only 214 carries, scored 21 TDs, and had 21 receptions for 237 yards. He is also a decent pass blocker but needs to recognize blitzes and attacks from the edge rushers. However, despite his impressive stats, Spear is projected to be a third to fourth-round pick for a few easily fixable reasons. One of the reasons is that he is not built to get more yardage in traffic and must need open spaces to get the yards.
Another reason is that he cannot escape the fast rushers and gets tackled easily. Also, scouts believe that most of his productive yards have come against low-tier defenses. However, that's not true because Spears always plays amazingly well when faced with pressure and big nerve-wracking moments. He did great at the senior bowl. All of his qualities make him a very trustworthy RB.

11. Tanner Mckee -QB- Stanford
On paper, Tanner McKee looks like a classic and traditional pocket passer. He is 6'-6″ tall, weighs 231 lbs, and has an arm span of 32 7/8, making him a great-looking prospect; however, he was part of a team that failed on offense and defense, which hurt McKee's stock value. Stanford had one of the worst offensive lines, subpar receivers, and terrible defense, and they were down by lots of scores early on, which changed their game plans to begin the second half in most of their games. Despite his issues, McKee has received equal praise from the coaches and scouts.
He is excellent and accurate in short, middle, and deep throws; his perfect height and accuracy help him make tight throws in tight windows, he can break and throw on the run, and he is also familiar with the west coast system. He can be an excellent fit for any team looking to replace an aging QB in a few years, or if a franchise can surround him with enough talent, he can establish himself as a decent QB.
12. Brodric Martin -DT- Western Kentucky
After struggling for three years at North Alabama, Brodric Martin joined Western Kentucky, and that's when he got exposure to competitive football. In 2 years at Western Kentucky, Martin played 28 games, logged 871 snaps, and recorded 43 tackles, 30 pressures, 25 QB hurries, and two sacks. Overall, Martin is among the biggest in his class, with a height of 6'-5″ and weighing 337 lbs. Due to his initial struggling days in college, Martin's late development impacted his draft grades and ranking poorly. Overall he is a good option and may need some development. He is a rush-stopper and pocket-stuffer and can effectively play in 3-4 and 4-3 defense with any team.
13. Nick Herbig -LB- Wisconsin
Nick Herbig is an outstanding linebacker. However, this year's LB draft class is perfect, putting Herbig out of the top 10. Nonetheless, Herbig's state and qualities speak for themselves. In 2022 he played in 520 snaps and recorded 52 tackles, 34 QB pressures, 17 QB hurries, 6 QB hits, and 11 QB sacks. He is swift around the OTs. He is also great at angles. One of his weaknesses is that he can occasionally miss tackles which can result in big plays. Overall, he is above average in terms of wingspan, strength, and speed and just around average in height, weight, and tackling. Herbig may have to wait slightly more than he wants, but given his potential, he will be a great fit looking for a good LB with edge-rushing abilities.
14. Michael Wilson -WR- Stanford
Michael Wilson is another prospect who failed to make it into the notice crowd due to having team issues. Wilson has had more than a few instances where he seemed to have bad luck. He got injured during his college career. He also got to play less than he should have. However, he remained an above-average player during his time at the school. He is excellent at maneuvering and making cuts. He got a perfect combination of height, hands, size, and overall build. He will be an ideal fit for any team with a west coast or traditional offense.
15. Moro Ojomo -DL- Texas
Moro Ojomo is a great player with great potential to grow. He is considered one of the best DLs in run defense and very good at pass rush. Ojomo has played in over 1,600 snaps in college, so he has lots of experience. The former Longhorn is swift to recognize the plays and react accordingly.
He has a great build and plays well against the tackles and guards. Ojomo started as great in his early college days, but competition around him increased as time passed, and his overall rank dropped. Ojomo is projected to be a fifth-round pick. He can fit into any defensive scheme, and since he is very young, any team who already got a great DL can still draft Ojomo and develop him to become a great and talented DL and edge rusher.
Show Your Support
Looking for the ultimate sports streaming experience? Look no further than ESPN+! As a proud affiliate of Strike 7 Sports, ESPN+ provides exclusive access to top-tier sports content, including live events, original programming, and on-demand replays. And with every subscription, a portion of the proceeds goes directly to supporting the Strike 7 Sports brand.
That means by signing up for ESPN+, you're getting the best in sports entertainment and investing in the growth and success of your favorite sports brand. So why wait? Join the millions of sports fans already enjoying ESPN+ and support Strike 7 Sports at the same time. Sign up today!