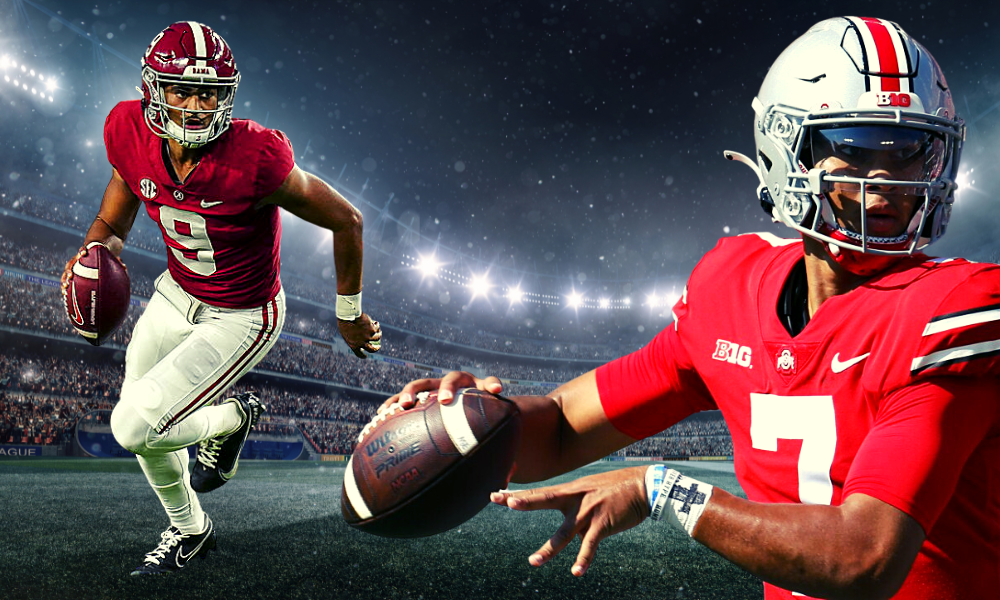 The Chicago Bears front office staff are going to have an interesting – and potentially franchise altering – time between now and the 2023 NFL Draft on Thursday, April 27. The consensus is that the Bears are set at the most valuable position on the field, with Justin Fields locked into place as their franchise quarterback. If the Bears front office is happy with Fields – and all the noise suggest they are – then they are sitting on the No. 1 overall in a class with as many as four quarterbacks projected to be taken in the top 10. Given the number of teams crying out for a franchise quarterback, that pick figures to be worth a ton in draft capital.
There have been several trades involving high picks to chase a quarterback. The most recent was in 2021 when the San Francisco 49ers traded the No. 12 overall pick and two future first rounders to the Miami Dolphins to jump up to the No. 3 position for Trey Lance. Any team coming from the bottom of the top 10 is going to have to put together a massive deal to get Chicago to budge. If they play their cards right – and scare them enough – the Bears might even be able to get the Houston Texans to send them the No. 2 pick and other considerations if the Texans fall in lover with a quarterback prospect.
I wouldn't expect any deal to be made until closer to the draft, but it is certainly a space that will be worth watching as the NFL offseason begins.
NOTE: There are only 31 picks in the first round this year as the Miami Dolphins forfeited their pick (which would have been No. 20 overall) in the fallout of their tampering scandal that involved Tom Brady and the agent for Sean Payton.
1. Will Anderson Jr. EDGE – Bears
If the Bears elect to stay put, then they have to go with the best available player at their biggest position of need. Their defensive line is brutal, so grabbing Edge rusher Will Anderson Jr. out of Alabama is the right move. Anderson had 27.5 sacks across his last two seasons with the Crimson Tide and at 6-foot-4 and 243 pounds he could walk onto an NFL field tomorrow and put-up double-digit sacks as a rookie.
2. Bryce Young QB – Texans
Odds are Young won't be here because of a trade into the No. 1 spot. If he is, however, then the Texans must grab him. There are going to be questions about his height and weight – he is listed as 6-foot and 194 pounds on the Alabama website but the NFL Combine is expected to tell a different story – but over thinking this would be foolish for the Texans.  Yong passed for over 8,000 yards and 79 touchdowns as a two year starter at Alabama. He has every intangible an NFL quarterback needs and is an immediate upgrade to an offense that saw Davis Mills throw 17 touchdowns to 15 interceptions in 2022.
3. Jalen Carter DT – Cardinals
The Cardinals need plenty of help and given that their head coach and general manager were both relieved of their duties after the 2022 season, the rebuild is on. The issue here is that quarterback Kyler Murray has a very specific skill set and an obnoxiously long (and expensive) contract. The Cards need to get younger all over the field, so taking the guy that some think is the best player in the draft would be smart. Carter is a freak athlete for his size that projects to be a double team magnet that will make everyone around him better.
4. CJ Stroud QB – Colts
Stroud was a beast in Ohio State's eventual loss to Georgia in the College Football Playoff semi-final. The Colts have worked through a revolving door of veteran quarterbacks ever since the sudden retirement of Andrew Luck and they really need a franchise guy to build around. A new head coach and new ideas will help, and with receivers like Michael Pittman Jr. already in place, there are worse places for Stroud to land than a franchise that has had luck with young quarterbacks (Luck, Peyton Manning) in its recent past.
5. Myles Murphy DE – Seahawks
The Seahawks – a 2022 playoff team – are picking this high because of the Russell Wilson trade that looks to have destroyed the Broncos for the next half of a decade. Coming into 2022 we would have expected quarterback to be the play her, but Geno Smith broke records in Seattle and seems to work incredibly well with head coach Pete Carroll. This is a team with options, though taking a center or safety this high would be unusual. Murphy fits as a versatile defensive lineman that might be a bit of a project but that has almost unlimited upside.
6. Bryan Bresee DT – Lions
The Lions are another team on the rise with a high pick in this draft thanks to a quarterback trade. They sent Matt Stafford to the Los Angeles Rams in a trade that worked out for LA – they won the Super Bowl last year – but also for Detroit after their Super Bowl hangover season saw the Rams collapse to 5-12 in 2022. Detroit's defense needs serious work – third-most passing and fourth-most rushing yards given up in the league – taking Bresee fills a huge need and gives them a massive presence on the interior of their defensive line to get after the quarterback (60 pressures in three years at Clemson).
7. Kelee Ringo CB – Raiders
The Raiders are (once again) a franchise in flux. Derek Carr has both feet out of the door, a disaster in a division where Patrick Mahomes, Justin Herbert, and Russell Wilson (he can't be as bad again in 2023) all reside. One option if to go quarterback here – Will Levis and Anthony Richardson are both still on the board – but the other is to get some talent to stop the air show in the AFC West. Ringo is a player that will fit the Raiders defensive system with his high speed and impressive length. This isn't a deep class at the cornerback spot, so if the Raiders want to take an athlete that can stay in the hip pocket of a receiver, then this might be their only spot to do so.
8. Anthony Richardson QB – Falcons
Does anyone really believe that Desmond Ridder is the Atlanta Falcons' quarterback of the future? Assuming the answer is no, then this is where the Falcons have to strike to get their next potential franchise passer. Richardson is beyond elite as an athlete. His arm is insane, and he runs a legit 4.4 40-yard dash while weighing 235 pounds. He is far from the finished article and he could use a season to sit and learn from a veteran. Talent evaluators will either love or hate Richardson and his dual-threat abilities, but if the Falcons fall in lover with his raw talent, then this is an easy choice at No. 8 overall.
9. Will Levis QB – Panthers
We currently have Will Levis as the No. 4 quarterback in this class and the Panthers, a quarterback needy team, will jump on him if he falls to No. 9 overall. Do not, however, be slightly shocked if a team falls in love with Levis during the NFL Combine and pre-draft workouts and he is taken much higher than this spot. At 6-foot-3, 235 pounds, and with an absolute cannon for an arm, the Kentucky Wildcats' quarterback is going to tick every scouting box. His 2022 season in Kentucky was a let down based on how 2021 went, but the measurables are going to speak for themselves.
10. Noah Sewell LB – Eagles
The Eagles had the joint best record in the NFL at 14-3 and they also get the final pick of the top 10 thanks to a trade with the New Orleans Saints during the draft last year that included a trade of first round choices. The Eagles need defensive help in the back seven and Swell – who would be the first linebacker off the board – fits their scheme. A tackling machine, Sewell had 215 tackles over three years at Oregon and is always around the ball. He projects as a three down linebacker thanks to his burst speed and instincts to always be around the ball.
11. Paris Johnson Jr. OT- Titans
The Titans have been attacking the NFL in reverse. While every other team in the league has expanded their passing attack, the Titans have doubled down on the run. While that has worked – it helps that Derrick Henry is a beast – it is hard to keep this sustainable. I wouldn't be shocked to see them go with an explosive wide receiver here – Quentin Johnson of TCU will be an option – but run or pass, the offensive line needs work. They will have their pick of the offensive tackles if the draft goes this way, and Paris Johnson Jr. will be their pick as he is widely seen as the best tackle in the draft.
12. Nolan Smith EDGE – Texans
The Texans have a second choice in the top dozen picks in this draft thanks to the Deshaun Watson trade that sent him to the Cleveland Browns. After taking Young with the No. 2 overall choice, the Texans need work on their lines on both sides of the ball. Grabbing an offensive tackle to protect Young is certainly an option, but I lean to them addressing their shortcomings in the pass rush game. Smith tore his pec in late October, but the 6-foot-3, 235-pounder has serious potential as a pass rush specialist in the NFL. The potential is there with this pick, but Smith will have to develop his pass rushing skills in Houston to match his speed/size combination.
13. Brian Branch SAFETY – Jets
The 7-10 Jets certainly have questions at quarterback as they decide if Zach Wilson is the guy or not. Spending their top pick on an offensive lineman to protect Wilson is certainly an option, but the value in taking Branch here might be too good to pass over. The Jets already have a nasty, young secondary with Sauce Gardner exploding onto the scene at cornerback after being taken No. 4 overall last year. Branch might be the most talented defensive back in the entire draft and he would bring his hardnosed, instinctive style of play to New York at a position of need.
The Pats are another team that need to develop a more explosive side to their offensive attack. Mac Jones proved at Alabama that with the right weapons he can be effective, and adding Johnson is the first piece to that puzzle. They could also go offensive line or defensive back here, but to see what they have in Jones long term they must put him in a position to succeed in 2023. Johnson has been projected as high as No. 6 to the Lions on the back of a season where he had 60 catches for 1,069 yards for the Horned Frogs.
15. Jordan Addison WR – Packers
The offseason question for the packers will be what Aaron Rodgers decides to do with his future. If his option is to return – and at this point it really could go either way – then they need to find Rodgers a weapon to compliment last year's top pick Christian Watson out wide. A tight end like Michael Mayer of Notre Dame could be an option, but the lean here is a true wide receiver. Addison was a monster at Pitt two years ago when he caught 100 balls for over 1,500 yards and 17 touchdowns. The former Biletnikoff award winner is the type of receiver that would give Rodgers a game breaking target from his first day on the job.
16. Joey Porter Jr. CB – Commanders
The Washington Commanders were a nice surprise in 2022 as they were in playoff contention until the final weeks of the season. They are in a loaded division – every other NFC East squad make the playoffs – and picking at No. 16 is a problem as their biggest issue is at a position where there is no obvious choice at this point in the draft. They clearly don't want to stick with Carson Wentz or Taylor Heinicke at quarterback, but the drop off after the top four quarterbacks are off the board is huge. If they stay at No. 16 then adding a piece to their secondary like Porter Jr. will compliment an already outstanding defensive front.
17. Pater Skoronski OL- Steelers
Mike Tomlin continued his absurd streak of never having a losing season as the head coach of the Pittsburgh Steelers with a coaching masterclass in 2022 that has largely gone under the radar. The Steelers have more holes than you would think for a team picking at No. 17, but their first order of business must be improving an offensive line that was below par in 2022. Peter Skoronski just sounds like a player meant for the trenches in Pittsburgh and his Pro Football Focus grade of 93.0 in pass blocking situations was the best in all of college football among offensive tackles last season.
18. O'Cyrus Torrence OL- Lions
After going defensive line with their first pick (No. 6 overall) the Lions have a few options here. The need help in the defensive backfield, while if one of the quarterback prospects were to start falling then trading up would be an option. The gut is that they want to build from the lines back and if that is the case then they could go with an interior lineman here. Torrence is a beast in the run game, one with an ideal combination of natural strength and work ethic, and a player that Detroit can develop into a Pro Bowl level offensive guard.
19. Tyree Wilson DE- Bucs
The Bucs are another team with a quarterback question mark as Tom Brady considers his future and the only passer under contract for 2023 at this point is Kyle Trask. This might have to be address In free agency – there simply isn't a worthy quarterback at this spot – so expect the Bucs to go with a player to address some of their defensive issues here. Tyree Wilson is a massive human – 6-foot-6, 275 pounds – who grades out as No. 10 on PFFs big board. That type of value will be hard to pass up at this point in the draft and the Bucs would get an instinctive pass rusher who has eight sacks in 2022.
20. Antonio Johnson SAFETY – Seahawks
After selecting a pass rusher with their first pick in Round 1, Seattle has options here. Needs at center, safety, and linebacker remain, and Antonio Johnson is a value pick here that addresses one of those needs. The first-team All-SEC safety is a 6-foot-3 Swiss Army knife of a player. He can work as either a safety or nickel in the NFL and has the versatility to move between those spots to create positive matchups for the Seahawks on defense. Coaches want impact players on defense in Round 1, Johnson is that type of player.
21. Broderick jones OL – Chargers
The Chargers are another team that are solid in the skill positions and the back seven defensively, but they need help on the lines for both sides of the ball. Broderick Jones is projected to be the first tackle off of the board by some scouts, so if he is still around and No. 21 this one is a no-brainer for the Chargers. Jones was an All-SEC tackle this past season and he took 439 pass blocking snaps this season without allowing a single sack on his quarterback.
22. Jaxon Smith-Njigba – Ravens
This is a case of outstanding value meeting major need. The Baltimore Ravens are crying out for an explosive playmaker at wide receiver, a player that is able to get open and take the pressure off of Lamar Jackson, decreasing the need for Jackson to run the ball. Smith-Njigba only had five catches in 2022 as a hamstring injury kept him off the field, but he holds the Ohio State record with 1,606 receiving yards in a single season (2021). Any player that is compared to Justin Jefferson in the pre-draft evaluation process is clearly talented, and the Ravens are dead last in the league in receiving yards over the last three seasons. This one just makes sense.
23. Christian Gonzalez CB – Vikings
The 13-4 Vikings have a lot to be excited about with the direction their football team is heading. If the draft plays out like this, then they will have the player that some consider the best cornerback in the entire class falling to them right at the bottom of Round 1. The Oregon Duck is big for a cornerback – he is listed at 6-foot-2 and 200 pounds – but don't let that size fool you into thinking he is a clunky runner. Gonzalez is smooth with his coverage, and he has the added bonus of size and strength to be able to jam a receiver at the line of scrimmage, completely ruining timing patterns.
24. Jordan Battle SAFETY- Jaguars
The Jags were a great story in 2021 and they have cornerstone skill position players on offense at quarterback and running back in Trevor Lawrence and Travis Etienne. A pass catching tight end would give Lawrence the safety blanket he needs, but the Jags main issues in 2023 look to be in the secondary. Jordan Battle is another defensive back off of the Alabama production line and he is a tackling machine (71 last season) who is NFL ready. At 6-foot-1 and 210 pounds he would be a menace in the AFC South.
25. Kayshon Boutte WR – Giants
The Giants have decisions to make on offense with skill position players including quarterback Daniel Jones, running back Saquon Barkley, and wide receivers Sterling Shepard and Darius Slayton all scheduled to be free agents. Add in Kadarius Toney leaving mid-season to join the Kansas City Chiefs, and you have a clear area of need developing. Kayshon Boutte is a player that has risen on draft boards across the league, with the former five-star prospect expected to turn heads at the combine. Boutte is more potential than production to date because of injury and a slice of off-field drama, but there is no doubting the talent.
26. Jarrett Patterson OL – Cowboys
The Cowboys have a big time need at guard and Notre Dame prospect Jarrett Patterson could be their answer. The vastly experienced Patterson was a four-year starter with the Fighting Irish, and he would bring a touch, no-nonsense attitude to the Cowboy'' offensive line. Dak Prescott takes way too many hits and Patterson is a natural leader who wins his one-on-one battles with his technique and understanding of the game. It isn't a flashy pick, but it is the right one for Dallas given their questions on the offensive line.
27. Bijan Robinson RB – Bills
We are down to pick No. 27 before the first running back comes of off the board which says plenty about the value of that position in today's NFL. The Bills are another team with the talent and depth to pick based on value as opposed to need, and Bijan Robinson would give then another running back to add to their stable to (ideally) take some of the rushing workload off of quarterback Josh Allen. Robinson is an elite pick and one of the top 10 players in the draft, but his position tanks his stock. He is a steal at this point in the draft.
28. Steve Avila OL- Bengals
At this point in the draft the teams picking have few holes so they can draft for depth and value. Steve Avila would be just that type of pick for the Bengals as he is a vastly experienced interior lineman with experience playing both center and guard at the Power Five level. A massive player – especially for an interior lineman – Avila is 6-foot-4 and every bit of 330 pounds. That natural strength and leverage is something that is unique at the center position and with the right coaching he has a chance to be a start for a decade in the league..
The Broncos need a ton of help, so trading Bradley Chubb and a fifth rounder in 2025 to the Miami Dolphins for this pick that originally belonged to San Francisco made a lot of sense. There is a lot of work to be done on the offensive line – you could argue that the Broncos need at least one tackle, guard, and a center – but replacing the pass rush threat of Chubb is also a major option. Ojulari has NFL size coming out of LSU and a quick first step that is going to see him get plenty of pressure on opposing quarterbacks. Chubb was only traded because his contract was running down, so this would be a solid replacement choice.
30. Jalin Hyatt WR – Chiefs
The Chiefs use of tight end Travis Kelce and running back Jerick McKinnon often hides the fact that they are still trying to replace Tyreek Hill at wide receiver. Offensive tackle could certainly be an option here if Orlando Brown Jr. isn't resigned, but with Mecole Hardman (likely gone) and Juju Smith-Schuster (might stay) as free agents, an outside pass catching stud could be the option. Skyy Moore hasn't yet worked out, so Jalin Hyatt could be the choice here as a 6-foot-0, 180 pound receiving option that Andy Reid could scheme for in his elite offense.
31. Cam Smith CB – Eagles
We projected that the Eagles would go cornerback with the No. 10 overall pick and we are doing the same here with their final pick of the round. Cam Smith is simply too good to fall out of the first round and with James Bradberry likely to be out of the door in free agency, the Eagles could use a pair of cornerbacks to work with. Smith had 14 pass breakups and four interceptions on 70 passes targeted in his direction over the past two years and he is a player that scouts project to have a high ceiling thanks to his speed and coverage skills.
Show Your Support
Support the Strike 7 Sports platform's growth by heading to Fanatics.com and buying officially licensed gear from the National Football League. Each purchase made through the text link below goes into the funding of the Strike 7 Sports brand. To proceed, click the link below and enjoy shopping at Fanatics.