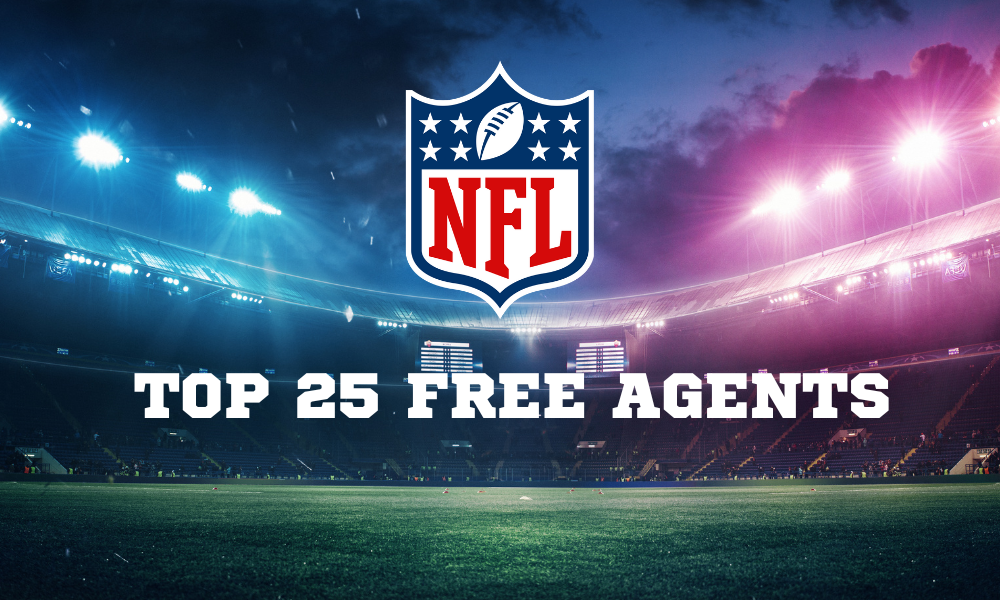 The 2023 NFL free agency class is packed with talented players who have the potential to make a significant impact on their current or future teams. From quarterbacks to running backs to defensive stars, this year's crop of free agents has something for everyone. Here is a breakdown of the top 25 NFL free agents for 2023 in order of their potential impact.
1. Lamar Jackson
It doesn't get mentioned a lot, but one area where the Baltimore Ravens miss the mark is that they do not adequately set their quarterbacks up for success. They can change that narrative by signing Lamar Jackson to a new deal that will reset the market at QB.
2. Derek Carr
The team will be good wherever Carr goes, especially in the NFC South. So far, he's met with the New Orleans Saints and the New York Jets.
3. Javon Hargrave
With QB Jalen Hurts new deal on the horizon, the Eagles will not be able to pay everybody. Does that mean Hargrave is the odd man out? If so, he will have a lot of suitors.
4. Josh Jacobs
The Raiders did not pick up Josh Jacobs the fifth year before the 2022 campaign started. So, Jacobs went out and rushed for a career-high 1,653 yards and 12 touchdowns on 340 carries. The ball is now in the Raiders' court to decide if the former Alabama standout is in their plans.
5. Saquon Barkley
So, will the Giants cave into the reported demands of quarterback Daniel Jones wanted $45 million, and not pay Saquon Barkley? They'll' quickly discover how valuable Barkley's' skillset is to the team.
6. Tremaine Edmonds
Tremaine Edmonds is heading into the prime of his career. But does Buffalo extend Edmonds or apply the franchise tag?
7. Chauncey Gardner-Johnson
The Eagles gave up nothing in return for acquiring Chauncey Gardner-Johnson from the New Orleans Saints. CGJ assumed the role of safety during his stint in Philadelphia, and it paid off. He was in a three-way tie for the lead in interceptions this season.
8. Jessie Bates III
All signs pointing towards Jessie Bates are not part of the fold in the future for the Cincinnati Bengals. He started the season a little sluggish but later picked up steam as the season progressed.
9. Miles Sanders
Going into the 2023 NFL Draft, the Eagles will have many picks to select a running back. But does that mean the end is near for Miles Sanders? In 2022, Sanders posted a career-high 1,269 rushing yards and 11 touchdowns.
10. Jimmy Garoppolo
It's' for real this time. The 49ers are finally moving on from Jimmy Garoppolo. However, he will have suitors waiting to sign him. Teams are desperate, and the current landscape of the NFL is supply and demand, especially at the quarterback position.
11. Geno Smith
Who would have thought Geno Smith would be on any publication's top free agency list? Yet here he is. Smith posted career-highs in passing yards (4,282) and touchdown passes (32). He also capped off his 2022 season with a playoff appearance with the Seahawks. I don't see Pete Carroll allowing Smith to walk and pursue outside offers.
12. Dalton Schultz
Shifty tight end that knows how to get open and make plays passing game. Quarterback production will determine how effective he will be at his next stop.
13. Tony Pollard
So if you are Dallas, do you apply the franchise tag or find another version of Tony Pollard in the draft? The former Memphis Tigers had asserted himself as a vital cog in the Cowboys offense in 2022. Unfortunately, he suffered a broken left leg and a high ankle sprain in the playoff game against the 49ers. He is expected to be ready for camp, but a market will be available if the Cowboys decide to move on.
14. Jason Kelce
Without question, Jason Kelce is the best center in the league right now. Despite his age, Kelce still produces at an exceptionally high level.
15. James Bradberry
James Bradberry spent only one season with the Eagles, which was impressive. He played an intricate part in how aggressive the defense was to opposing wide receivers. Don't expect the Eagles to re-sign him, but other teams will be interested in his services. Cornerback is a position that will continue to be high in demand.
16. Evan Ingram
After a nonexistent market in 2022, tight-end Evan Ingram signed a one-year deal with the Jacksonville Jaguars. The decision to sign with Jacksonville paid off, as Ingram posted a career-best 766 receiving yards and four touchdowns.
17. Jamel Dean
Despite experiencing some injury setbacks, Dean possesses excellent coverage skills and excels in man-to-man coverage. At 26, he is still young and has much potential, making him an attractive option for teams searching for a talented cornerback.
18. David Long Jr.
Despite missing the season's final four games, David Long is coming off his best season as an NFL linebacker. He's a dynamic playmaker at the position and has proven efficient in coverage situations.
19. T.J. Edwards
His output at the Super Bowl did not reflect his stellar season in which he recorded a career-high 160 tackles and two sacks. Without question, there will be a market for his talent. The Eagles front office can go either when it comes to Edwards.
20. Jakobi Meyers
As a critical player in an offense that lacked passing options, Meyers was relied upon as the primary target on the perimeter. Meyers hauled in 67 receptions in the previous season and scored six touchdowns despite the limited passing opportunities.
21. Allen Lazard
With Davante Adams out of the fold in Green Bay, Allen Lazard became the Packers' top receiver. But if a team outside of Green Bay signs him to a new deal, will he become their number one or two option as a wideout?
22. JuJu Smith-Schuster
Playing as an inside receiver, he performs crucial work in the center of the field with great competence. Despite being on a one-year contract with the Chiefs, he accumulated an impressive 78 receptions during his time with the team.
23. Marcus Davenport
If a team can sign Davenport on a short one to a two-year deal and he takes off, they will have a cornerstone player for the next decade. He's only 26.
24. Orlando Brown
Having been a dependable player at the left tackle position throughout his career, he has consistently demonstrated his value to his team. Although he played on a franchise tag last season, his future with the Chiefs remains uncertain. At 27 years of age, he is currently in his prime, yet it remains a question of how much a team should pay for a good but not necessarily great player. Should the Chiefs opt to tag him again or seek out other alternatives? Only time will tell.
25. Jawaan Taylor
After his impressive performance as the team's top offensive lineman last year, having had his best season to date, it would be prudent for the Jaguars to re-sign him. Despite several subpar seasons earlier in his career, he made significant progress in his fourth year.