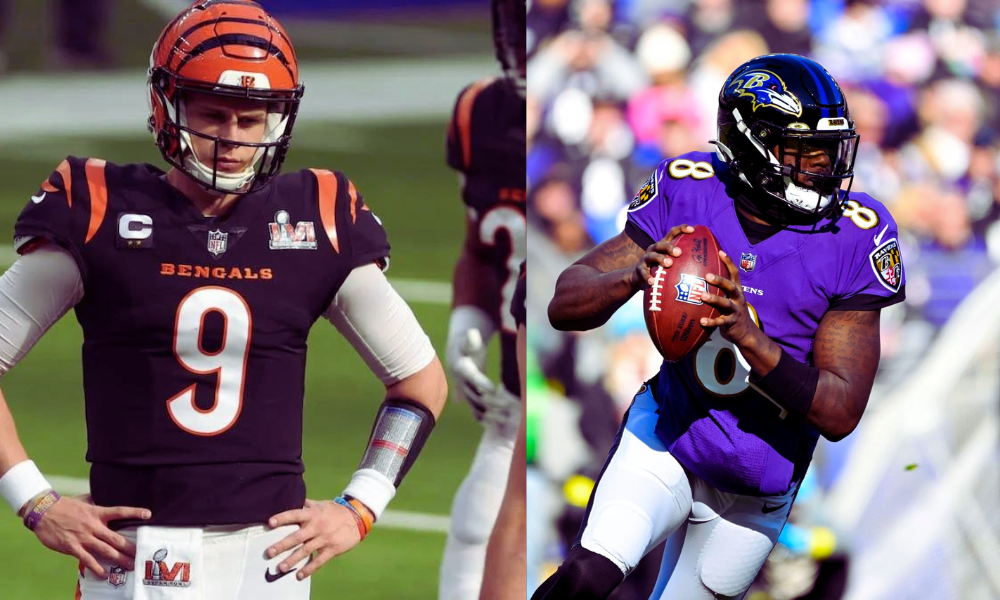 A seismic shift has occurred in the AFC, establishing it as the premier destination for the National Football League's most talented quarterbacks. Gone are the days when the conference was dominated by a duo of legends like Tom Brady and Peyton Manning. Today, each division within the AFC boasts formidable quarterbacks capable of single-handedly carrying their teams to victory. In the AFC North alone, an arsenal of four dynamic playmakers—Lamar Jackson, Joe Burrow, Deshaun Watson, and the promising rookie Kenny Pickett—showcase their skills. Pickett, who concluded his debut season on a high note, adds to the already intense competition. As we delve into our rankings for the top 10 AFC quarterbacks for 2023, it becomes clear that the chances of facing these signal-callers in a Super Bowl showdown are extraordinarily high, particularly with our top four choices at the helm.
1. Patrick Mahomes: Kansas City Chiefs
Patrick Mahomes is a generational talent who has emerged as the definitive measuring stick for NFL quarterbacks. With legendary names like Manning, Brees, and Brady belonging to the past, Mahomes has set a new benchmark, pushing the boundaries of what was previously considered possible. Since entering the league, he has delivered an astounding 192 touchdowns against just 49 interceptions with a QB rating of 105.6. In 2022 he threw for an impressive 5,250 yards and 41 TDs at a completion rate of 67.1%, and despite other great contenders, Mahomes was unanimously selected MVP. The departure of speedster Tyrek Hill couldn't shake anything in terms of offense. So, there is no doubt that 2023 will also be a very similar year, and Mahomes will continue to shine and keep breaking records. It is indisputable that Patrick Mahomes rightfully claims the top spot in all NFL QB rankings as we enter the 2023 season.
2. Joe Burrow: Cincinnati Bengals
In his third year, Joe Burrow solidified his place among the elite group of quarterbacks. However, the Cincinnati Bengals must address their ongoing issue with pass protection, specifically their offensive line. Once again, in 2022, Burrow faced the challenge of an inconsistent line, further compounded by the absence of his top receiver, Ja'Marr Chase, for a significant portion of the season. Despite these obstacles, Burrow showcased remarkable resilience and adaptability, leading the Bengals to impressive victories with 35 or more points on the scoreboard in two out of three games.
When the Bengals' offense operates at its peak, Burrow's brilliance shines through, solidifying his status as one of the league's premier quarterbacks. Overall, Burrow tallied 4,475 passing yards, 35 touchdowns, and only 12 interceptions. Over the past two years, Burrow has repeatedly proven his ability to perform under pressure, despite inconsistent protection and missing key players. As we look ahead to 2023, expectations are high for Burrow's return to form, with an improved offensive line, a fully healthy receiving corps, and a burning desire to become the next Super Bowl champion.
3. Josh Allen: Buffalo Bills
Josh Allen has turned the Bills franchise around with his accomplishments in just five short years after being drafted by the Buffalo Bills in 2018. Every year he plays amazingly well, and 2022 was no different. Allen threw for 4,283 yards and 35 TDs, and he also rushed for 762 yards and seven running TDs. Allen has a rare ability to be a completely balanced dual-threat quarterback. He can place the ball anywhere on the field with great accuracy. Because of Allen's capacity, the Bills were once again able to win their division with a record of 13-3. In 2023 we can expect Allen to continue his terrific form and go head-to-head with the other teams of the AFC East, all of which are expected to be better this season.
4. Lamar Jackson: Baltimore Ravens
Lamar Jackson undoubtedly holds the title of the fastest quarterback in the league, effortlessly eluding sack and pocket pressure to gain crucial first downs. Moreover, he has proven himself to be an accomplished passer. Despite injuries, Jackson delivered above-average performances during the 2022 season. He threw for 17 touchdowns while adding 764 rushing yards and three touchdowns on the ground. Although his passing game may not have reached the same level of explosiveness, evidenced by a slight dip in completion percentage, it's crucial to recognize that Jackson remained the driving force behind the Ravens' offense. The lack of offensive options, exacerbated by Mark Andrews' injury, placed a significant burden on Jackson to carry the team.
As Jackson enters the 2023 season fully recovered and surrounded by a stronger supporting cast, anticipation builds for his return to the field. Fans can expect him to captivate with his dynamic playstyle again, leaving defenders in his wake and creating ample opportunities for the Ravens' offense to thrive. The Ravens' prospects for a successful and thrilling season are undeniably rising, with Jackson leading the charge.
5. Trevor Lawrence: Jacksonville Jaguars
Trevor Lawrence's transformation from a rookie to his second year under center was good enough to make him a franchise-level QB. At only 23 years of age, Lawrence showcased significant progress in his second NFL season, starting the year with great promise. Although he experienced some ups and downs in the subsequent weeks, he regained momentum by delivering an impressive performance during Weeks 9 to 12, completing an outstanding 76.8% of his passes. The lessons learned from both his successes and challenges will contribute to his overall growth and improvement. With each passing game, Lawrence inches closer to reaching his full potential, poised to make a lasting impact in the league. He has been known to be a hard worker, and if everything works in favor, expect Joe Burrow's level performance from Lawrence which automatically puts him on the 2023 season's MVP candidate's list.
6. Justin Herbert: Los Angeles Chargers
After experiencing two seasons of falling short, Justin Herbert finally steered the Los Angeles Chargers to the postseason. Unfortunately, their journey came to a sudden end with the biggest second-half collapse in NFL postseason history, as the Jacksonville Jaguars rallied to a 31-30 victory. Undeterred by this setback, Herbert and the Chargers swiftly turned their attention to the upcoming season. The pressure is mounting for Herbert and his head coach, Brandon Staley, who face heightened expectations to advance beyond the wild card round in 2023. Fortunately, Herbert will be surrounded by an exceptional supporting cast, making his job easier.
The talented running back Austin Ekeler will be in the backfield, while a formidable group of receivers including Keenan Allen, Mike Williams, rookie Quentin Johnston, and Joshua Palmer will pose a significant challenge to opposing secondary's. As for Herbert's individual performance, he continues to showcase why he is considered one of the league's most polished passers. The former first-round pick concluded the year with impressive numbers, tallying 4,739 passing yards, 25 touchdowns, and 10 interceptions.
7. Aaron Rodgers: New York Jets
Aaron Rodgers's performance took a nosedive in 2022. It was no way near the MVP performance that he displayed in 2021. The Packers would've had the receiving issues. Still, even with that, throughout the season, Rodgers struggled to establish a cohesive connection with his playmakers, resulting in subpar performances and an underwhelming output in terms of passing yardage, marking a departure from his typically well-established standards. Rodgers was only able to throw for 3,685 yards and 26 TDs. But generally known for very accurate throws, Rodgers threw for 12 interceptions. Perhaps requesting a trade was a good decision for everyone.
Now that Rodgers is with the New York Jets and has very talented receivers, we can expect him to reclaim his former self and become one of the most efficient and accurate signal callers. The challenge ahead for Rodgers is clear: he must prove himself again, both to the skeptics and to himself. However, with the right mindset, the guidance of his trusted coach, and the support of a talented roster, Rodgers can write another inspiring story, and we all love such stories. Geno Smith's story is a perfect example of such a story. The Jets and the whole AFC East will be interesting to watch in 2023.
8. Tua Tagovailoa: Miami Dolphins
Tua Tagovailoa went from being called a draft bust to becoming a franchise QB in just one season, even though he had some injuries to deal with. The Dolphins did much off-season work, which paid off for Tagovaliloa. He got tremendous help from two explosive wide receivers who made it into the top 10 for receiver statistics. Tyreek Hill was close to winning the receiving title, missing out by only about 100 yards. The excitement and craziness on the field were out of this world. It was impossible to ignore! That kind of offensive power is coming back in full force for the 2023 season, no doubt about it.
But here's the real key to Tagovaliloa's success in the long run, and it's that he needs to take care of his physical well-being. Like any other quarterback (or an athlete), staying healthy is essential to keep performing at your best. Tagovaliloa needs to avoid injuries and look after his body. If he can do that, he can confidently step onto the field week after week. He'll show off his impressive skills and lead his team to greater success.
9. Deshaun Watson: Cleveland Browns
Last year Watson looked rusty. He didn't look like his former self, and being away for a couple of years has impacted his gameplay. However, in terms of sheer talent, Deshaun Watson undoubtedly possesses the skills to be ranked among the top ten AFC quarterbacks. Whether due to personal issues, a lack of practice, or adapting to a new offensive system, Watson's struggles were evident during his six starts last season. It's difficult to envision him performing any worse than what we witnessed. Nevertheless, the upcoming 2023 season presents a golden opportunity for Watson to make a swift ascent and reclaim his position among the league's elite quarterbacks. However, he must prove himself on the field before regaining his status.
10. Russell Wilson: Denver Broncos
The highly anticipated debut of nine-time Pro Bowler Russell Wilson at Denver turned out to be a disastrous affair. Despite the team's overall offensive strength, Wilson struggled in most games, leading to disappointment. However, Wilson now has another chance under the guidance of the new head coach, Sean Payton. As he enters his 12th NFL season, Wilson faces immense expectations, carrying the weight of a substantial contract and the hopes of an entire franchise. The disappointing start in Denver may have raised doubts about Wilson's ability to justify his significant price tag. However, Payton's arrival instills renewed confidence that a resurgence is on the horizon.
Although challenges lie ahead, Wilson has the opportunity to prove his resilience, leadership, and ability to perform under pressure in the upcoming season. The renewed optimism surrounding Wilson's future is palpable, and the entire organization eagerly anticipates his resurgence as an elite quarterback. The Denver faithful eagerly awaits the start of the 2023 season, understanding that the journey ahead may be filled with obstacles. Yet, with everything in place, the team united in support, and there is genuine belief in the potential for significant success.
Honorable Mention: Jimmy Garoppolo
Jimmy Garoppolo has returned to the AFC, joining the Las Vegas Raiders following a highly successful tenure with the San Francisco 49ers. Throughout his career, Garoppolo has enjoyed a considerable amount of success, boasting an impressive win percentage of approximately 70%. While victories alone do not provide a comprehensive measure of a quarterback's skill, in Garoppolo's case, they do shed light on his cautious and calculated style of play. His ability to consistently avoid turnovers has proven invaluable, particularly in guiding his team to two NFC championship games. What adds to the excitement is Garoppolo's reunion with coach Josh McDaniels, as they come together once again to contribute to the Raiders. Furthermore, Garoppolo is greeted with a remarkable Pro Bowl receiving corps eagerly awaiting his arrival in Las Vegas. It serves as the icing on the cake, further enhancing the potential of the team's offensive capabilities.