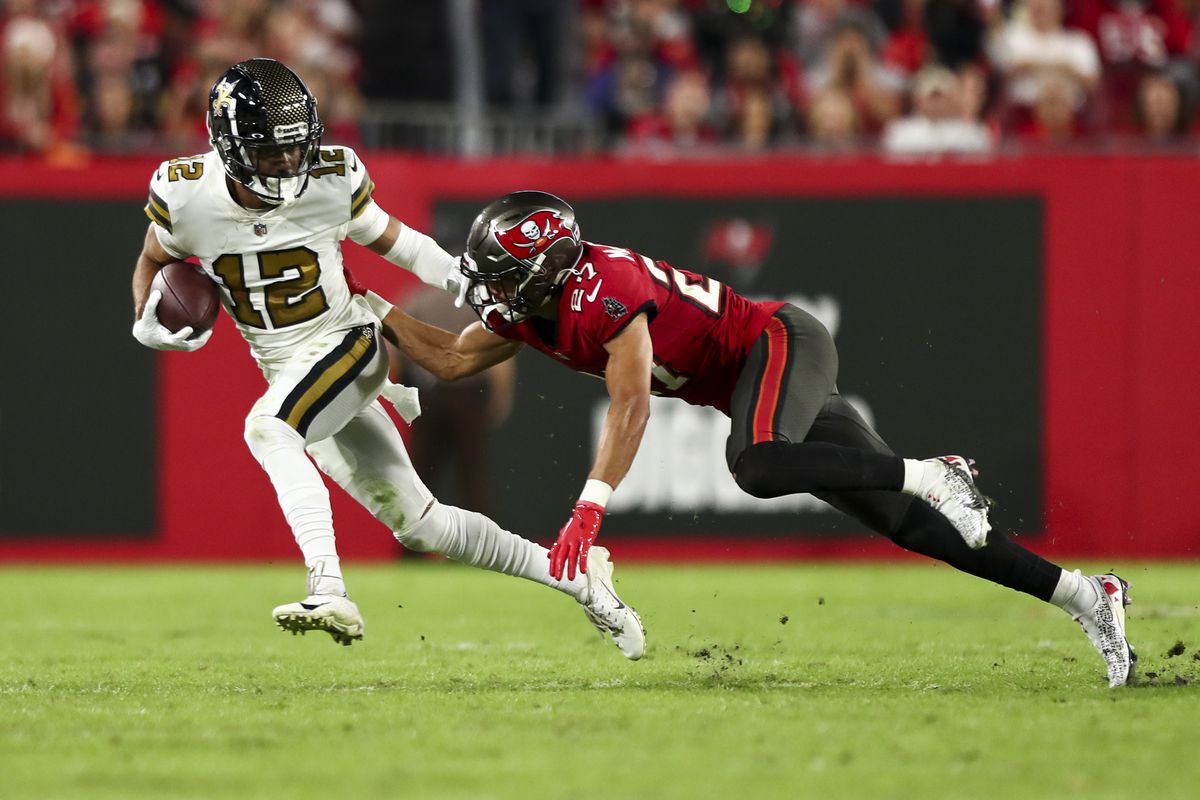 The 2023 NFL free agency period has been a proverbial movie as big-name players such as Orlando Brown, Darren Waller, and Jalen Ramsey have new teams. There's no secret that many NFL franchises have made their presence felt during this period. However, few franchises have significantly impacted more during this free-agency period than the New Orleans Saints.
With the draft less than a month away, there is no doubt that there is a shift in the New Orleans Saints' approach to the upcoming draft because of their moves. At best, the New Orleans Saints QB situation was shaky heading into free agency. However, they solved that issue by signing Derek Carr to a four-year deal.
Additionally, the Saints needed to address the running back position since it is highly probable that Alvin Kamara will be suspended. They signed free agent Jamaal Williams to a three-year, 12 million deal.
Given that Jamaal Williams had a 1,000-yard season and had a league-leading 17 rushing touchdowns last season, this was a great pickup at a low price for the Saints. The Saints move heaven and earth to address their defensive line by signing free-agent defensive tackles Nathan Shepherd and Khalen Saunders. Saunders is an excellent run-stopper with 3.5 sacks last year for the Chiefs.
By addressing the QB, RB, and DT positions in free agency, the New Orleans Saints can focus on addressing the linebacker position in the upcoming draft.
There is no doubt that Pete Warner has made an impact at linebacker, with 92 tackles in his first two seasons in the league. However, he has missed quite a few games due to injury. Demario Davis has been a steady presence at LB, as he had another 100-tackle season last year for New Orleans.
However, he is not getting any younger. Some more depth at linebacker is needed to compensate for the injury-prone Pete Warner and the aging Demario Davis. The Saints have the 29th pick in the draft. It has been projected in mock drafts that Arkansas LB Drew Sanders may be a late first-round pick. Saints' fans should hope that Sanders should fall to 29. This would shore up their linebacking corps.
New Orleans also made the wise decision of re-signing budding TE Juwan Johnson to a two-year contract especially given that Carr is a TE-friendly quarterback. The Saints should solidify this by adding another pass-catching TE in the draft. Some great options they should consider are TE Dalton Kincaid from Utah or Luke Musgrave from Oregon State.
Adding another pass-catching TE in the draft will allow TE Adam Trautman to focus on his strength of run-blocking. The Saints will have a great deal of versatility at the TE position. The offensive line is another area where New Orleans can find a bottom first-round steal, preferably the guard position. Andrew Peat's deal expires after this, and he will most likely become an unrestricted free agent. The Saints can get a head start on finding his replacement in the draft's first three rounds. There will be lots of options to choose from.
Is it Still a Priority to Draft a Quarterback?
The Saints are in a promising quarterback situation heading into the 2023 season with Jameis Winston as a solid backup option for starter Derek Carr. However, with Winston only signed to a one-year deal, the backup role could become vacant if he leaves for a starting opportunity elsewhere. To prepare for this potential scenario, the Saints could use later rounds of the draft to select a quarterback who can develop under Carr and Winston's mentorship. Having a young, capable signal-caller waiting in the wings would allow the team to remain competitive in the long run. While Carr is currently 32, which is older than Drew Brees was when he joined the team in 2006, the Saints must plan and ensure a strong future for the team's most important position.
Show Your Support
Support the great work of the Strike 7 Sports Saints Discussions Section by buying licensed NFL fan gear. Items ranged from Saints hats, jerseys, t-shirts, socks, etc. We would greatly appreciate it if you would buy these items from the text link listed below. The revenue generated from today's offer goes into the funding of the Strike 7 Sports platform. Click on the link below if you are interested.