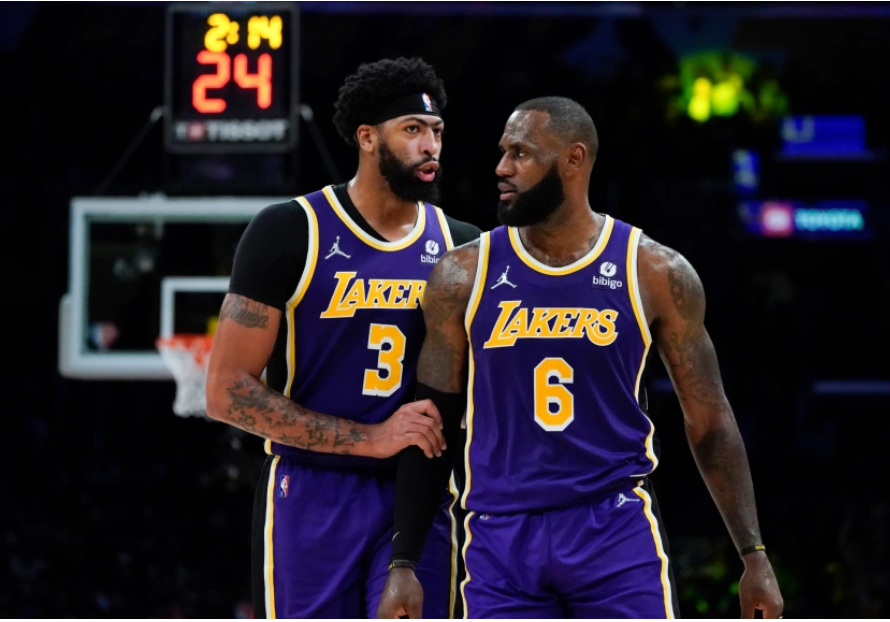 The Los Angeles Lakers are not doing well this year, something their fans are lamenting as losing has never been their thing. However, even with Lebron James making history this season and not being far removed from winning it all in 2020, the Lakers must make meaningful changes if they want another shot at success. The viable option, and perhaps the only option, is for Anthony Davis to be the number one option over Lebron James. Here are three evident reasons why it needs to happen.
1. LeBron James is Getting Older
The number two scorer in league history, four-time MVP, four-time Finals MVP, and probably one of the most complete players in basketball history must concede to Father Time sooner or later.
Thankfully for NBA fans, it may still be later rather than sooner, but later can be as early as next year or the year after.
James has played for over 18 seasons and is number three in minutes played, a whopping 52,100. Yet, although he continues to put up MVP-like stats, such as leading the NBA in scoring with an average of 30.1 points per game, his team is still losing with an abysmal 31-44 record and struggling even to make the play-in tournament. Lebron cannot carry a team, not in the regular season and certainly not in the postseason. Anthony Davis must step up and provide youthful vigor combined with exceptional talent.
2. No Championship Without "The Brow"
Fortunately for Lakers fans, Lebron didn't have to carry his team in the 2019-2020 season. Anthony Davis was not a sidekick but a showrunner. His 26.1 points and 9.3 rebounds elevated the Lakers as the number one seed going into the Bubble Playoffs. His 27.7 points and 9.7 rebounds took the Lakers from their lowly spot to the top, winning their first championship since 2010.
Davis' skillful maneuvers and intellectual prowess were the cherries on top of the Lakers 2020 championship. However, there is no doubt that if Anthony were never traded, the Lakers would have had no chance at making the playoffs, let alone winning it all.
Although it seems that the Lakers' quest for a ship' is all but lost this year, if Rob Pelinka and the Lakers' fans want any chance of keeping their record of having the most championships, Davis must take the reins and become the number one option.
3. The Future is at Stake
As stated earlier, the Lakers are not used to losing. The winningest team in NBA history will always do whatever it takes to hoist that Larry O'Brien trophy.
The front office must be already thinking about the future and how they will continue to grow the Laker legacy. Building around Lebron is not wise with his waning years and athleticism. Making Westbrook a focal point is entirely out of the question with his struggles and shortfalls this season. So who will the Lakers build around for the future?
If they want the slightest opportunity of winning and winning big, they must build around their big man. Anthony Davis has proven that he can lead a team to relative success. In 2015 and 2018, he led his then-team, the New Orleans Pelicans, to playoff runs as the team's leading scorer and rebounder.
A healthy A.D. is a healthy and thriving basketball team. If the Lakers can get Davis the help and conditioning he needs to stay healthy and make a few tweaks to the roster, the Lakers will undoubtedly be back in playoff contention and possibly win it all again.
Show Your Support
Support the great work of the Strike 7 Sports brand by purchasing licensed NBA fan gear. Items ranged from hats, jerseys, t-shirts, socks, and so much more. We would greatly appreciate it if you would purchase these items from the text link listed below. The revenue generated from today's offer goes into the funding of the Strike 7 Sports platform. Click on the link below if you are interested.