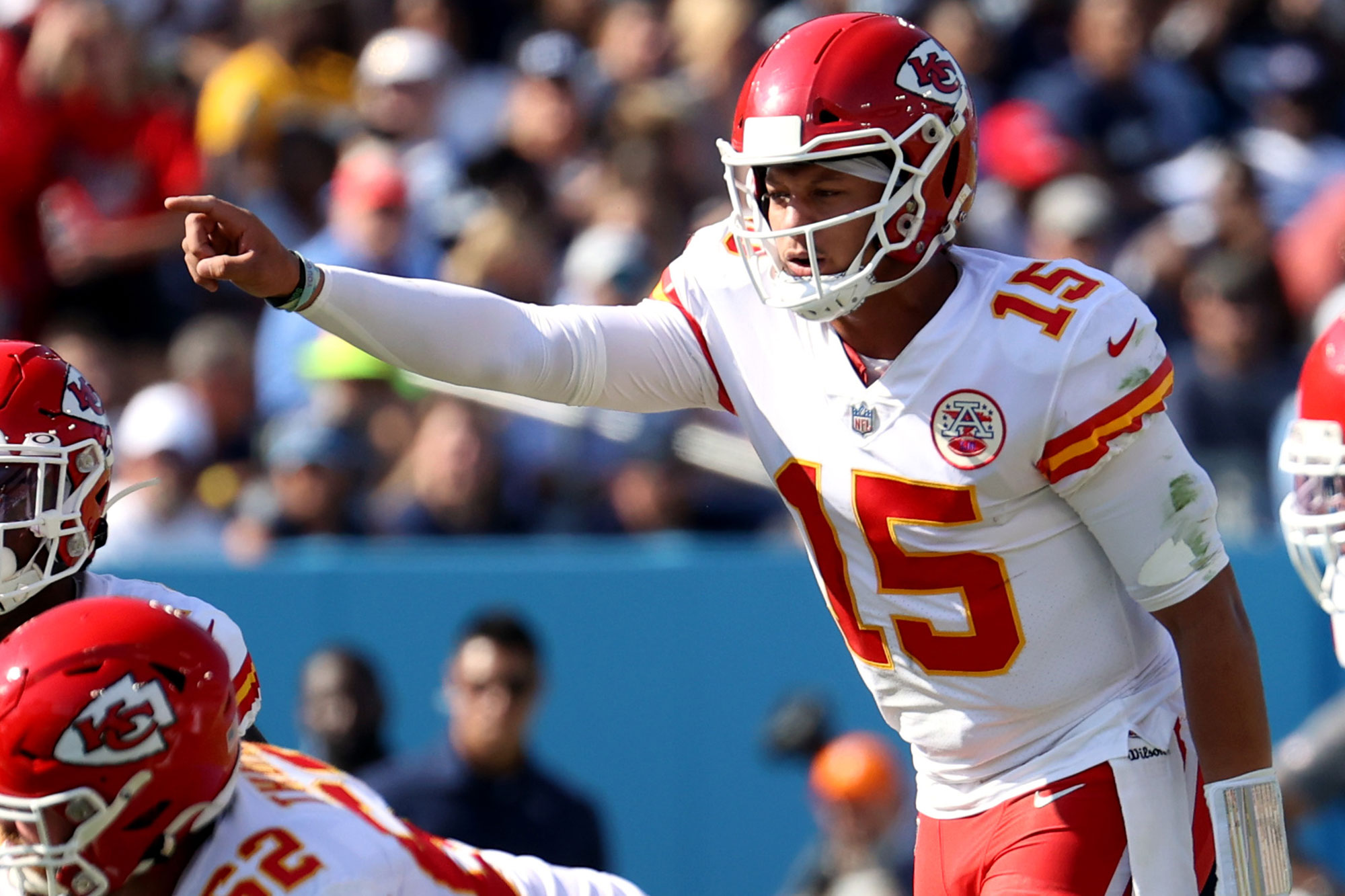 If the betting gods were looking for an impossible primetime game to pick, they've absolutely hit the nail on the head with this week's Monday Night Football matchup between the Chiefs and the Giants.
The Chiefs should enter as the easy favorite, right? Well, yes, but how can you forget their embarrassing 27-3 loss to Tennessee just eight days ago? And as for the Giants, how much stock do you put into their fantastic performance against Carolina in Week 7? And then how do you adjust for the absences of Saquon Barkley and Kenny Golladay?
So many questions. Luckily, we have the answers. (I think.)
Here are my best bets for Week 8's Monday Night Football game between the Kansas City Chiefs and the New York Giants.
Chiefs -10.5
The Giants are not as good as they showed last week. The Chiefs are not as bad as they've been through the first seven weeks of the season.
This is a bed that I'm perfectly fine with making.
A Patrick Mahomes-led offense is perfectly capable of posting a lopsided scoreline against the defense that allows the tenth-most yards and ninth-most points to opposing offenses. Especially when he's playing at home. Especially when he's playing at home in primetime.
The defense has its struggles, and we'll get into those shortly. But on the offensive side of the ball, Kansas City has put up over 30 points in more than half of its games this season. Even with the dud, they threw up against Tennessee a week ago, they still score the eighth-most points per game in the league.
And that's a strong case for the Chiefs team total (currently at 32.5), but why am I chasing the spread? The Giants are without their two best players on offense, Saquon Barkley and Kenny Golladay. Devontae Booker, Kadarius Toney, and Sterling Shepard are good pieces, but can they hang with a Chiefs offense that's looking to erase all memory of a humiliating Week 7 blowout?
OVER 52.5
Speaking of that Chiefs defense, they've still yet to fully shut anyone down this season. That won't change on Monday Night Football. Aside from a 31-13 win over Washington in Week 6, they've allowed at least 27 points to every single team they've played. It's been ugly.
There's a caveat, and it's that the teams they've faced boast some of the best quarterbacks in the league. Among Kansas City's opponents, this season have been Justin Herbert, Lamar Jackson, Baker Mayfield, and Josh Allen. That's a list of Pro Bowl frontrunners that the Chiefs have had to go toe-to-toe with to start the season.
Daniel Jones isn't close to that tier of quarterback, but there are still some pretty clear holes in this Chiefs defense. And while I'd be shocked if the Giants got anywhere close to the 30-point mark that seems to be the magic number for any quarterback going against Kansas City this season, I fully expect the Giants to pull their weight in pushing the total over 52.5. And while I'm less confident in it, the Giants going over their team total of 20.5 is fully in play as well.
Devontae Booker Anytime Touchdown Scorer (+115)
One of the biggest problems that the Chiefs have had defensively this season has been keeping running backs out of the end zone. They're allowing a staggering 1.43 rushing touchdowns per game, the sixth-most in the National Football League, along with almost 130 rush yards per contest, which is the fifth-most in the NFL.
And as mentioned earlier, Booker will likely be the workhorse back on Monday night with Saquon Barkley confirmed as inactive. Since receiving a larger share of the carries after Week 3, the former Bronco has scored a rushing touchdown in two of three weeks and also snagged a receiving touchdown in Week 5 against the Cowboys. The Giants' plan on offense, at least in the red zone, may very well begin with him, especially with Golladay also being inactive. The Giants will get chances to punch it into the end zone and expect Booker to be in the middle of it.
Patrick Mahomes OVER 2.5 passing touchdowns
Listen, he's had his struggles. That much is undeniable. Mahomes has not looked like the same world-beating quarterback we're so used to.
But this is still a number he can shatter. With ease.
It's easy to be blinded by Mahomes' performance last week – one in which he put up three points and didn't throw for a single touchdown – but I'll keep referring back to my central point, which is that the Chiefs' Week 7 performance is not anything close to an indication of what they're actually capable of.
In these six games prior, Mahomes threw for at least two touchdowns in every single game. That includes games against stingy Buffalo, Philadelphia, and Los Angeles Chargers defenses. In the two games that Mahomes has played against NFC East opponents this season, he's thrown for a combined 675 yards and seven touchdowns. And both of those games came away from home.
Is the offense perfect? No. But they largely aren't the problem. Against a defense that has done little to inspire anyone this season, Mahomes and the Chiefs should put up a big number in front of the home fans in primetime.