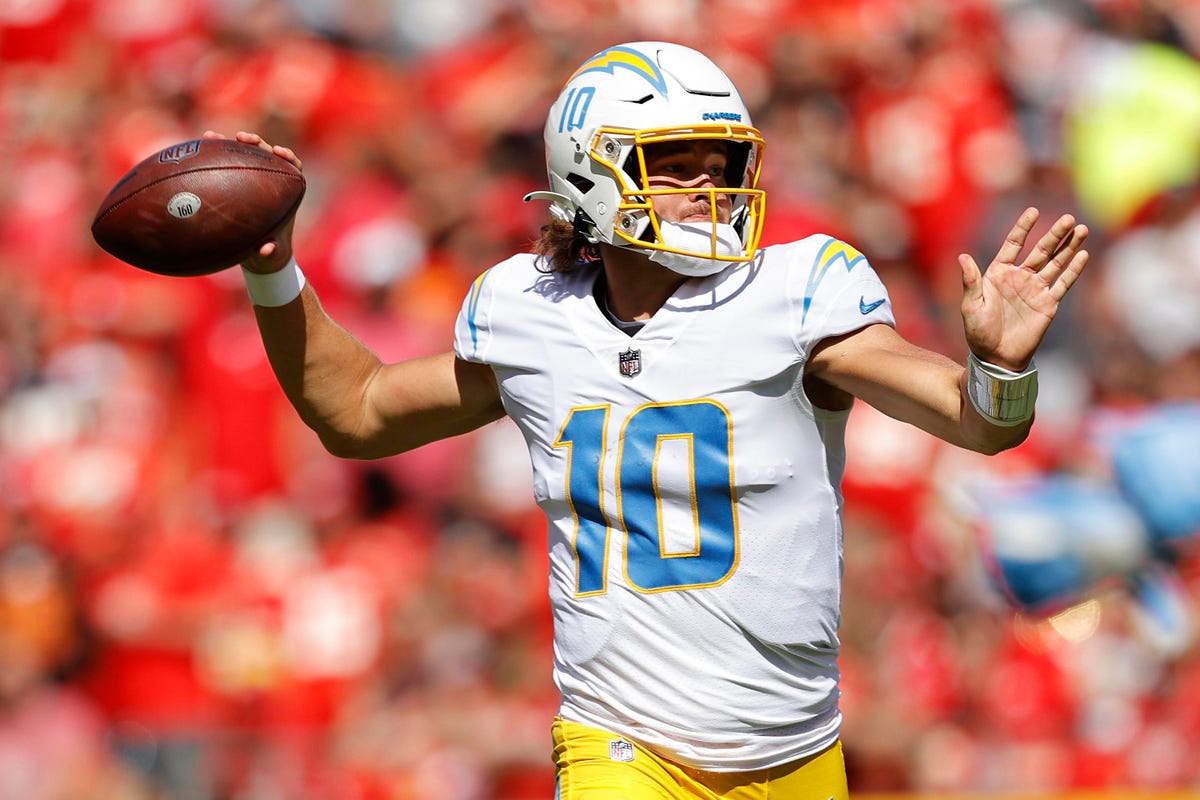 A wildly entertaining slate of primetime games in 2021 continues on Monday when the undefeated Las Vegas Raiders travel to Los Angeles to play a division rival in the form of the 2-1 Los Angeles Chargers.
Both teams have impressed early on offense, but they meet defensive units that have done well in limiting opposing quarterbacks. A game that's being tabbed as a divisional shootout may quickly evolve into a tactical battle based on in-game adjustment.
And just like with any other game, there's money to be made. Here are my best bets for Raiders vs. Chargers on Monday Night Football.
Chargers UNDER 28.5
A quick spoiler that will set the tone for the rest of this article: points will be hard to come by on Monday night. These teams have been two of the finest in the league since the start of the 2021 season, meaning the primetime game could well be a race to 20 points. Regarding the Raiders' defense specifically, they're locking down opposing running backs both on the ground and in the passing game. That spells bad news for Austin Ekeler, who has gotten off to a decent start to the season following an injury-shortened 2020.
Las Vegas has been decent in the passing game, too. They're conceding around 250 yards through the air through three games, and, more impressively, they've allowed a league-low two passing touchdowns this season. Justin Herbert has been superb to start the year, and his most recent performance – a back-and-forth duel with Patrick Mahomes that ended in a 30-24 Chargers win – was the most impressive. Still, the Raiders, whose secondary has been better than expected, may pose a more significant challenge than some think.
UNDER 52.0
The Raiders aren't the only ones who enter Monday Night Football with decent numbers on defense. The Chargers have been every bit their equal, limiting opponents to scraps in the passing game – just 210 yards through the first three games. That tally is the fifth-best in the league, and it puts loads of pressure on the run game.
On paper, that would bode well for the Raiders, who face a Chargers run defense that is the worst in the league in terms of yards allowed per game. Los Angeles allows 138 rush yards to oppose running backs. The problem? Las Vegas may be without starting running back Josh Jacobs thanks to an injury suffered in Week 1 that he's still rehabbing from. Peyton Barber has been decent in relief, and in his most recent performance against Miami, he posted an impressive 23-111-1. But he's not Jacobs, and the tandem of him and Kenyan Drake will have difficulties against the league's best-run defense in 2021.
Keenan Allen OVER 82.5 receiving yards
All that being said, this feels like a game that's tailor-made for Keenan Allen to hit triple digits in receiving yards. Allen and Mike Williams have been Herbert's favorite targets this season – and understandably so – and against a Las Vegas secondary that has been good statistically but still has holes, the stars are aligning for the duo to post big numbers. It can be argued that Williams has been better than Allen so far, but Keenan Allen is still one of the game's best receivers and boasts the ability to beat defenders anywhere on the field.
How will the Raiders defend the two? Man-to-man is risky, considering Trayvon Mullen and Casey Hayward aren't the same levels as Williams and Allen. Playing zone opens up gaps in the coverage for a player like Jared Cook. And we haven't even mentioned Austin Ekeler yet, who is a threat in both the pass and run games. All things considered, I think we'll see Allen in lots of one-on-one situations with inferior cornerbacks. We know who's got the better odds at winning those battles.
Chargers -3.0
I'm all in on Los Angeles this season. Justin Herbert is quickly ascending, they've got a wildly talented group of playmakers in Allen, Williams, and Ekeler, and the defense is armed with talent. At home against the Raiders in primetime, I think they'll cover the tiny spread with ease. The Chargers represent the best offense that Las Vegas has faced this season, and that Raiders defense is waiting to be exposed, despite decent numbers to start the campaign. Herbert and Co. won't disappoint.
And despite a 3-0 start, I still have questions about the Raiders. The teams they've beaten are a combined 5-7, and if you take away the overtime win over Baltimore in Week 1, that drops to 2-6. They also needed overtime to knock off a Miami team without Tua Tagovailoa. While they've yet to lose a game, we still haven't seen them play well for a full 60 minutes, and none of their results have been particularly impressive. That said, a win over a better Chargers team with more impressive results this season would go a long way in cementing their place in the playoff hunt.