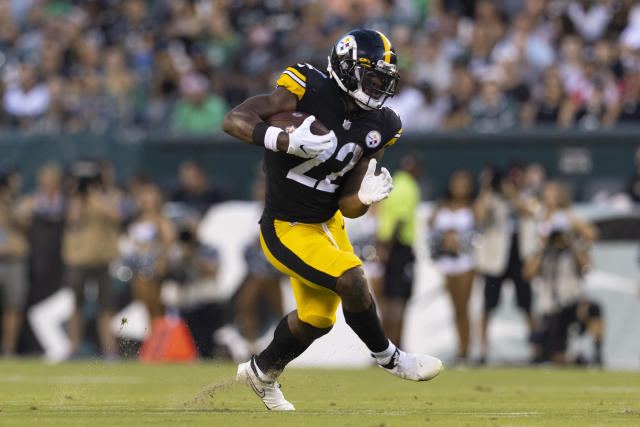 Is anyone interested in a bounce-back week?
Last week was a rough one. I'll acknowledge it. Everyone knew that the Giants vs. Chiefs game was going to be a tough one to predict. I read it wrong. That's on me.
But failure only means a stronger return.
Tonight, the Steelers host the Bears in a sneaky good Monday Night Football matchup. Here are my best bets for the game as I try to get hot again.
Steelers -6.5
This article is going to be somewhat thematic, and the underlying tones can all be found in my logic for taking the Steelers spread.
First and foremost, the Bears really struggle to move the ball offensively. This is not a surprise to anyone, of course, because the struggles that have plagued rookie quarterback Justin Fields since the start of the season have been heavily documented. That impotence on offense will only be magnified against a Steelers front seven that pressures the quarterback on 28.6 percent of snaps, the second-best mark in the league.
Pittsburgh is also bolstered by the consistent improvements of rookie back Najee Harris, who seems to be getting better and more acclimated with each passing week. He should feast against a Bears defense that will be without Khalil Mack. Even with Mack, Chicago allows the ninth-most rush yards to oppose offenses. Expect that to rising.
While Pittsburgh doesn't possess electrifying, world-beating talent, the Bears are comical on offense and short-handed on defense.
Cole Kmet OVER 28.5 receiving yards
Cole Kmet may not be Chicago's most dangerous or dynamic pass-catcher, but he may be Fields' greatest asset tonight against Pittsburgh.
As mentioned before, the Steelers do a fantastic job of getting to the quarterback quickly. That 28.6 percent pressure rate is one the best in the NFL, meaning Fields likely won't have much time to sit in the pocket and go through his reads. A short-distance, reliable player like Kmet may be Chicago's best counter.
Kmet doesn't travel far down the field to catch the football. In fact, the ball only travels 4.9 yards through the air per Kmet reception in 2022 and his average depth of target (ADOT) is just 8 yards. For more on what that stat means, take a look at my Ja'Marr Chase stats dive from last week.
Fields will be forced out of the pocket consistently, and Kmet will more often than not be the most convenient escape route. The former Notre Dame tight end has seen a pretty significant increase in workload since Week 4, averaging 5.3 receptions and 34.5 yards over his last four games. Look for Kmet to rack up the receiving yards slowly but surely.
Justin Fields UNDER 187.5 pass yards
It should come as no surprise that, even with the low total, I'm not confident in Justin Fields going over on his pass yards prop.
A quarterback that is fun to watch when he goes off schedule but has struggled to make plays from the pocket since he inherited the starting role, Fields gets no favors on Monday against a good pass-rushing unit headlined by Defensive Player of the Year candidate T.J. Watt.
In fact, in his six NFL starts, Fields has gone over this total just once – a 209-yard performance against the still-winless Detroit Lions. Among those six games is a 68-yard game against Cleveland, a 111-yard game against Las Vegas, and most recently a 175-yard game against San Francisco in Week 8. Chicago moving the chains is rare enough – moving the chains through the air is even more unlikely.
Does that mean Chicago's run game is due for a big day? Potentially, but it also puts bettors on alert for Fields' rush yards prop. It currently sits at 40.5 yards, and while I won't officially place it, I'm inclined to take the over. Fields averages about 8 yards per scramble, and I wouldn't be surprised to see him forced to scramble more than five times tonight.
Najee Harris OVER 84.5 rush yards
Pittsburgh drafted Najee Harris in the first round of last year's draft due to his athleticism and explosiveness.
Harris started off slow, but the rookie running back has gotten better every single game.
After a disappointing opening month of the season that drew the ire of both Steelers fans and fantasy football players everywhere, Harris is starting to look like the player that the Steelers expected him to be. In the last three weeks, the Alabama product has rushed for at least 81 yards each game, found the end zone twice, and is receiving a bigger bulk of touches. In other words, he's earning trust.
Against a Chicago defensive front that is already weak and is also dealing with the absence of Khalil Mack, Harris should be the focal point of the Steelers' offense on Monday night. And although he started slow, he is fully capable of putting the team on his back in his primetime debut.