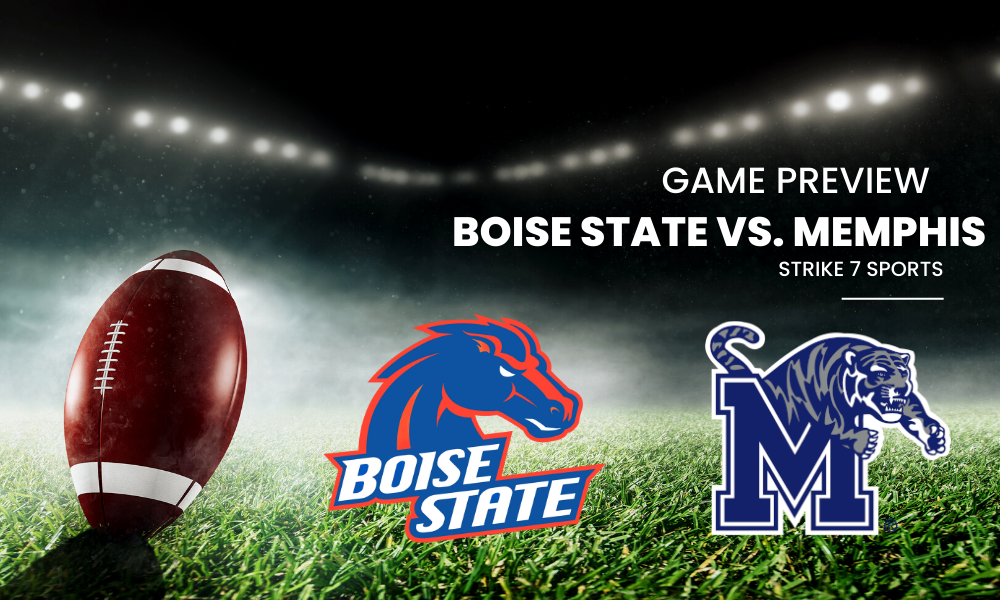 Week 5 Game Information
Boise State vs. Memphis
Venue: Simmons Bank Liberty Stadium- Memphis, Tennessee 
In the heart of Memphis, at Simmons Bank Liberty Stadium, anticipation mounts as the Tigers gear up for a pivotal showdown against the Boise State Broncos. The significance of this matchup cannot be overstated, as it marks the second leg of a crucial three-game stretch for Memphis, culminating in a conference clash with the Tulane Green Wave. Currently standing at 0-1 in this series of high-stakes contests after a narrow 34-27 defeat against Missouri, the Tigers know their path to a New Year's Six (NY6) bowl bid hinges on their performance in this upcoming clash.
The Tigers' opening game of this trifecta took place under the guise of a "neutral" location in St. Louis against Missouri, a setup that inherently favored the Tigers' opposition. The loss only amplifies the urgency for Memphis as they return to familiar turf, seeking redemption against the Boise State Broncos. For their part, the Broncos have roared back into contention with two consecutive wins after an initial 0-2 start to the season, a stretch that included a sobering 56-19 defeat to the Washington Huskies. For Boise State, the game against Memphis is akin to their last stand in the race for a coveted NY6 bowl bid as the highest-ranked conference champion from the Group of Five programs.
Defense
Memphis, fully aware of the stakes, understands that victory against Boise State is crucial for their immediate aspirations and instrumental in building momentum for their impending showdown with the Green Wave on October 13. To break down the keys to success on both sides of the ball, Memphis must first focus on containing Boise State's potent rushing attack. The Broncos currently rank 30th in the nation, averaging 184.0 rushing yards per game. While quarterback Taylen Green may not be the most efficient passer from the pocket, he emerges as a true playmaker when the running game is firing on all cylinders, using his legs to extend drives and keep defenses on their toes.
Compounding Memphis' defensive challenge is Boise State running back Ashton Jeanty, a dual-threat weapon leading the nation in all-purpose yards with an astonishing 692, an average of 173 per game. With 407 rushing yards and 285 receiving yards, Jeanty is one of only two players to amass over 200 yards in both categories this season. In last week's 34-31 victory over San Diego State, Jeanty rushed for a career-high 203 yards on 23 carries. He also caught four passes for 49 yards. Discipline in gap assignments will be paramount for the Tigers, as any lapses could lead to explosive plays and potential game-changing moments. The primary objective for the Tigers' defense is to force Green into becoming a stationary quarterback and not allow his playmaking abilities outside of the pocket to become a factor.
Offense
On the offensive front, Memphis must capitalize on their playmakers, with wide receiver Roc Taylor and running back Blake Watson standing out as critical assets. Taylor's emergence as a top target, with seven receptions for 143 yards in the recent clash against Missouri, gives Memphis a potent weapon in the passing game. Meanwhile, Watson's ability to create explosive plays and churn out yardage is vital for keeping the Tigers' offense firing on all cylinders.
As we approach kickoff, one aspect looms large for Memphis—quarterback Seth Hennigan's ability to play a mistake-free game. Hennigan's three costly interceptions in recent outings have placed immense pressure on the Tigers' defense. A clean and precise performance from Hennigan is not merely desirable; it's a prerequisite for Memphis to secure victory against the resurgent Boise State Broncos. As it currently stands, their defense is one of college football's worst units in many statistical categories. They're ranked 128th in the nation in total yards allowed, averaging 512.3 per game.
The Memphis Tigers are at a critical juncture in their season with aspirations of contending for an AAC championship. The battle against Boise State is not just a game; it's an opportunity to assert their dominance and steer their season in the right direction. In this high-stakes contest, every play counts, and decision matters, and the outcome may shape the Tigers' destiny in college football.
Score Prediction
The Tigers must win Saturday's game against Boise State. While a victory does not reflect on their AAC resume, it provides a significant momentum boost for what lies ahead. Expect Boise State to put up a strong effort against Memphis, but the victory will belong to the home team.
Boise 31, Memphis 35
Show Your Support
Support the great work of the Strike 7 Sports Memphis Tigers Section by purchasing licensed NCAA fan gear. Items ranged from Memphis hats, jerseys, t-shirts, socks, and more. We would greatly appreciate it if you would buy these items from the text link below. The revenue generated from today's offer goes into the funding of the Strike 7 Sports platform. Click on the link below if you are interested.
Sports Betting
Are you going to place a bet on the latest Memphis Tigers game or any sporting events happening throughout the week? If so, then you need to check out BetUs. BetUs is the ultimate destination for online betting, sports betting, live betting, racebooks, etc. If you are interested, click on the text link BetUs, and you will be redirected to their website. We shall receive compensation if you decide to sign up through our affiliate link below.