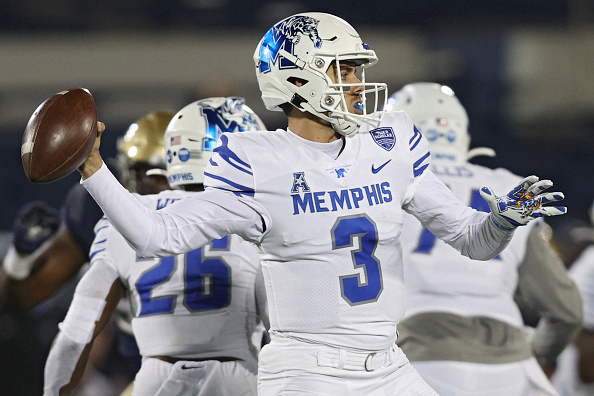 Brady White will go down as one of the greatest quarterbacks to ever wear a Memphis Tigers uniform. While at the University of Memphis, White broke numerous school passing records and elevated the program to new heights. But for now, his career has come to a close, and his sights are now set on excelling at the professional level.
All signs point to White being a day two selection in this year's upcoming draft. Listed at 6'3, 210 pounds, White has the build for what NFL executives seek when looking for the right guy under center. The former Memphis signal-caller has started in many football games and his experience being a conductor of a high-powered offense.
As the NFL ushers in a new decade, offenses are starting to incorporate concepts that were only seen at the collegiate level. Quarterbacks such as Patrick Mahomes, Deshaun Watson, and Lamar Jackson are evidence of how college football concepts are taking hold in the NFL. At Memphis, White orchestrated a Big 12 like an offense capable of scoring 35 to 50 points per game. Those skillsets of what he utilized in college should transfer over to the professional level.
Another factor that favors White's chances of being selected in the second to the third round of the draft is that teams desperately search for their future quarterback. According to many NFL Draft experts, a total of five quarterbacks could be taken in the first round. Those quarterbacks are Trevor Lawrence, Justin Fields, Zack Wilson, Trey Lance, and Mac Jones.
With the recent news of star QBs possibly on the move, it shows that signal-callers' need is at an all-time high. White also has many leadership traits needed to be a successful quarterback under center at the professional level. On numerous occasions at Memphis, White was able to galvanize his teammates, which resulted in a better performance on the field. Many on-air personalities have stated that quarterbacks with at least four years of experience combined with success do not transfer over to the professional level.
While that notion may be true to a certain extent, it is not necessarily accurate. Seven-time Super Bowl champion Tom Brady went 40-9, including a 20-5 record when he moved into a starting role as a junior and senior at Michigan. The Wolverines went 10-3 in 1998 and 10-2 in 1999.
Not saying that White will have the same trajectory as Brady, but it goes to show you that four-year starters can achieve success at the highest level. The future Hall of Famer fell into the right situation with the New England Patriots, and he took full advantage of the opportunity.
The same could happen for White if he is selected by a team known for developing quarterbacks and has a solid track record of achieving success. Let's look at three franchises that would suit Brady White to grow as an NFL caliber quarterback.
1. Kansas City Chiefs
Yes, we know that Patrick Mahomes is the starter for the foreseeable future. However, he has shown that he can become injured real fast if put in certain situations. That's where White could step in. Andy Reid has a track record of developing and winning with almost any type of quarterback. Brady White would be no different.
White's arm strength is good, but it's not on the level of what the folks at Arrowhead see with Mahomes. The good thing is that Coach Reid achieved success with the arm of Alex Smith. With the weapons currently on the Chiefs roster, it would be like playing at the University of Memphis again for White.
2. New Orleans Saints
The Saints' current starter, Drew Brees, is expected to retire soon. All signs point toward Jameis Winston or Taysom Hill becoming Brees' successor in 2021. Even with Winston and Hill on the roster, that still leaves an opening for a third quarterback. Sean Payton has shown that he can win football games without his future Hall of Fame QB under center.
Dating back to 2019, Payton has a record of 8-1 with starting quarterbacks not named Drew Brees. Players such as Jameis Winston and Teddy Bridgewater have stated that their time under Payton and Brees' guidance has been beneficial. During the later rounds of the draft, White could be an option that the Saints may take a look at if he is still available to select.
3. San Francisco 49ers
The San Francisco 49ers are another viable option for where White could develop the skills necessary to become an efficient quarterback in the NFL. Head Coach Kyle Shanahan's system is quarterback friendly, and it evolves many nuances that frustrate opposing defenses. Another element of Shanahan's offense is that running backs are capable of achieving high levels of success.
The ability to be successful utilizing multiple running backs is something that White was accustomed to doing while at Memphis. If the 49ers selected him, he would be third on the depth chart behind current starter Jimmy Garropolo and backup Nick Mullens. Mullens has been Shanahan's backup since 2018, but a strong outing from White during training camp may allow the 49ers coaching staff to think otherwise.
Photo courtesy of Getty Images.
Support the great work of the Strike 7 Sports Memphis Tigers Section by purchasing licensed NCAA fan gear. Items ranged from Memphis hats, jerseys, t-shirts, socks, and so much more. We would greatly appreciate it if you would purchase these items from the text link listed below. The revenue generated from today's offer goes into the funding of the Strike 7 Sports platform. Click on the link below if you are interested.
Memphis Tigers Fan Gear Offers from Fanatics.com.