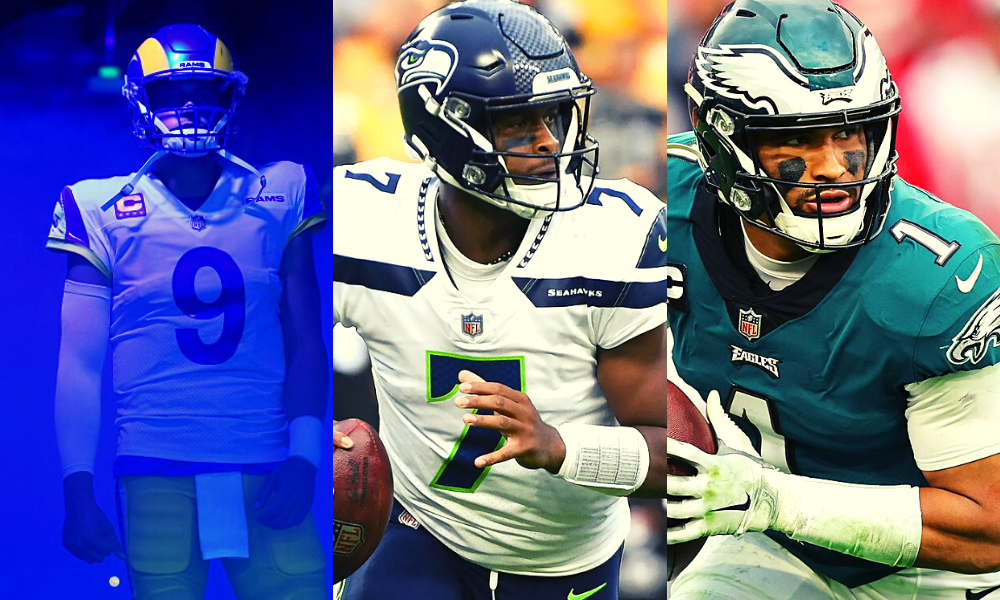 In recent years, the NFC boasted an impressive roster of elite quarterbacks, featuring notable names like Drew Brees, Russell Wilson, Aaron Rodgers, Matthew Stafford, and Tom Brady. However, the landscape of the NFC has undergone a significant transformation, with only Stafford remaining among the once-prominent signal callers. Brees retired after the 2020 season, Wilson was traded to the Denver Broncos in the 2022 offseason, TB12 has recently joined Brees in retirement, and the Packers sent Rodgers packing to the New York Jets just days before this year's draft. With such a substantial turnover at the quarterback position in the conference, we present our detailed list below, ranking the top 10 players. This ranking considers their past accolades and the expectations for their performance in the upcoming 2023 campaign.
1. Jalen Hurts: Philadelphia Eagles
Jalen Hurts has been playing great for the past two years. Last year he displayed MVP-level superstar status in 2022, taking the Eagles to the Super Bowl. He showcased his abilities by accumulating an impressive total of 4,230 yards and 35 touchdowns. Even more impressive is that Hurts will still be 25 years old in 2023, indicating a bright future. One crucial factor in Hurts' progress has been the presence of an exceptional offensive line. While the unit's composition may change, its importance in Philadelphia's success remains unquestionable. His significant skill sets include his ability to grind for every yard, throw-on-run accuracy, and composure in the pocket. He will be helped out by AJ Brown and DeVonta Smith in 2023, in addition to Dallas Goedert. Overall the former second-round pick has a promising future with the Philadelphia Eagles.
2. Jared Goff: Detroit Lions
Goff played great in the second half of the 2022 season. Overall, Goff threw for 29 TDs against seven interceptions for 4,438 yards. Goff experienced the typical highs and lows throughout the season but managed to establish himself as the long-term quarterback for the Lions. Despite facing challenges, the former top overall pick showcased notable progress, with his last interception occurring in Week 9. He finished the year strongly, securing victories in eight of his final ten starts. Goff's impressive performance towards the end of the season likely earned him an extension or an endless opportunity with the Detroit Lions, who have all the right pieces in place.
3. Matthew Stafford: Los Angeles Rams
Matthew Stafford had a down year in 2022. He threw for 2,087 yards and 10 TDs with a QBR of 50.3. Despite the setbacks, head coach Sean McVay has committed to returning for the upcoming 2023 season and steering the ship back on course. This decision reflects McVay's confidence in Stafford's abilities as a quarterback and leader. Stafford possesses an impressive skill set and a proven track record, making him well-suited to lead the team. Throughout his career, he has faced doubts and skepticism from critics; however, he has always been able to rise repeatedly. Stafford's past achievements include being a Super Bowl champion, solidifying his credibility, and making it unwise to underestimate his capabilities. He is 35, but we think he can definitely get another trip to the Super Bowl.
4. Geno Smith: Seattle Seahawks
Geno Smith unarguably had the best season of his career. He threw for 30 TDs against 11 interceptions and had a completion rate of 69.7% (league highest). Smith was brought in at Seattle to fill in for one season, but the 2022 campaign turned out to be one of the most surprising developments of last season. Smith won the Comeback Player of the Year, contributing significantly to the Seahawks' success as a top-ten offense. Towards the latter part of the season, Smith faced some challenges and experienced a decline in performance, losing five out of the last eight starts. However, he exhibited resilience and determination, doing just enough to guide the Seahawks into the playoffs. As a result, Smith has solidified his position as the starting quarterback for at least another season. In 2023 he will be back with D.K. Metcalf and Tyler Lockett. Additionally, the potential of Jaxon Smith-Njigba adds excitement and upside to the Seahawks' receiving core.
5. Kirk Cousins: Minnesota Vikings
In 2022, Kirk Cousins had the best season of his career concerning overall wins. He took the Vikings to a 13-4 record and, as always, was a reliable signal caller. He threw for 4,547 yards and 29 TDs. It was also a year of change for the offensive philosophy because the Vikings' head coach Kevin O'Connell introduced new schemes. Cousins is a traditional pocket QB who, when not pressured, can put the ball anywhere he wants. Going into 2023, in addition to having terrific Justin Jefferson and T.J. Hockenson, Cousins will be throwing to Jordan Addison, another dynamic wide receiver.
6. Dak Prescott: Dallas Cowboys
Dak Prescott has played well since he was drafted and won the Offensive Rookie of the Year Award in 2016. There have been highs and lows in his career, and sadly the 2022 season was on the lower end. Even in 2022, at times, he exhibited the ability to dominate games entirely, but he played poorly in other games. Despite playing only in 12 games, he tied the league in interceptions with 15. However, despite Prescott's issues in 2022, his overall impact remained beneficial. Prescott will be heading into a highly competitive NFC East and hopefully will be able to get his team to the playoffs once again.   
7. Derek Carr: New Orleans Saints
When the Raiders moved on from Carr, the Saints eagerly sought to acquire the four-time Pro Bowl quarterback. Carr has consistently delivered above-average performances over his nine-year career, making him an appealing choice for a team seeking improvement at the quarterback position without starting from scratch with a rookie. Carr's track record demonstrates his ability to lead an offense effectively and contribute to the team's success. His experience and seasoned skills make him an asset for New Orleans as they aim to elevate their performance and make a push toward the playoffs. With the Saints, Carr has the potential to flourish and experience a tremendous season. He could exceed expectations and lead the team on an exciting postseason run with the right supporting cast and coaching. New Orleans recognizes the value of Carr's experience and leadership, providing stability and reliability at the quarterback position. His arrival in New Orleans brings anticipation and optimism for the player and the team. 

8. Brock Purdy: San Francisco 49ers
Brock Purdy took complete control of the opportunity given to him. Rarely has a player witnessed such a remarkable surge in value as the last pick in the draft, also known as Mr. Irrelevant? The transformation of Brock Purdy with the 49ers is nothing short of extraordinary. He led the team to an awe-inspiring streak of seven consecutive victories, including two remarkable playoff wins. The 2023 season offers Purdy a platform to showcase his capabilities and demonstrate his ability to lead the team to another sensational season. Purdy's journey from being Mr. Irrelevant to becoming a pivotal figure in the 49ers' impressive run speaks volumes about his resilience and determination, qualities he will continue to exhibit in 2023.
9. Justin Fields: Chicago Bears
Justin Fields was one of the most exciting players to watch in 2022. Despite his struggles at times, most of his games were fun to watch. He threw for 2,242 yards, 11 TDs, and 11 interceptions, but more importantly, he rushed for 1,143 yards on the ground and scored an additional 8TDs. The transformation of Fields was remarkable once the Bears embraced a strategy that leveraged his mobility to its fullest potential. As we shift our focus towards the 2023 season, there is anticipation surrounding Fields and the possibilities that lie ahead. Chicago now has D.J. Moore, and they have marginally improved their offensive line, which will benefit both the passing and running game. Fields' emergence as a dual-threat quarterback, combining his exceptional running abilities with his developing skills as a passer, paints an enticing upcoming season for the Bears and football fans in general.
10. Daniel Jones: New York Giants
Daniel Jones had the best season of his career with the Giants. He threw for 3,205 yards and 15 TDs against just five interceptions. In addition, he also rushed for 708 yards and seven rushing touchdowns. Now in 2023, he is all set with the new contract, and with the addition of Darren Waller to the team, Jones will finally have the luxury of a reliable and talented No. 1 receiver. In 2023, the hope is that Jones will receive further support from his receivers. With the proper support and improved chemistry with his receivers, Jones has the potential to build upon his impressive performances from the previous season. His passing prowess, limited turnovers, and a strengthened receiving corps bode well for the Giants' prospects in the upcoming year.
Show Your Support
Are you going to place a bet on any sporting events happening today or throughout the week? If so, then you need to check out BetUs. BetUs is the ultimate destination for online betting, sports betting, live betting, racebooks, etc. If you are interested, click on the text link BetUs and you will be redirected to their website. We shall receive compensation if you decide to sign up through our affiliate link below.