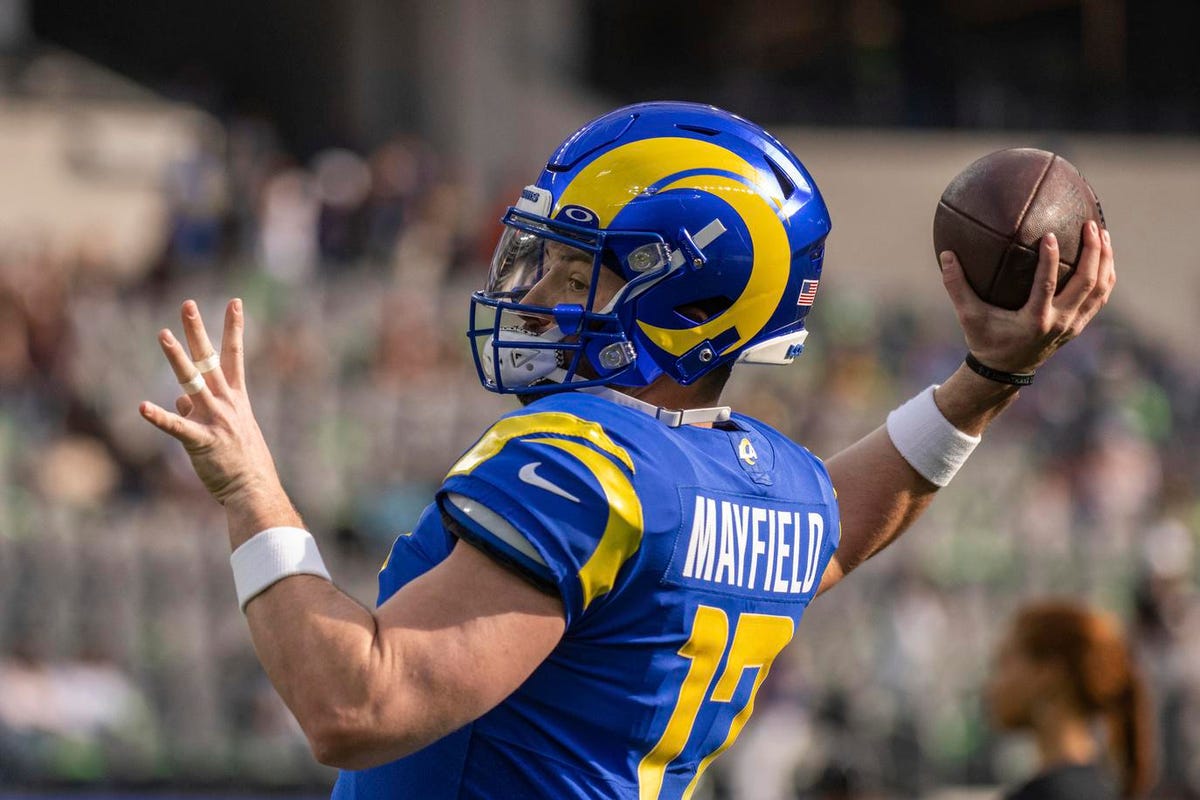 Baker Mayfield will have another shot at reviving his NFL career. The former No.1 overall pick and 2017 Heisman Trophy winner signed a one-year contract worth up to $8.5 million with the Tampa Bay Buccaneers. This move could start a resurgence for Mayfield's career, which has seen him play for three different teams in just five seasons. The Bucs are going into their first season without the presence of future Hall of Famer Tom Brady under center.
During his three-year stint in Tampa, the Bucs qualified for the playoffs from 2020 thru 2022. They also won their second Super Bowl title in Brady's first season as the starting QB. There were constant rumors of the top free-agent quarterbacks that could replace Brady, such as Lamar Jackson and Jimmy Garoppolo. Still, the Buccaneers decided to go in a different route.
They instead will allow their 2021 second-round pick Kyle Trask an opportunity to become Brady's successor. However, the decision to sign Mayfield makes a lot of sense. They were looking for someone with the ability to start and compete with the former Florida Gator. The Buccaneers are also installing a new offense under their new offensive coordinator, Dave Canales, who was credited for helping revive Geno Smith's career in Seattle. Mayfield hopes that Canales can work similar magic with him in Tampa Bay.
Mayfield's performance in his five games with the Los Angeles Rams at the end of the 2022 season is encouraging for the Buccaneers. During those games, he completed 63.6% of his passes for 850 yards, with four touchdowns and two interceptions. These are not eye-popping numbers, but they significantly improve his performance in Carolina, where he played in seven games before being waived. At the time of his release, Mayfield ranked last in the NFL in Total QBR among qualified quarterbacks, with a rating of 18.2.
Mayfield's struggles in Carolina have left many questioning his ability to be a starting quarterback in the NFL. However, his time with the Rams has given him renewed confidence in his abilities. After the season's final game, he stated that he had no doubt that he was "good enough to be a starting quarterback." While the Buccaneers have parted ways with a few veteran players, their core contributors remain. Wide receivers Mike Evans, Russell Gage, Chris Godwin, and second-year tight end Cade Otton give Mayfield a robust set of weapons to work with.
On Wednesday, it was reported that the team had signed free agent running back Trey Edmonds to a one-year worth the veteran minimum of $1.08 million. Edmonds will be paired with projected starting RB Rachaad White. Both players could provide Mayfield with solid additions out of the backfield. Also, they are in a perfect spot to select Texas Longhorn tailback Bijan Robinson if they decide to pursue that route.
In addition, the NFC South will be relatively weak again, as in 2022. The Falcons are projected to start a quarterback that has provided a small sample size in Desmond Ridder. Carolina has made significant strides during free agency but will likely have a rookie under center. They traded up to get the number one pick in the draft after agreeing on compensation with the Chicago Bears.
The Saints have also made moves to bolster their roster from what it looked like last season, but the jury is still out on if Dennis Allen is the right guy to lead them in the post-Sean-Payton era. The team with the best quarterback will win the division based on the current landscape. The optics may indicate that Derek Carr is the best QB in the south, but a lot can happen between now and the start of the season.
Mayfield must adjust quickly to Tampa Bay's new offensive scheme and build chemistry with his new teammates. However, the pieces are in place for him to have a successful season. If he can regain his confidence and play at a high level, he could be the missing piece that the Buccaneers need to be successful in the post-Brady era.
Show Your Support
Introducing Atlas VPN, the perfect partner for Strike 7 Sports enthusiasts! With Atlas VPN, you can enjoy lightning-fast internet speeds and unrestricted access to your favorite sports content anywhere in the world. Plus, for every subscription purchased, a portion of the proceeds go directly to supporting the Strike 7 Sports brand. By subscribing to Atlas VPN, you're investing in your online security and privacy and the growth and success of your favorite sports brand. So why wait? Sign up for Atlas VPN today and support the Strike 7 Sports community while enjoying the ultimate online experience.