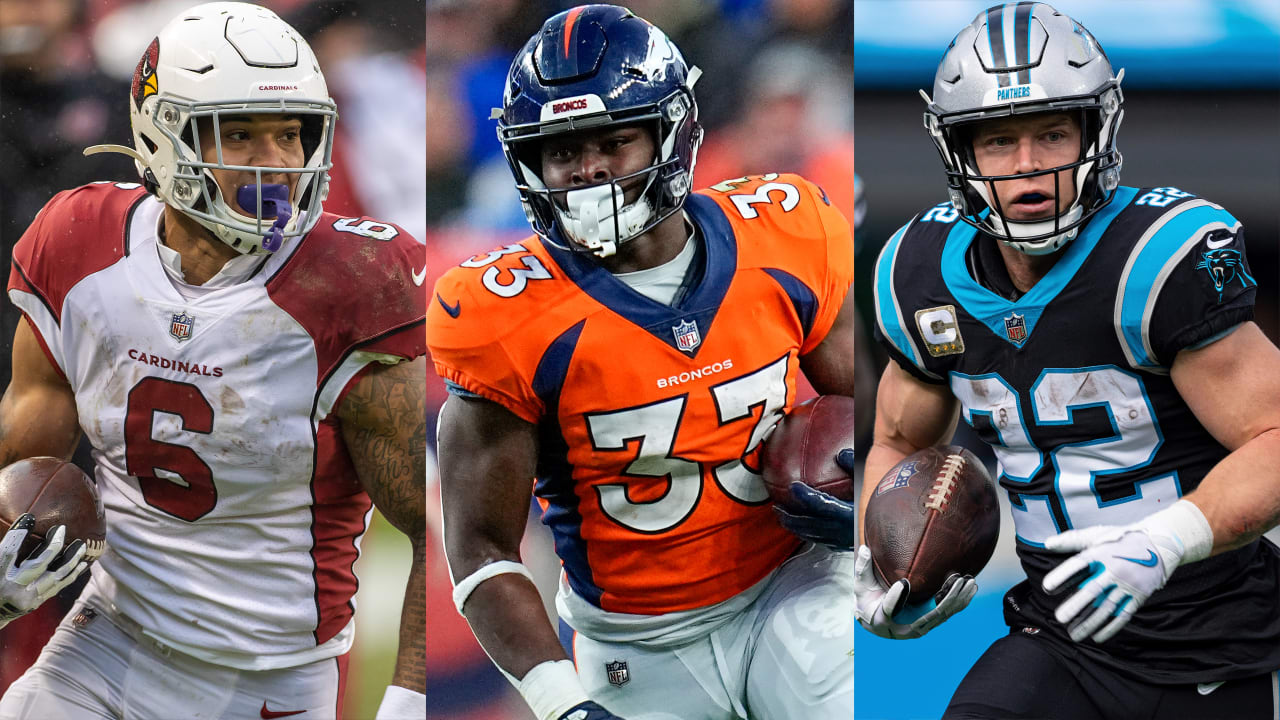 Running back remains the most important position in fantasy football because of annual demand and the overall scarcity of reliable assets. There are 32 teams in the NFL and 24 starting spots for the position in a 12-team fantasy league. When you consider that many fantasy players start a third RB at a flex spot, and there are a lot of NFL teams with some uncertainty or shared workloads at the position, you see why backs fly off the board so quickly in drafts.
Passionate fantasy players have already started drafting or are preparing early for their 2022 league drafts. So, here is a look at some of the most compelling fantasy football questions we will face at running back this season.
Fantasy Football Running Back Questions to Ponder For The 2022 Season
Is Jonathan Taylor really the surefire No. 1 overall pick? By default, most early drafters take Jonathan Taylor with the first overall selection in seasonal formats. But The Athletic recently suggested that the Colts cannot ride Taylor like they did last season if they want to make the playoffs. Instead, they need a balanced offensive attack to be more competitive.
If Taylor cannot quite match last season's totals, it is wise to consider taking Austin Ekeler first overall. Ekeler is the best receiving RB in fantasy football, and last season, he finally became a consistent TD scorer, fully rounding out his excellent all-around fantasy game. The Taylor vs. Ekeler debate deserves to be spotlighted and discussed, while most are not even thinking about it.
Should we really spend a first-round pick on Christian McCaffrey? Sure, we all know what we get from McCaffrey when he is available, but availability has been a real problem for McCaffrey over the past two seasons. He has played in only ten games over the last two years. The first-round pick is the crux of your fantasy squad, the foundation of your roster. We cannot endorse spending a top 5 pick on what is "possible" with McCaffrey. In fantasy football, it is important to possibly minimize perceived risk whenever you can. Drafting McCaffrey is embracing risk, so it's completely understandable to pass on him in the first round.
What should we expect from Ezekiel Elliott and Saquon Barkley? Elliott and Barkley have a lot to prove this year, as they have been two of the most disappointing fantasy stars over the past two seasons. Both are heading into what could potentially be the final seasons with their respective teams. Elliott may have been worn down by heavy workloads by this point, but he still has the talent to be a high-end fantasy RB2. Barkley can be more productive this season now that he is two years removed from a major knee injury, and he has his eye on a significant payday. Elliott wants to show he is not done and could be a steady fantasy performer, but Barkley has more upside. Both should be drafted as top-end RB2 types.
Will Cam Akers re-emerge as a quality fantasy starter? Akers surprised us last season by returning from an Achilles injury in time for the Rams' Super Bowl push. His performances were filled with ups and downs. Now he has had an offseason to recover further, so he should certainly be targeted as a top 20 fantasy RB. While some fantasy injury experts have suggested that Akers may take time to get into complete form over the first few weeks of the season, he could become a more effective fantasy starter as the season progresses.
Who will be the No. 1 fantasy RB from the Seahawks? Rashaad Penny was the best RB in fantasy football last year, and if he is healthy early in the season, we should expect him to be the "lead" ball carrier for Seattle. He should be the No. 1 to Kenneth Walker III is a 1A. Penny has the edge as a pass blocker, making a notable difference in overall reps. But the Seahawks backfield will drive fantasy players crazy when both are available. It could be a different guy posting better numbers in any given week. But if Penny misses any time, Walker could put up back-end fantasy RB1 numbers. He was the best pure runner from the 2022 draft class and would thrive with consistent volume. So, this question could have a different answer every week of the season.
Will Clyde Edwards-Helaire finally break out? Honestly, no. Edwards-Helaire ran hard at times last season and offered occasional glimpses of renewed hope. But durability and consistency have been issues, and now Edwards-Helaire has likely lost his chance to show he can benefit from being a lead RB in one of the league's best offenses. Instead, Ronald Jones will likely force a timeshare, and Edwards-Helaire will be more of a fantasy RB3 this season.
Will Miles Sanders finally break out? Resoundingly, no. By now, we all know who Sanders is as a real-life and fantasy player. He is unreliable, has durability issues, and is not much of a threat near the goal line. He is a dancer who tries to make people miss and does not churn for yardage. There is no sudden reason to think his style of play is going to change, and he just won't produce regularly viable fantasy numbers. We would bet on seeing Kenneth Gainwell surprise everyone as a strong value play before we would bank on any significant rise in production from Sanders.
Scott Engel is a fantasy football writer for The Game Day and is a member of the FSWA. Engel is also the Fantasy writer at the official site of the Seattle Seahawks.