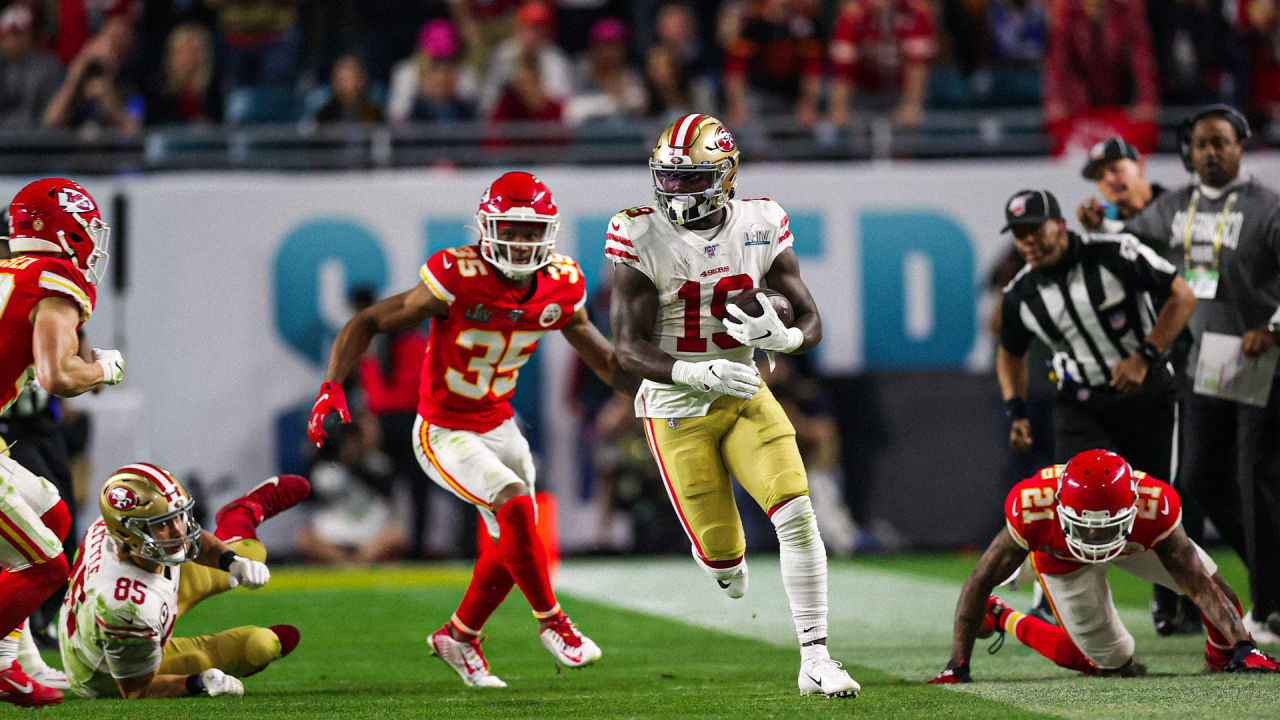 Why the Chiefs Will Win
The San Francisco 49ers present one of the better defenses in the National Football League right now. The unit currently is ranked second in points allowed (14.8). But they have recently dealt with a few injuries to some of their key players. According to reports, top players such as Nick Bosa and Jimmie Ward will return to action against the Chiefs this Sunday. But here is the issue for the Niners' defense.
They have never dealt with a weapon on the level of Chiefs tight end Travis Kelce this season. Even though San Francisco has some familiarity with the Pro Bowl tight end, his game has evolved ever since the Super Bowl occurred in 2020. Kelce is currently 10th in the league in receiving yards with 455 and leads all wideouts in TDs with seven. The Monday night game against the Raiders is a prime example of Kelce's dominance as a weapon. The All-Pro tight end found the endzone four times as the Chiefs erased a 17-point deficit.
FOUR TDs for @Tkelce ‼️

📺: #LVvsKC on ESPN
📱: Stream on NFL+ https://t.co/qRoro7dq9P pic.twitter.com/2UlpSsq1Lk

— NFL (@NFL) October 11, 2022
Whoever 49ers DC DeMeco Ryans assigns to cover Kelce will have their hands full for the entire game. Kelce's teammate Patrick Mahomes is the other individual the Niners will have to account for in Sunday's game. He does not have a receiver like Tyreek Hill, that can get behind a defensive back and score touchdowns.
Despite Hill's absence, Mahomes continues to find success as an elite quarterback. Mahomes has thrown at least four touchdown passes in three of the six games this season. He will face a stout 49ers defense coming off their worst season performance on Sunday. However, Mahomes head coach Andy Reid will figure out a way to put the Chiefs' playmakers in the best position to be successful on Sunday.
Why the 49ers Will Win
Whenever the 49ers are in rhythm on offense, they are difficult to defend. Their primary method of attack is their vaunted running game. The Niners are currently averaging 124.0 per game as a rushing offense this season. They will face a Kansas City defense that is ranked fourth in the league against the run, but there still will be opportunities to dominate them in other areas. While the Chiefs may be stout against the run, they give up about 356.5 yards of offense this year. Their defense does not have an elite pass rusher who can come off the edge and rattle a quarterback.
Expect San Francisco to do most of their damage in short to the intermediate passing game against a Chiefs defense that is average at best. The wildcard in Sunday's game will be the usage of newly acquired RB Christian McCaffrey. It all depends on how up-to-speed he is on the Niners' playbook. He has been with the team since Friday. If McCaffrey does play against Kansas City, he could be used as a receiver on certain screenplays.
What is Going to Happen 
Both teams are coming off defeats in Week 6. The Chiefs fell short in what many views as a potential AFC championship matchup against the Buffalo Bills. The rash of injuries seemed to catch up with the 49ers in last Sunday's 28-14 loss to the Atlanta Falcons. While the 49ers may have a slight edge over the Chiefs due to having an elite defense, they still do not possess a quarterback that's on the level of Patrick Mahomes.
Teams need elite QB production to be successful against opponents that contain elite defenses like San Francisco. Expect a close, hard-fought battle between two teams that play entirely different styles of football. But Mahomes and the Chiefs will make a few more plays that allow them to leave the Bay Area as winners.
Chiefs 31
49ers  27
Show Your Support
Support the Strike 7 Sports platform's growth by heading to Fanatics.com and purchasing officially licensed gear from the National Football League. Each purchase made through the text link below goes into the funding of the Strike 7 Sports brand. To proceed, click the link below and enjoy shopping at Fanatics.