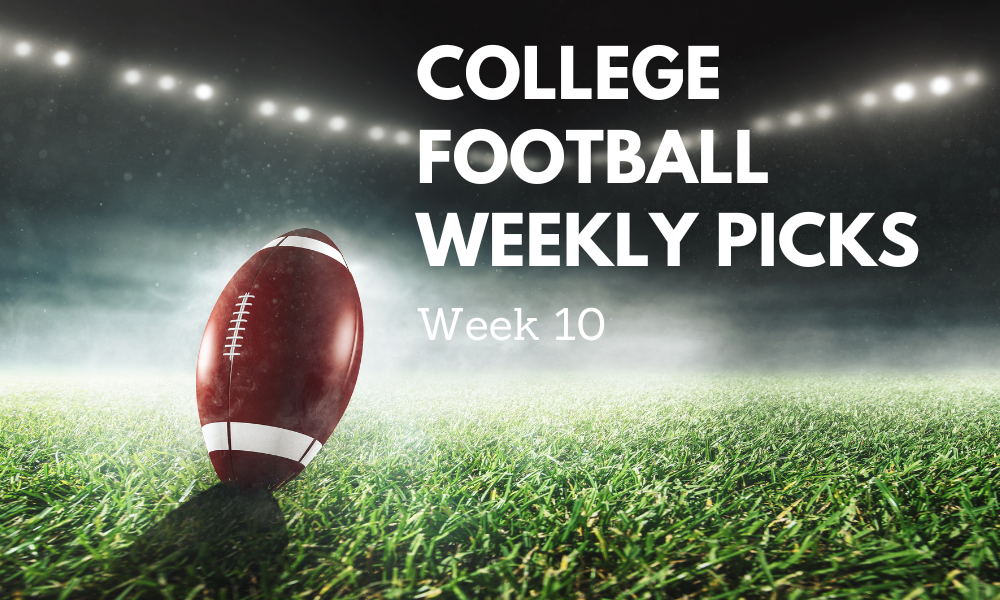 College Football Weekly Picks for Week 10
Alabama vs. LSU
Tennessee vs. Georgia
Clemson vs. Notre Dame
Wake Forest vs. NC State
Oklahoma State vs. Kansas
Leaderboard 
Derrick: 17-6
Brian: 16-8
Liaudwin: 12-10
Tennessee vs. Georgia
Brian: The game of the week is in Athens. Georgia has controlled the Sec East for a couple of years. Tennessee has a chance to change the narrative this week; ultimately, they will get the job done.
Tennessee 35, Georgia 28
Derrick: The Vols got through one hurdle to a CFP berth when they knocked off Alabama in Week 7, 52-49. The next major test on the schedule comes from the SEC East. The Vols go down to Athens to take on defending national champions, the Georgia Bulldogs. The team that can move the football effectively on offense will have the upper hand in Saturday's game. In that aspect, I give a slight edge to Tennessee. Their undefeated season will continue en route to the SEC championship game.
Tennessee 38, Georgia 31
Alabama vs. LSU
Brian: Alabama still has a chance to make the playoff, but they have to run the table. LSU is playing good football right now. Death Valley is always a hostile environment at night, but Bama will survive because of a big game from Bryce Young.
Alabama 35, LSU 31
Derrick: LSU has done better than expected under new head coach Brian Kelly. They have huge wins over teams such as Mississippi State, Auburn, Florida, and recently Ole Miss. Now, they head into their biggest game of the year against the Alabama Crimson Tide. First place in the SEC West and playoff implications are on the line in Saturday's big game. The Tigers will have their moments against Alabama, but I expect Bryce Young and the Tide to survive.
Alabama 38, LSU 35
Clemson vs. Notre Dame
Brian: DJ Uiagalelei played well the last time the Tigers came to South Bend. The Tigers are a much better team than Notre Dame this time around. However, this game will be closer than people think.
Clemson 31, Notre Dame 24
Derrick: The last time Clemson traveled to South Bend to take on Notre Dame, it ended a thrilling overtime victory for the Fighting Irish. Clemson would later return the favor in the ACC title game with a 34-10 win. Two years later, they face each other in South Bend once again. Notre Dames makes this game competitive, but Clemson shall prevail once it's over.
Clemson 34, Notre Dame 28
Wake Forest vs. NC State
Brian: Wake Forest got embarrassed last week and will want to play much better against an in-state rival. NC State is 1-1 after losing Devin Leary, and they will be tough to beat at home. Sam Hartman makes a few plays late to win the game.
Derrick: Wake Forest QB Sam Hartman is coming off one of his worst collegiate career performances against Louisville in Week 9. He will have a chance to redeem himself against the ACC's top defense, the NC State Wolfpack. The Wolfpack are searching for the right fit at QB after their starter Devin Leary went down with a season-ending injury (torn pectoral muscle) on October 8 against Florida State. They rallied in the fourth quarter to defeat Virginia Tech 22-21. I find it hard to think that Hartman will have a performance similar to last week's three-turnover output against Louisville. The Wolfpack does not have the firepower to keep up with an efficient passer like Hartman. The Deacons recover from Week 9's 48-21 beatdown with a victory in Raliegh.
Wake Forest 37, NC State 27
Oklahoma State vs. Kansas
Brian: The Cowboys got embarrassed last week against Kansas State. Kansas is one win away from making it to a bowl game. This game will be close, but, in the end, the Cowboys prevail.
Oklahoma State 31, Kansas 28
Derrick: Kansas only needs one win to become bowl-eligible this season. Oklahoma State wants to recover from last week's 48-point loss to the Kansas State Wildcats. Something has to give, right? It looks like the Jayhawks will have to wait another week for a chance to become bowl-eligible because it won't happen this Saturday against an angry OK State team.
Oklahoma State 42, Kansas 34