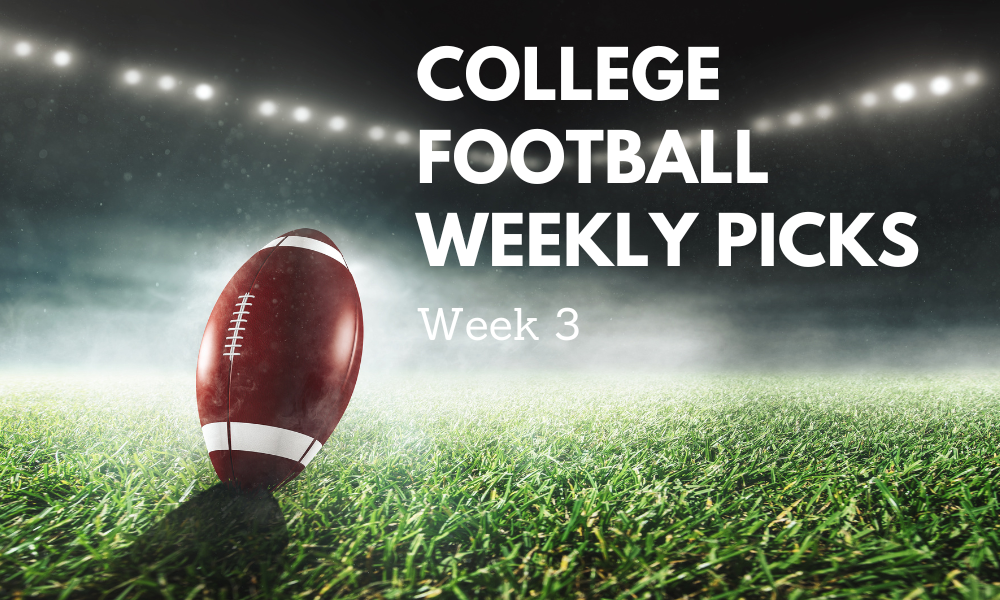 We are heading into the third week of the 2022 college football season. Before you know it, "Rivalry Week" will be upon us, and the season will end. Week 2 witnessed a nail-biting finish between the Alabama Crimson Tide and the Texas Longhorns. The game had an unusual setting for Bama because they seemed to schedule big games out of conference at a neutral location. The Tide would win 20-19 but drop to no.2 in the latest top 25 rankings. In Week 3, the staff at Strike 7 Sports set their eyes on four games to predict the outcomes for this weekend's action.
LSU vs. Mississippi State
Miami vs. Texas A&M
BYU vs. Oregon
Penn State vs. Auburn
LSU vs. Mississippi State 
Derrick: My heart says LSU can win this game, but my head is telling me to go with the Bulldogs. Currently, the "DBU" mantra is not in effect at LSU. The secondary is made of mostly transfer portal talent. Expect Mike Leach to be aggressive through the air in Saturday's game. However, Jayden Daniels and the Tigers' offense will keep this close, but Miss State will be moving on to 3-0 after this contest.
Miss State 38, LSU 35
Brian: The Bulldogs are off to a solid start this season. We will find out how good they are when they travel to Baton Rouge this season. In the end, LSU wins a close game. 
LSU 31, Mississippi State 28 
Liaudwin: MSU has put together two explosive performances on the offensive end, and while LSU fought hard in their season opener against Florida State, they fell short. A lopsided victory over FCS school Southern did nothing to convince me that they will be competitive among the SEC elites, where I think that MSU belongs after two dominant performances so far. I'm rolling with Mississippi State in this one. Will Rogers and company find a way to get the job done.
Mississippi State 41, LSU 28
Miami vs. Texas A&M
Derrick: Large NIL budgets resemble an NFL team with cap space to sign free agents. But without the right coaching in place, it won't mean anything when it comes to being successful. That's how I view the current situation with the Texas A&M Aggies. Head coach Jimbo Fisher announced that transfer Max Johnson is now the starting quarterback of A&M. The Aggies were coming off an embarrassing defeat to Appalachian State last week. But they do not get a chance to face a cupcake opponent to recover from last week's defeat. Their next opponent is the Miami Hurricanes, a red-hot program that started the season. I expect the Aggies to bounce back from their Week 2 loss to Appalachian State and defeat the Hurricanes at home. The Aggies win by three.
Texas A&M 27, Miami 24
Brian: Texas A&M got embarrassed last week at home. This week will not be any easier, but they will find a way to bounce back. 
Texas A&M 28, Miami 24
Liaudwin: Jimbo Fisher needed to get Texas A&M right after an upset loss at the hands of Appalachian State. He took steps in the right direction by inserting Max Johnson into the starting quarterback position. Miami has a future 1st round pick in Tyler Van Dyke, and I think that's the difference in this game. Mario Cristobal and his Hurricanes land the first big-time victory of the new era at Miami. A&M falls for the second straight week.
Miami 31, Texas A&M 24
BYU vs. Oregon
Derrick: Last week, BYU defeated Baylor Bears at home. At the time, the Bears were the 12th-ranked team in the country. They are also the defending Big 12 champions. The Cougars head on the road to face the 25th-ranked Oregon Ducks. Oregon had a tough outing to open the season when they were blown out by Georgia 49-3. They would bounce back the following week against Eastern Washington 70-14. Like Georgia, the Ducks again face a step up in competition when they take on BYU. The Cougars CFP resume building continues with a victory in Eugene, Oregon.
BYU 31, Oregon 27
Brian: BYU won a thriller last week at home against a good Baylor team. This week will be one of their toughest challenges of the year. Oregon wins by double digits. 
Oregon 35, BYU 21
Liaudwin: BYU has quietly become one of the best teams in the country, and I think they're a dark horse squad to make the College Football Playoff. The Cougars have put together solid defensive performances that give the slight edge. Oregon rebounded well after a season-opening beatdown at the hands of Georgia, but they will take steps backward after Saturday evening.
BYU wins in a shootout in Eugene.
BYU 45, Oregon 35
Penn State vs. Auburn
Derrick: The series between Penn State and Auburn now heads south to Jordan-Haire Stadium. The Nittany Lions won last year's matchup 28-20. Auburn will have a hostile environment to build momentum off of, but I'm going to go with the team that has the veteran QB to come out on top. Penn State wins by a four.
Penn State 24, Auburn 21
Brian: Penn State beat Auburn in a close game last year. Auburn has a different quarterback this year, but the result will be the same. 
Penn State 31, Auburn 28 
Liaudwin: Simply put, this game could determine the future of Auburn head coach Bryan Harsin. He hasn't exactly put together a lot of wins while coaching the Tigers, which fans and athletic officials are well-aware of. James Franklin and his Nittany Lions possess the experience and the ability to get the job done. My pick for this game goes to the team with the more proven quarterback, and Sean Clifford of PSU gets the nod.
Penn State 27, Auburn 17
Sports Betting
Are you going to place a bet on any sporting events happening today or throughout the week? If so, then you need to check out BetUs. BetUs is the ultimate destination for online betting, sports betting, live betting, racebooks, etc. If you are interested, click on the text link BetUs and you will be redirected to their website. We shall receive compensation if you decide to sign up through our affiliate link below.