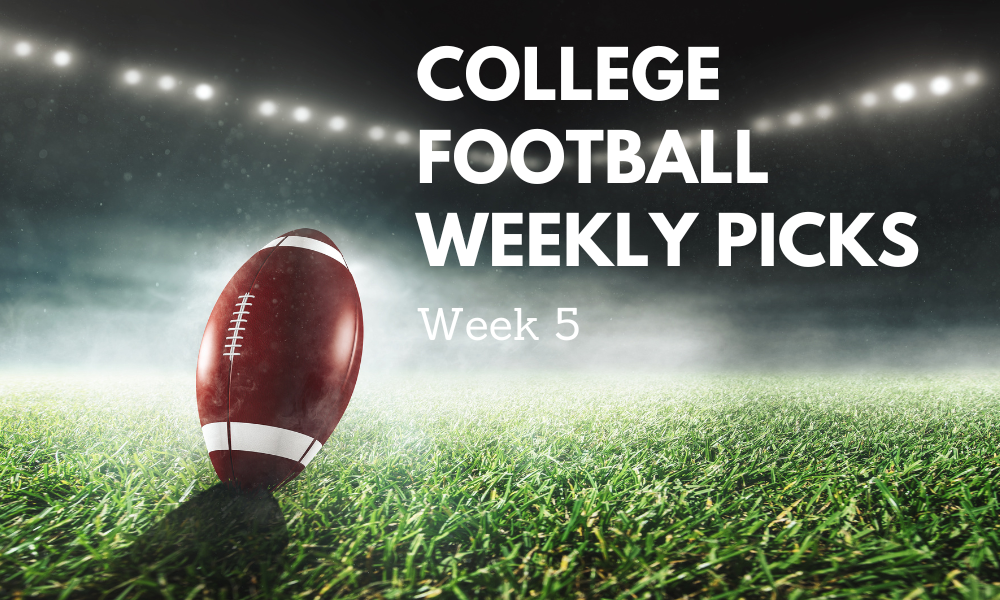 The staff gathered for another preview series and predicted a few college football games for Week 5. Below are our current standings.
Brian: 10-4
Derrick: 10-3
Liaudwin: 7-5
Week 5 College Football Preview Games
NC State vs. Clemson
Wake Forest vs. Florida State
Alabama vs. Arkansas
Kentucky vs. Mississippi 
Oklahoma State vs. Baylor
North Carolina State vs. Clemson
Brian: The game of the week is at Clemson. NC State gives Clemson a game, but the Tigers prevail.
Clemson 38, NC State 31
Derrick: The Tigers now head home after surviving an overtime battle with Wake Forest in Week 4. However, their road to the CFP will not get any easier. Their next opponent is the ninth-ranked NC State Wolfpack. I believe the Wolfpack will go the distance with Clemson, but it will not be enough to leave Memorial Stadium with a victory.
Clemson 45, NC State 35
Liaudwin: Coming off a huge victory against Wake Forest, the Clemson offense looks to finally have found the formula for consistent success with quarterback D.J. Uiagalelei: let him throw and make sure his receivers catch the ball. Sounds simple, but earlier in the season, Clemson head coach Dabo Swinney would have begged to differ. This battle of undefeated ACC foes, with each team sitting at 4-0 and snuggled inside the top 10 of the college rankings, will do a lot in determining who sits at the throne of the conference. NC State quarterback Devin Leary has a 16-3 record in games he's started in the last two years, including a victory over Clemson last year. However, the key difference between that game and this year's is a huge one: Death Valley. That alone gives Clemson the edge, which is really an understatement considering the team's won 36 straight home games in a row. It will be a hard-fought battle, but they will extend that to 37.
Clemson 45, NC State 35
Wake Forest vs. Florida State
Brian: Florida State hosts a really good Wake Forest team. They will be challenged but will outlast Wake Forest.
Florida State 31, Wake Forest 28
Derrick: I am still undecided on if Florida State is back in college football. There's still a lot of football left to be played, and the season can go sideways quickly. However, they will survive a close contest with the Demon Deacons this Saturday.
Florida State 35, Wake Forest 31
Liaudwin: The theme of this season for both teams has been offense, offense, and more offense. FSU quarterback Jordan Travis returned to the lineup last week after sustaining an injury two weeks ago against Louisville. Safe to say, against Boston College, he looked like he never left as the Seminoles went on to crush BC. On the other hand, Wake is coming off a last-minute defeat at the hands of Clemson. While Wake may possess the more potent offense, their lack of defensive respectability gives the edge to FSU. It'll be a shootout, but the Noles will get it done.
Florida State 42, Wake Forest 31
Alabama vs. Arkansas
Brian: Arkansas suffered a gut-wrenching loss last week and will have a tough test this week. In the end, the Tide roll.
Alabama 35 Arkansas 28
Derrick: Any hopes of the Hogs competing for the SEC West title or even a CFP berth will be on the line this Saturday at home against Alabama. Arkansas fell short in a close matchup with Texas A&M when a few miscues occurred deep in A&M's territory. Bama may have a few hiccups here and there against the Hogs, but they shall prevail again.
Alabama 34, Arkansas 27
Liaudwin: Crimson Tide into Fayetteville, his counterpart K.J. Jefferson will steer an Arkansas squad determined to bounce back from last week's defeat to Texas A&M. I think that both defenses will bend more in this contest than they've been this season, and with the weapons at the dispense of each offense, points will be there for the taking. Arkansas possesses the formula needed to pull off an upset at home: KJ Jefferson and a really good head coach in Sam Pittman. While picking against a Nick Saban-led team is almost considered a misdemeanor, I'm taking the home team in a stunner. Arkansas emerges as the victor in a close game.
Arkansas 42, Alabama 40
Kentucky vs. Mississippi 
Brian: Ole Miss and Kentucky should be an exciting game. Ole Miss wins a close contest at home.
Ole Miss 31, Kentucky 28
Derrick: The Kentucky Wildcats continue their quest to win the SEC East this Saturday when they head down to Oxford, Mississippi, to face the Rebels. Lane Kiffin's squad is off to a 3-0 start this season. After this game, we will learn a lot more about both teams, but I think the Wildcats have the better quarterback and are surrounded by a better overall supporting cast. Kentucky remains undefeated.
Kentucky 28, Mississippi 17
Liaudwin: With each team entering this game with unblemished records, it would be hard to find too many flaws in either club. With All-SEC quarterback Will Levis and the return of do it all running back Chris Rodriguez, Kentucky looks primed to knock off an Ole Miss squad featuring new quarterback Jaxson Dart, who came to Oxford after transferring from USC. Where the Rebels show, their muscle is in the running game, with the team combining for over 1,100 yards on the ground so far. However, with Kentucky already holding an SEC victory this season over Florida, it's possible to envision the Wildcats rising to the occasion again on the road. This will serve as the first true test for Ole Miss, and I am not sure they will receive a passing score. In fact, they won't.
Kentucky 37 Ole Miss 30
Oklahoma State vs. Baylor
Brian: The rematch of last year's Big 12 title game should be a good game. Baylor's defense makes a play late to win the game.
Baylor 35, Oklahoma State 31
Derrick: Oklahoma State has been at the doorsteps of competing for a national title for several years. But every season, they have a game on their schedule that causes them to stumble. Based on the optics, the Cowboys look more balanced on both sides of the football compared to previous squads. With that being said, I expect the Cowboys to avenge last year's Big 12 title game loss to Baylor and continue their pursuit of a CFP berth.
Oklahoma State 27, Baylor 24
Liaudwin: Spencer Sanders's performances in his last few games as the quarterback at OSU have to make head coach Mike Gundy proud. Sanders leads an offense that features 4 receivers that have crossed the 100-yard receiving mark. In addition, Sanders himself has completed almost 70 percent of his passes, and his efficiency has contributed to several explosive performances by their offense. Defense is reigning supreme for Baylor, with the team giving up just 16.8 points per game. Sanders has thrown 9 interceptions against Baylor in the last 3 years, and I think that trend continues on Saturday.
Baylor 28, OSU 24
Sports Betting
Are you going to place a bet on any sporting events happening today or throughout the week? If so, then you need to check out BetUs. BetUs is the ultimate destination for online betting, sports betting, live betting, racebooks, etc. If you are interested, click on the text link BetUs and you will be redirected to their website. We shall receive compensation if you decide to sign up through our affiliate link below.