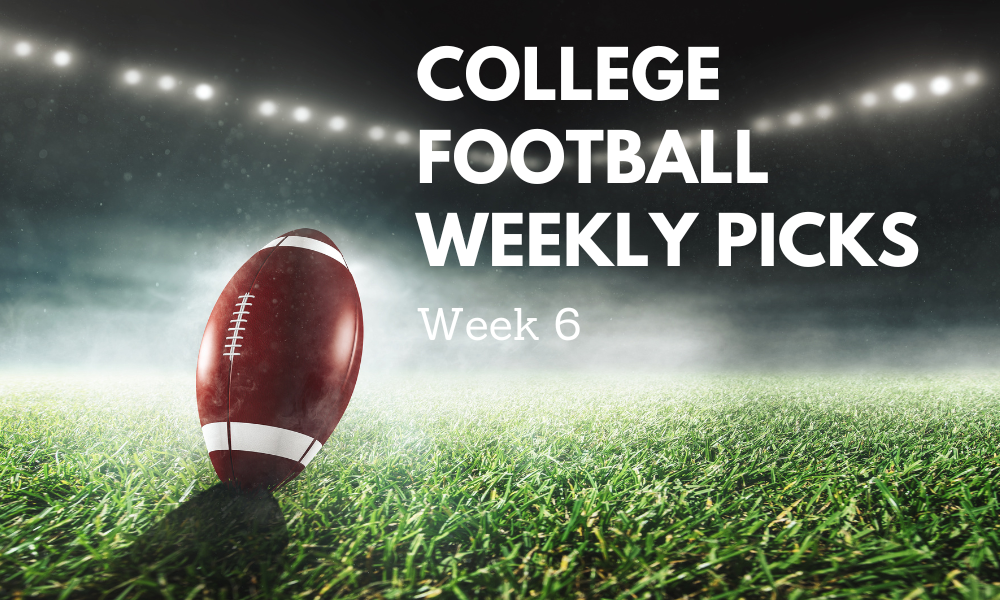 Here are weekly college football picks for Week 6 of the 2022 season. We have chosen to make score predictions on the following games.
Tennessee vs. LSU
TCU vs. Kansas
Arkansas vs. Mississippi State
Utah vs. UCLA
BYU vs. Notre Dame
Leaderboard
Brian: 13-6
Derrick: 13-5
Liaudwin: 8-9
Tennessee vs. LSU
Brian: The Vols are good enough to win the SEC. LSU survived a tough game at Auburn, but Jayden is slightly banged up. This advantage will be enough for the Vols to win on the road.
Tennessee 31, LSU 21
Derrick: During a post-game interview in 2012, former LSU Tigers head coach Les Miles made this remark about opposing teams playing in Tiger Stadium. "That was Death Valley. That was the place where opponents' dreams go to die. It was spectacular." While Miles's statement is 80 percent accurate, it's not always the case. The Tigers are underdogs in Saturday's matchup against the Tennessee Vols, but they will have the crowd advantage of playing in Tiger Stadium. Will that be enough to disrupt the Volunteer offense? I highly doubt it. It takes too long for the Tigers' offense to get going in games this season. LSU's defense will make this game interesting, but the Vols will remain undefeated.
Tennessee 27, LSU 24
Liaudwin: Tennessee quarterback Hendon Hooker and company come into Baton Rouge with a week of rest and motivated to keep their top 10 rankings. As one of the best offenses in the country, UT hasn't seen too many teams formidable enough to keep up with them. However, an LSU offense led by quarterback Jayden Daniels serves as a formidable challenge to a sometimes-leaky defense. Since the season-opening loss to Florida State, Daniels and the offense have improved exponentially, and the defense has put up some respectable performances. Ultimately, I think that UT running back Jabari Small gives the Volunteers an edge in this game. LSU simply fails to contain him, and UT eventually pulls away in a highly contested game.
UT 45, LSU 34
TCU vs. Kansas
Brian: Kansas is the story of the year in college football. This will be their toughest challenge far in a good TCU team. In the end, TCU wins by double-digits.
TCU 35, Kansas 24
Derrick: A football program is doing really well when ESPN's College Day decides to air their Saturday show on campus. The popular college football show will be on the scene at Kansas University to showcase their upcoming game against the TCU Horned Frogs. While everyone has paid attention to the Jayhawks' impressive start, the Horned Frogs have made a little noise of their own. In Week 5, they dropped 55 points on the Oklahoma Sooners in front of a home crowd in Norman. The Jayhawks will most likely become bowl eligible by season's end, but aspirations of a CFP berth end tomorrow against TCU.
TCU 45, Kansas 28
Liaudwin: Offense, offense, offense. Both undefeated Big 12 foes feature explosive playmakers that can change the course of a game instantly. TCU quarterback Max Duggan performed spectacularly in a blowout victory over Oklahoma last week, and he'll be asked to repeat his feats this week. Kansas, the Cinderella of the season so far, is one win away from bowl eligibility for the first time in what feels like forever. While Lance Leipold's Jayhawks have been a pleasant surprise so far, their unblemished run ends at the hands of Duggan and company.
TCU 42, Kansas 31
Arkansas vs. Mississippi State
Brian: Mike Leach may have figured things out at Mississippi State. This team has a chance to win a lot of games this year. That said, I don't see a Sam Pittman-coached team losing three games in a row.
Arkansas 35, Mississippi State 31
Derrick: Miss State's head coach is finally figuring out that a balanced attack on offense is the best way to be effective in the Southeastern Conference. Because of the change in approach, the Bulldogs are off to one of the best starts that the fanbase has seen in years. The Bulldogs are 4-1 and have racked up big-time wins on the season. Their next opponent will be the Arkansas Razorbacks. The Hogs are coming off a 49-26 beatdown by Alabama. State will most likely not win the SEC West, but an exciting finish to close out the season is on the horizon. The Razorbacks will hang with the Bulldogs for most of Saturday's game but will lose their third game of the season.
Miss State 48, Arkansas 38
Liaudwin: Arkansas, coming off the hands of a humbling contest against Alabama, enters Starkville with the opportunity to finally get back on track. MSU's QB Will Rogers runs the show for the Bulldogs, and he's pretty good at it, to say the least. State has fallen just once this season, and with Rogers, they prevail in a close one against the Razorbacks and QB KJ Jefferson.
State 34, Arkansas 30
Utah vs. UCLA
Brian: The Pac-12 race is wide open this year. Either one of these teams has a chance to win it because of their quarterback play and good coaching. UCLA wins a close one at home.
UCLA 35,

Utah 31
Derrick: After losing their season opener on the road to Florida in crushing fashion, the Utah Utes have won four-straight games and have remained in contention for a Pac-12 championship game appearance. They head on the road to face a UCLA team that is undefeated at the moment. Utah's roster can present a few challenges for the Bruins, but I think they will pull away with a victory and remain undefeated.
UCLA 34, Utah 28
Liaudwin: Cameron Rising of Utah and Dorian Thompson-Robinson from UCLA serve as two of the more underrated quarterbacks in the nation. The unblemished Bruins have turned a corner under Chip Kelly, and the head coach's magic seems to be working. Rising hasn't been shabby either, and the teams feature playmakers at both the running back and receiving positions. The final decision in this contest stems from the defensive abilities of each unit, and with that being the separator, Kyle Whittingham's Utes knock off the Bruins in a thriller.
Utah 34, UCLA 27
BYU vs. Notre Dame
Brian: This is one of the more underrated games of the week. BYU is a really good team, and Notre Dame is showing signs of progress. Jaren Hall is the better quarterback and makes a few more plays to help BYU win.
BYU 31, Notre Dame 27
Derrick: After starting off the season with an 0-2 record, the Notre Dame Fighting Irish finally got back on track. They have won two-straight games, but they face a tough opponent in the BYU Cougars. Drew Pyne is performing exceptionally well as the Irish starting QB, but the Cougars will make a few more plays that will allow them to win on Saturday.
BYU 35, Notre Dame 31
Liaudwin: In the battle of the independents, each team looks to continue the positive vibes of late. After struggling early in the season, Notre Dame seems to have something in backup quarterback Drew Pyne. First-year head coach Marcus Freeman and his crew need to beware of BYU's do it all leader in QB Jaren Hall. I think his talent alone propels the Cougars to the next level in this game, and he gets the job done in South Bend.
BYU 27, ND 21
Show Your Support
Support the Strike 7 Sports platform's growth by heading over to Fanatics.com and purchasing officially licensed fan gear from the NFL, NCAA, and the NBA. Each purchase made through the text link below goes into the funding of the Strike 7 Sports brand. To proceed, click on the text link below and begin shopping.
Sports Betting
Are you going to place a bet on any sporting events happening today or throughout the week? If so, then you need to check out BetUs. BetUs is the ultimate destination for online betting, sports betting, live betting, racebooks, etc. If you are interested, click on the text link BetUs and you will be redirected to their website. We shall receive compensation if you decide to sign up through our affiliate link below.