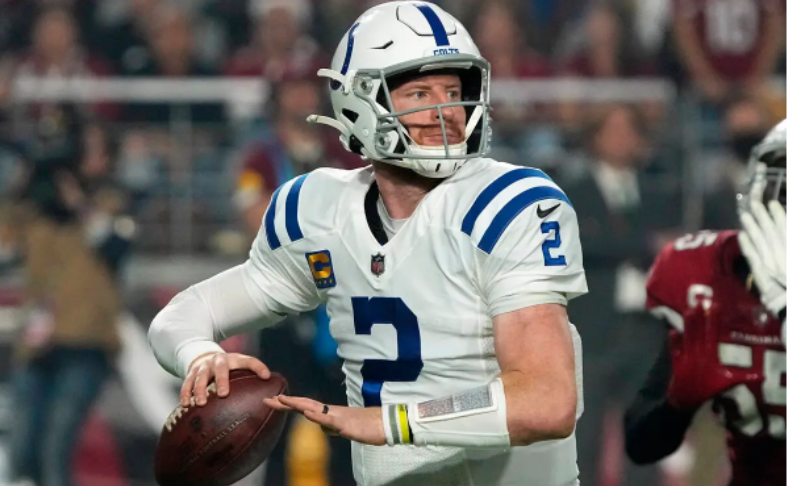 Who in their right mind would part ways with a quarterback that threw for 3,563 passing yards against only seven interceptions? The Indianapolis Colts added themselves to that conversation after shipping off Carson Wentz to the Washington Commanders. The team missed the postseason after losing to the Jacksonville Jaguars in the last game of the season. So the contest was a "win, and you are in" scenario for Indianapolis. Here is what Colts general manager Chris Ballard told NBC's Pro Football Talk.

"I don't know," Ballard told ProFootballTalk when asked if Wentz would've returned with a Week 18 playoff-clinching win. "I think we still would've had some hard discussions, just the way we played down the stretch, and we knew we needed to make some improvements in that area. But the one thing, I think, (owner) Jim (Irsay) and I and (coach) Frank (Reich), we're all pretty good at, like, when we know something's not a good fit, don't just try to justify it. Let's move forward.
"We all knew we were gonna get egg on our face," Ballard continued. "That is what it is. But at the end of the day, it's about doing the right thing for the organization. So I think even if we would've ended up in the playoffs, we would've had some hard discussions going forward."
No QB is safe from being either cut or traded nowadays. However, a quarterback with Wentz's stats would be considered a franchise quarterback. Especially if the team only missed the playoffs by losing their season's final game. Led by Pro Bowl running back Jonathan Taylor, the Colts were expected by many to be a team that could make a deep run into the playoffs.
However, they struggled down the stretch by losing their final two games. Both contests were playoff-clinching scenarios for the Colts. According to reports, team owner Jim Irsay was the driving force behind the decision to move on from Wentz. After parting ways with the former Philadelphia Eagle, the Colts traded for former league MVP Matt Ryan from the Atlanta Falcons.
Show Your Support
Support the Strike 7 Sports platform's growth by heading to Fanatics.com and purchasing officially licensed gear from the National Football League. Each purchase made through the text link below goes into the funding of the Strike 7 Sports brand. To proceed, click on the link below and enjoy shopping over at Fanatics.