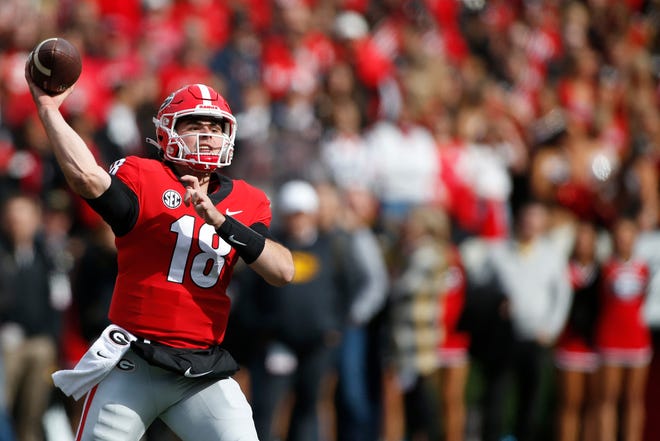 Georgia and Alabama will meet once again in the national championship. This time it will be in Indianapolis instead of Atlanta. This is the best team Georgia has had in the Kirby Smart era. According to oddsmakers in Vegas, the Dawgs are favored by a few points. The big question can their current quarterback play well enough to help them win.
Smart's starting quarterback at the beginning of the season was JT Daniels. Daniels is a talented quarterback who was a five-star recruit coming out of high school. He is undefeated as the starting quarterback for the Georgia Bulldogs. He's had a solid career with the program so far. His biggest problem has been his ability not to stay healthy. He missed a few games last season and a few games this season.
Last season he missed the games earlier in the season, but when he got healthy, he started the remainder of the season. This year he started the season and missed some games in between. Current starter Stetson Bennett replaced him and played at such an elite level that Kirby Smart decided to stick with him.
Booger Mcfarland gave his opinion on Georgia's chances with Stetson Bennett on the "Tony Kornheiser Show" podcast, one of the best college football analysts.
"The motivation to show up for Georgia is at an all-time high. Now my question, Tony, is really simple: Do we think that Stetson Bennett can beat Nick Saban? I personally don't. I don't think that Nick Saban does. But it really doesn't matter, because Stetson Bennett has to think that he can win, and Kirby Smart has to think that he can win. We'll see," explained Mcfarland.
While Mcfarland may have a point, the only opinion that matters is Kirby Smarts.
Smart wants to win a national championship very badly and is willing to do whatever it takes. He has yet to play Daniels versus Bama. If Bennett struggles again (He has thrown five interceptions in his two games versus Bama) against the Crimson Tide, will Kirby replace him with Daniels? His decision in this scenario could impact the outcome of the game.
His mentor, Nick Saban, was willing to put in Tua Tagovailoa when he needed a spark, and it helped Bama beat Georgia a few years ago.
In the end, if Georgia plays their best game of the year, then they will not have to worry about making a quarterback change.
Support the Strike 7 Sports platform's growth by heading to Fanatics.com and purchase officially licensed fan gear from the NFL, NCAA, and the NBA. Each purchase made through the text link below goes into the funding of the Strike 7 Sports brand. To proceed, click on the text link below and begin shopping.
Licensed NFL, NBA, and NCAA Football Apparel Gear at Fanatics
Photo courtesy of usatoday.com