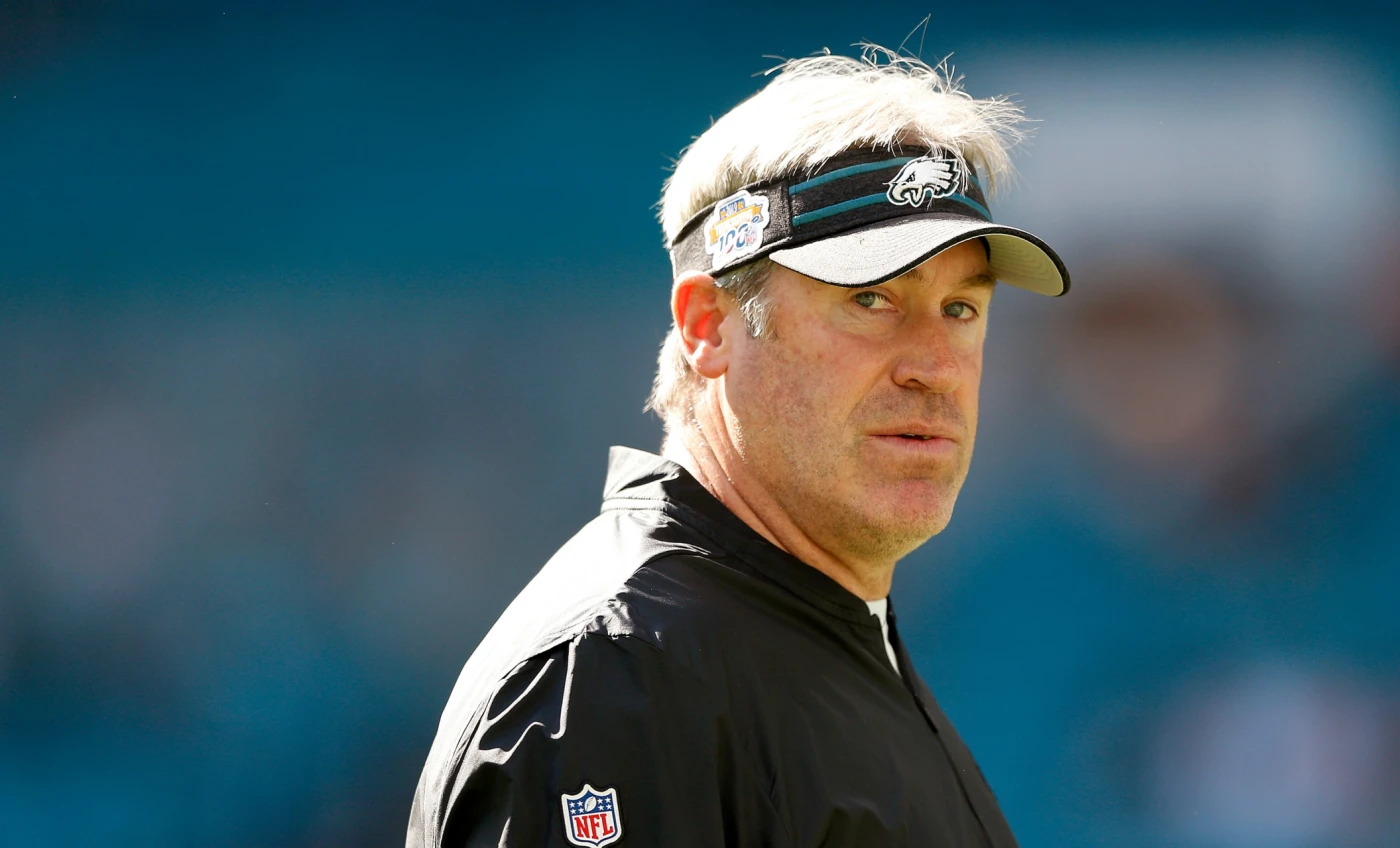 After former Raiders head coach Jon Gruden was forced to resign on Monday night, some speculation began to see who would replace him. The Raiders need a complete culture change, especially after all the things Jon Gruden emailed. If the Raiders are smart, they should get rid of anyone Jon Gruden brought into their organization.
According to a lot of betting websites, Chiefs' offensive coordinator Eric Bienemy is leading the race. That could be the direction the Raiders go in, and if they choose Bienemy as their next head coach, he could do a solid job.
However, the Raiders' last head coaching hire (Jon Gruden) was a coach who had won a Super Bowl and had a strong relationship with Raiders ownership. Gruden was a really good offensive mind, too.
Former Eagles head coach Doug Pederson (who is taking the year off from coaching) could be a solid hire for the Raiders. What he was able to accomplish with the Eagles was tremendous. In two years, he helped change the culture and won a Super Bowl against the Patriots with a backup quarterback. Some critics believe that much of the Eagles' success had to do with former Eagles' offensive coordinator and current Colts' head coach Frank Reich.
Doug Pederson wants to get another chance to coach in the NFL.
"The competitor inside wants to continue to compete," Hopefully, I get an opportunity to lead another football team and do the same things again and learn from the last five years — what a great teaching moment for me. I always talk about how we learn from failures and different things like that. I don't want to say that this was a failure, but at the same time, I want to learn from the last five years moving forward in my next opportunity," Pederson said.
Pederson is eager to win the Super Bowl again.
"I'll be defined in Philadelphia for my wins and losses," Pederson said. "Obviously, the championship is huge. But for me, I feel like if I get another opportunity, I want to do it again. I went to two Super Bowls as a player in Green Bay, and then obviously now being a coach in Philadelphia, and so three Super Bowls, and when it gets in your system like that, it's just hard to turn that off."
Doug Pederson is a great offensive mind. He can do a really good job getting the best out of Derek Carr. Pederson is a very good coach but also an intelligent man. The thing that makes him great is his guts to be aggressive. He will always be remembered going for it on 4th and goal right before halftime in the Super Bowl. He will not repeat some of the mistakes he made at the end of his tenure in Philadelphia.
Finally, Pederson brought the Philadelphia Eagles their first Super Bowl trophy. If given the opportunity, he could get the Las Vegas Raiders their first appearance to the big game since 2002 as well.
Photo courtesy of the Getty/Michael Reaves.
Support the Strike 7 Sports platform's growth by heading over to Fanatics.com and purchasing officially licensed gear from the National Football League. Each purchase made through the text link below goes into the funding of the Strike 7 Sports brand. To proceed, click on the link below and enjoy shopping over at Fanatics.