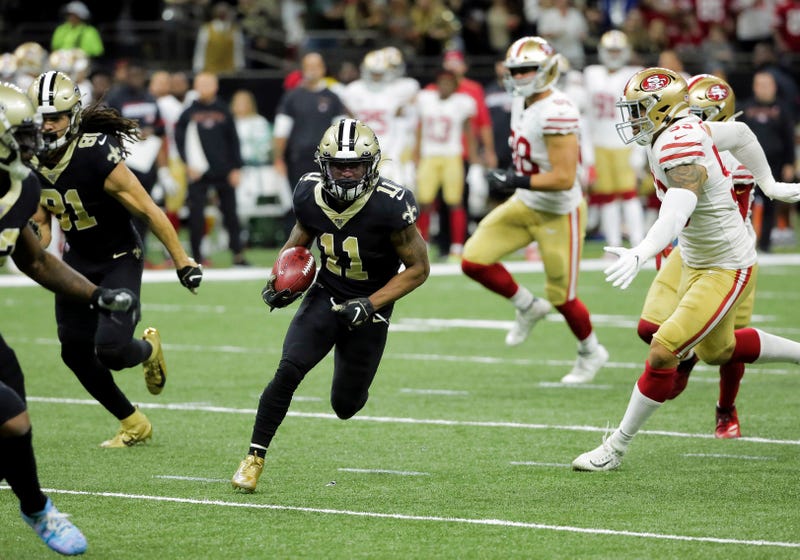 When all of the critical components are on the field for the Saints offense, they are difficult to stop. Everyone saw first-hand how potent they could be when they dismantled the Tampa Bay Buccaneers for the second time this season. During the game versus Tampa Bay, Drew Brees distributed the football to at least 11 different targets. All contributions were vital in last Sunday's 38-3 destruction of the Tampa Bay Buccaneers.
However, there is one individual who's role is evolving as 2020 progresses for the Saints offense. That individual is kick returner/wide receiver Deonte Harris. The undrafted wide receiver out of Assumption College opened things up for the Saints offense on a drive during last week's massacre over the Bucs. Harris came on to the scene last season as the Saints kick/punt returner.
In his rookie season with the Saints, Harris led the league in punt returns, combined returns, and punt return yards. Those accolades were enough for Harris to earn a trip to the Pro Bowl in his rookie season. Compared to last season, Harris is starting to see a lot more snaps with the Saints offense's current structure. He has been utilized in a multitude of ways, such as wide receiver duties and reverse options.
His versatility will make the Saints offense more potent than it has ever been since the 2009 campaign. The offenses unpredictability made it so difficult to defend during the earlier years of the Sean Payton era. They have lost some of that edge over the years due to not having a viable option lining up opposite of Michael Thomas.
Inserting Harris into various situations on offense will take a ton of pressure off players such as Michael Thomas and Alvin Kamara. Also, do not forget about his ability to change a football game's outcome by flipping the field for the offense.
As you may have noticed last week, whenever the Saints are given a short field to work with, they can be challenging to defend. The Bucs defense zoned in on stopping Alvin Kamara, which resulted in the flood gates being opened for other weapons on the Saints offense.
Harris's ability to make that happen will pay big dividends for the Saints. Their next opponent will be the San Francisco 49ers, a team that has been severely hampered by injuries in 2020. Expect Head Coach Sean Payton to put Harris on full display for the entire football world to see. He is not on the level of Chiefs wide receiver Tyreek Hill, yet he is not that far behind him.
Support the great work at Strike 7 Sports by purchasing New Orleans Saints licensed fan gear over at Fanatics.com. Today, we will showcase a Drew Brees New Orleans Saints Color Rush Jersey by Nike. If you are interested in purchasing the item, then click on the text link below.
Drew Brees New Orleans Saints Nike Vapor Untouchable Color Rush Limited Player Jersey – White
Photo courtesy of Derick E. Hingle – USA TODAY Sports.