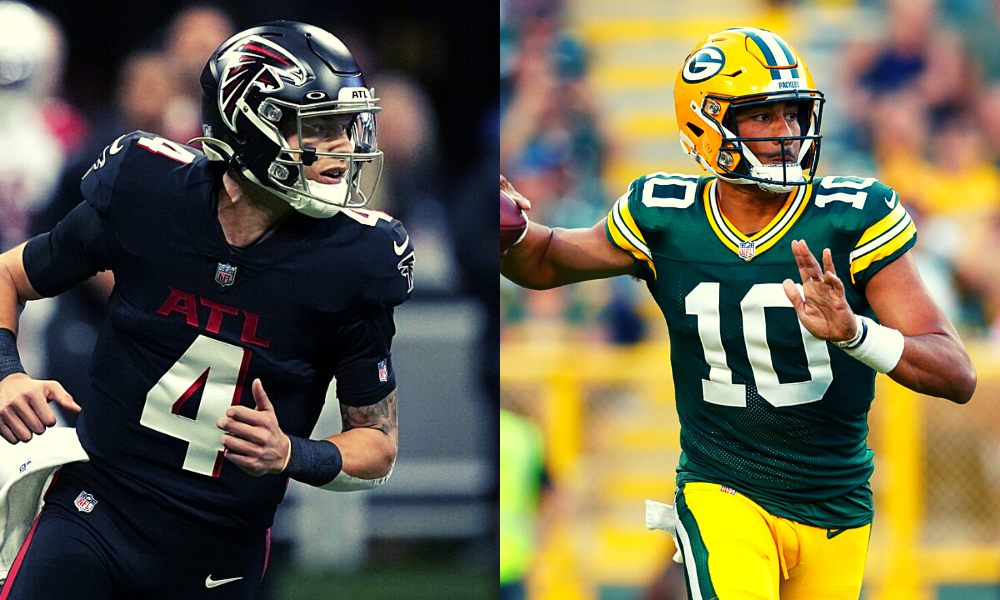 There are two franchises in the NFL who have recently entered the world of finding a new starting quarterback. Both the Atlanta Falcons with Matt Ryan and the Green Bay Packers with Aaron Rodgers have had a franchise quarterback for over a decade, and all of a sudden, a new era has begun for each of them.
The Falcons tried Marcus Mariota as Matt Ryan's successor, but by the back end of last season he'd been benched and was no longer with the team, leaving former Cincinnati Bearcats quarterback Desmond Ridder to get the start for the final four games of the season.
The Green Bay Packers situation is a little different having drafted Jordan Love back in 2020 and allowed him to develop behind Aaron Rodgers, who moved on this off-season after being traded to his preferred destination with the New York Jets.
Todays' article is intended to assess the two quarterbacks and their potential to have a breakout season as the starters for their respective franchise. We'll look at their college careers and some of the factors surrounding their NFL situations that could lead to a breakout campaign in the 2023-2024 NFL season.
Desmond Ridder's Background
Desmond Ridder is a former three star recruit out of Louisville, Kentucky who committed to Cincinnati, and would go on to redshirt his freshman year.
He was named the starter the following season as a redshirt freshman, where he would spend the next four years developing as a college football talent. He threw 87 touchdowns in four seasons and would have his best year in his senior season, leading the Bearcats to a 13-0 season and a spot in the College Football Playoff against Alabama.
He's a taller quarterback at six foot four who moves really well for his size, and has proven that he has a lot of confidence in his throwing ability. His ball placement has improved over the years and he throws an excellent deep ball with good arm strength to hit the outside edge of his wide receivers outside the hashes and against the sideline.
Ridder is far more athletic than he looks at his size and covers a lot of ground with a long stride. He can be mobile in Atlanta, but can also stand in the pocket and spread the football around to various receivers.
The concerns with him coming out of college were the numbers of sacks he has taken rather than throwing the football away or checking down, and he struggles at times with his accuracy.
Ridder was the AAC Offensive Player of the Year in both 2020 and 2021 as he grew into the starting role with the Bearcats, as well as helping them to that phenomenal undefeated season in 2021.
Jordan Love's background
Jordan Love's 2018 season at Utah State had the college football world scrambling for superlatives. He was lighting up the competition that year, throwing 32 touchdowns and only six interceptions with 3,550 passing yards and a 64% completion percentage.
In the 2019 season things cooled off a little with some of the personnel changes with the Utah State Aggies offense, but Love still did enough to make himself a top tier quarterback prospect at the next level.
The Green Bay Packers draftee is a complete natural when it comes to throwing the football. It comes out of his hands like lightning and he excelled in college when it came to the deep ball and connecting with receivers in stride.
Love was known for attacking teams vertically and the combination of his arm strength and timing led to carving up defenses on a consistent basis. Much like Ridder, Jordan Love is athletic for a player of his size and can run when called upon. He senses and avoids pressure well and has the mobility to escape the pocket before resetting and getting his eyes back downfield.
The knock-on Love was the level of talent he played against in college. His receivers were often wide open on those deep balls and he was able to blow elementary level zone coverage defenses out of the water.
He moved on to the NFL as the Aggies second all-time quarterback in passing yards, while ranking third in touchdowns. He was named the 2018 New Mexico Bowl MVP for his standout performance against North Texas.
Comparing Desmond Ridder and Jordan Love
The two quarterbacks have a similar play style, but they vary in the way they attack the defense. Desmond Ridder throws a neat deep ball but in college he was more inclined to spread the ball around and often come short, playing in a scheme that involved a lot of short yardage completions and screens that would then turn into big gains.
Jordan Love would often read the defense from deep to short, throwing a wealth of seam route deep balls and throws down either sideline to a receiver in stride.
Both guys have a good level of mobility but Ridder wins in that category. Jordan Love totaled 590 rushing yards and nine rushing touchdowns in three years at Utah State, while Ridder had 2,772 rushing yards and 28 rushing TDs in four seasons at Cincinnati. In three of those seasons he managed over 700 rushing yards and was called upon on designed runs consistently.
Desmond Ridder's best year came in his fourth and final year, receiving an 87.1 passing grade from PFF, while Jordan Love's best year was the 2018 season, his penultimate year with the Aggies. In that year Love graded an 82.6 as a passer, giving Ridder the slight edge here too.
Love does have his strengths though and factors of his game that outperform that of Desmond Ridder. He is a slightly more accurate quarterback and has the stronger arm. His ability to fire footballs into tight windows with velocity wins, and he escapes the pocket and evades pressure better than Ridder too.
Ridder has been labeled a natural born leader by Falcons running back and fellow rookie last season Tyler Allgeier, and he has a confidence in himself to be able to lead a heavily improved Falcons roster that wasn't shy in spending some money during free agency.
Jordan Love hasn't had a chance to prove himself as a leader yet in Green Bay, but is excited about the opportunity and ready for the challenge with a new look offense and a talented group of young wide receivers.
Factors to Consider for a Breakout Season
Neither quarterback is stepping into the limelight fresh out of college. Jordan Love in particular has had to be patient in waiting for his moment. Nowadays it's unheard of for a rookie quarterback to have to wait more than a few weeks of their rookie season before getting on the field, especially if they're a first round talent. For Jordan Love, it's been three years.
The Packers didn't anticipate that after drafting Love, Aaron Rodgers would go and win back to back MVPs. While that delayed his time to shine, it did mean that the young quarterback got to learn from the very best for multiple years. That said, there were always rumors about just how accommodating Aaron Rodgers was of Jordan Love's presence…
Desmond Ridder did get on the field in his rookie year, but not until Week 15 against New Orleans. He got four starts and would throw his first two touchdowns in the NFL in Week 18 against the Tampa Bay Buccaneers, but his exposure in year one was still limited.
Both guys have had an opportunity to learn the system and get their feet under the table before taking on the ultimate role in an NFL organization. Both guys seem ready for the task, and have a good group of talent around them to support their potential success.
Atlanta addressed the running back position with top ten draft pick and bellcow running back Bijan Robinson out of Texas, who will form a valiant partnership with last year's rookie Tyler Allgeier to give Ridder some sturdy support on the ground.
Head coach Arthur Smith is known for deploying a heavy run game having done so with Derrick Henry as the offensive coordinator in Tennessee, which should alleviate some of the pressure from Ridder himself.
As far as talented pass catchers go, Ridder has two early draft picks in Drake London and Kyle Pitts at his disposal, the latter of which he is yet to play with on an NFL field. Pitts was ruled out for the season from Week 12, so by the time Ridder got into the game in Atlanta, his star tight end was out.
Jordan Love has his own group of young pass catchers to develop with, starting with last year's sensation Christian Watson. It was a slow start to the season for Watson but in the second half of the season he had several high level performances including 107 yards and three touchdowns against Dallas.
Outside of Watson the Packers drafted pass catching talent heavily in the 2023 NFL draft, adding shifty wide receiver Jayden Reed and athletic tight end Luke Musgrave, before double dipping on tight ends with Tucker Kraft too. Those three draftees will join a room consisting of Watson and Romeo Doubs, plus the double edged sword in the backfield with Aaron Jones and AJ Dillon.
So both teams have a solid run game established and high level, young, athletic pass catchers at their disposal.
Coaching Schemes
There is likely going to be substantially less pressure on the arm of Desmond Ridder considering the run heavy approach of Arthur Smith. He is setting historically high numbers for run percentage and drastically low numbers for pass plays particularly in the second half of games. Despite trailing games, Smith still gladly relies on his run game over forcing a switch to throw the football at a higher rate.
With Ridder, that likely means a few runs sprinkled in for him, and the early rushing downs set up shorter third down situations for him to assess in the pass game.
Matt Lafleur's scheme in Green Bay features a hefty percentage of play action passes, which injected new life into Aaron Rodgers when he arrived with the Packers in 2019.
Lafleur felt he could let Davante Adams go because his scheme isn't dependent on receivers winning one on one matchups, but more developing the run game which in turn opens up the play action pass game with a lot of crossing routes and mesh concepts to create space.
Jordan Love will have the opportunity to take deep shots off of play action looks, and has the support of a strong run game built into the system to unlock those opportunities down field.
Strength of Schedule
The Atlanta Falcons have the weakest schedule in the upcoming 2023 season, and are helped by the current state of the NFC South division. The New Orleans Saints brought in Derek Carr, but the Carolina Panthers are building around rookie Bryce Young and the Tampa Bay Buccaneers are adjusting to life after Tom Brady with an experimental year between Baker Mayfield and Kyle Trask.
Green Bay have a tougher division in the NFC North with the Minnesota Vikings retooling after a successful regular season last year. The Detroit Lions appear to be getting better year after year and the Chicago Bears are starting to add offensive talent to support Justin Fields.
Green Bay ranks 24th for strength of schedule, so they're not all that far away from Atlanta, but the level of competition will be slightly tougher on Jordan Love than it is Desmond Ridder this year.
Predictions for a Breakout Season
I like Desmond Ridder's odds to jump off the page this year. He will have Kyle Pitts back in action and a vastly improved run game that should open up the pass for a young quarterback.
Ridder has been out on the field and looked comfortable all things considered in the four games he played, refusing to throw an interception and showing patience before earning his first touchdown throws in the last week of the regular season.
Having spent the offseason and camp building a strong rapport with his wide receivers, this is Ridder's team to lead now, and the unit should be on the same page come the start of the 2023 regular season.
Jordan Love on the other hand has had more time than any developing quarterback in recent history to develop and understand the system he's playing in. While that should mean he comes out firing, it also applies a lot of pressure. Considering the time he's had to sit back and learn, any early mistakes will be met with hefty criticism, which might be a little harsh as he learns how to see those things in real time on an NFL field.
Perhaps adding to the pressure is the fact that Green Bay gave Jordan Love a contract extension without him featuring as the starting QB. It was a very rare circumstance but considering Love is entering year four, had he performed at an elite level he would then be a potential free agent the following year, so Green Bay had to act and extend him in advance of seeing him produce.
Love's relationship with Matt Lafleur has already been years in the making, and he too should be able to get it rolling early with a group of pass catchers that was clearly a priority for the front office in the offseason.
If Love can handle the media pressure and the outside noise and settle into the role he's had to wait years for, then he too could be a breakout candidate in the 2023 season. Lafleur has every confidence in him doing so, as does the group around him on offense.
We will all find out this year if the prodigy following Aaron Rodgers as the starting quarterback for the Green Bay Packers does in fact have what it takes.
Summary
Both quarterbacks have been given the keys to an NFL franchise and enough time to develop before being thrust into the pressure cooker. While I believe both can showcase their talents this year, Desmond Ridder feels like the slight favorite here.
With a run game guru for a head coach and a run first offense, teams will key in on Bijan Robinson and Tyler Allgeier, allowing Ridder to open up his playbook and start hitting the likes of Drake London and Kyle Pitts downfield.
The money Atlanta spent both on bulking out the defense and strengthening the offense should pay dividends, and this is a team that can absolutely challenge for the division in the NFC South.
Both teams need their quarterback to stand up and lead the franchise this year, with the future of the roster sitting firmly in their hands.
Show Your Support
Support the Strike 7 Sports platform's growth by heading to Fanatics.com and buying officially licensed gear from the National Football League. Each purchase made through the text link below goes into the funding of the Strike 7 Sports brand. To proceed, click the link below and enjoy shopping at Fanatics.