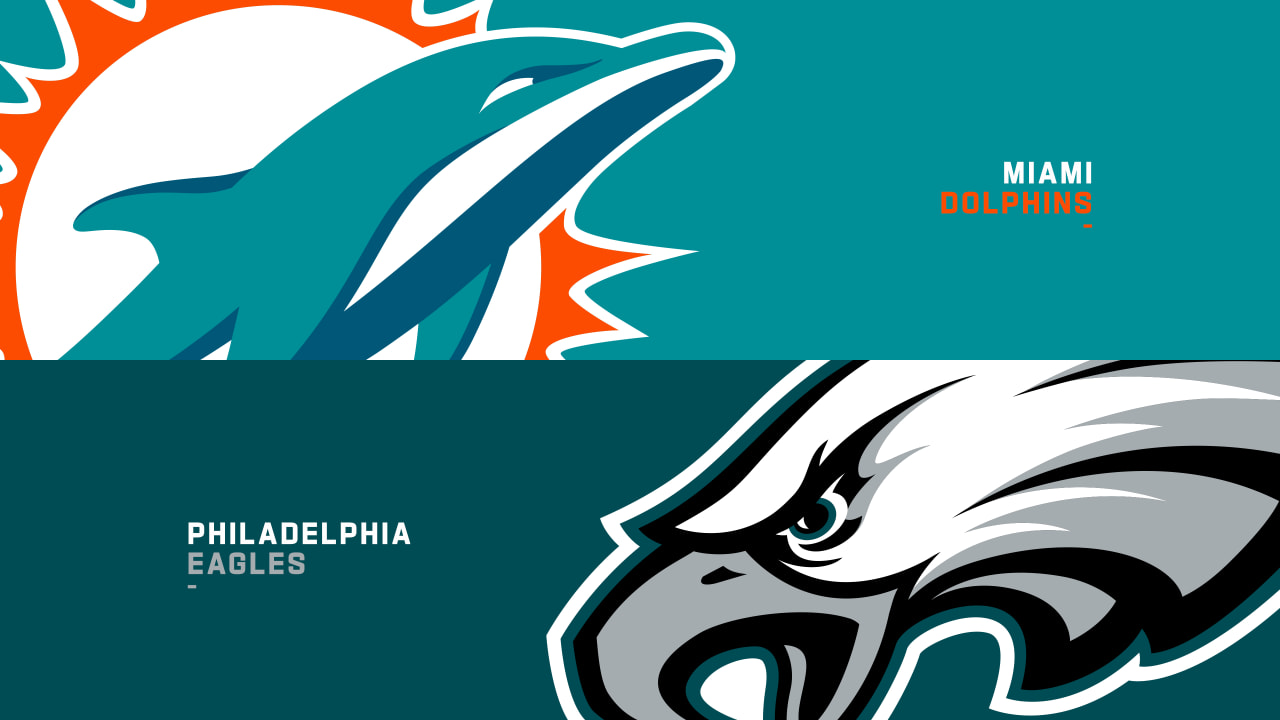 Sunday Night Football should be a thriller this weekend, with the Miami Dolphins heading to Lincoln Financial Field to play the Philadelphia Eagles on the road.
Both franchises are 5-1, are Super Bowl contenders, and both will be looking to make a major statement this season in what is currently a wide-open race for the Lombardi.
Miami went 14-0 behind at home against the 0-5 Carolina Panthers. Still, it came back to score 42 points of their own in yet another offensive masterclass from Mike McDaniel, quarterback Tua Tagovailoa, and the rest of the Miami offense.
Tyreek Hill has 814 receiving yards through just six games played and is currently on pace to join the exclusive 2,000-yard club. The only player to ever reach 2,000 yards in a season is Cooper Kupp, who did so in 2021 during a tremendous year with the Los Angeles Rams.
Hill has six touchdowns on the season, just one shy of his season total last year, and the connection between Tua and his superstar wideout appears to be growing stronger by the week.
On the Eagles' side, A.J. Brown has emerged from the shadows after a slow start to the season, and he, too, is putting up significant numbers. He's had four straight 120+ yard receiving games and could be a major threat to a dented Miami Dolphins secondary that still needs Jalen Ramsey back in action.
Philly slipped up against the New York Jets last week, allowing their first loss of the season in a game they really should have won. A nightmare Jalen Hurts interception backed up in their half threw the game away, and the Eagles will now have to quickly put the loss in the rearview and focus on one of their biggest challenges of the season against Miami.
Why the Dolphins will win?
Miami boasts the most dangerous offense in football right now, and technically, they're the most dangerous offense in the game's history.
The Dolphins are currently putting up historic numbers, with the most total yards of offense ever through six games in an NFL season. They're averaging 498.7 yards per game, over 100 more than the team in second place, which happens to be the Eagles.
If the Dolphins continue at their current rate, they'll break the record for total offense, which is currently held by the 2011 New Orleans Saints, led by Drew Brees. Not only would Miami break the record and shoot ahead of teams like the 2013 Peyton Manning Denver Broncos and the 2001 Marshall Faulk MVP-led St. Louis Rams, but they'll sit atop the all-time leaderboard by almost 1,000 yards based on their current trajectory.
This matchup comes at a dreadful time for the Eagles secondary, who are currently severely banged up through the first six weeks. Darius Slay was out against the Jets with a knee injury, and while he's expected to be good to go against Miami, he might not be 100%.
Safety Reed Blankenship also went down during the Jets game, exiting with an apparent rib injury. Add the injuries to Bradley Roby (shoulder) and Eli Ricks (knee), and you have a real problem against Tua and the Dolphins, who are currently lighting up defenses at full strength.
The secondary isn't the only issue, either. Veteran tackle Lane Johnson also went down against the Jets and will be out now for multiple weeks. Miami has put up 21 sacks so far this season, one more than the Eagles, and Fangio will look to exploit that weakness with how he sets up his defense this coming Sunday night.
Philly should be able to slow down Miami on the ground at least, but the amount of motion and speed they use makes them a unique challenge for every defense they come up against. Facing Tyreek Hill, Jaylen Waddle, and Raheem Mostert is something you can only prepare for so much, but when they start running at you at full speed, you best be ready.
I see Miami putting up some significant numbers against a secondary that will have to trust young players and depth. The Eagles have no choice; they've worn down already on the back end, which could be paramount for an in-form Tua Tagovailoa and co.
Tua currently ranks first in several categories amongst quarterbacks and possesses the best QBR rating this season. Philly allows a 94.7 on average and over 230 passing yards per game. That could be a significant problem.
Why the Eagles Will Win?
It's not just Miami with a powerful offense. As mentioned earlier, the Eagles are the second-best team in football regarding offensive yardage; they're just not producing anywhere near as many points as Miami has been.
While the Dolphins are averaging 37.2 points a game, Philly is putting up 25.8, but that doesn't mean they're not dangerous.
Miami's secondary has its own flaws. Xavien Howard isn't playing at the level Miami fans have been used to, Jalen Ramsey is still yet to feature in a Dolphins jersey, and the rest of the secondary is either young, inexperienced, or both.
The Dolphins are also giving up their fair share of yards in what has been a pretty underwhelming defensive setup so far from the highly touted Vic Fangio. Miami is allowing 229 passing yards per game, right behind the Eagles, and running out one of the worst run defenses in football.
D'Andre Swift had a rough day against a strong Jets front seven, but Miami's is not that. Their linebackers are mediocre at best, and the Dolphins have trouble filling gaps at the second level, often leading to major run-game opportunities.
I can see the Eagles really leaning into that here, too, with a plan to keep Miami's offense off the field for as long as possible. Establishing the run against a defense that will allow you to do so gives the Eagles a great shot at winning this game and opens the passing game in play-action sets, with the likes of A.J. Brown and DeVonta Smith threatening to expose Miami downfield.
Philly hasn't looked as good this season without Shane Steichen; that much is obvious, but the potential is definitely there. It's not as consistent as it was last season on a drive-by-drive basis, but the Eagles have proven that they can hurt you when they're in a groove.
On top of the offense's potential, this is an Eagles defensive front that can wreak havoc. Philly has 20 sacks, only one less than the Dolphins, with both teams ranking in the top five.
Miami has done a great job of protecting Tua so far this season, averaging one sack allowed per game. The Eagles will need to get to him to disrupt the offense and take the pressure off their weakened secondary, but that's easier said than done.
What is Going to Happen? 
I think the Miami Dolphins will take this one. The Eagles' secondary will be a real problem, and while Miami's isn't much better, the Eagles are less explosive offensively.
Mike McDaniel can exploit the inexperience and communication struggles of a unit thrown together for this game, which spells trouble against the Miami track stars. 
Raheem Mostert isn't just a running threat; he's also used within the motion and confusion of the offense, as highlighted by a highly creative play that led to him catching a swing pass for a score against the Panthers last Sunday.
Surprisingly, Miami is a two-point underdog on the road, which means their odds on the money line look quite lovely for a Sunday night bet. I have the Dolphins outscoring a talented Eagles team on the road on primetime and coming away with a win that will propel them further ahead in analysts' rankings as the season unfolds.
Final Score
Dolphins 34
Eagles      30