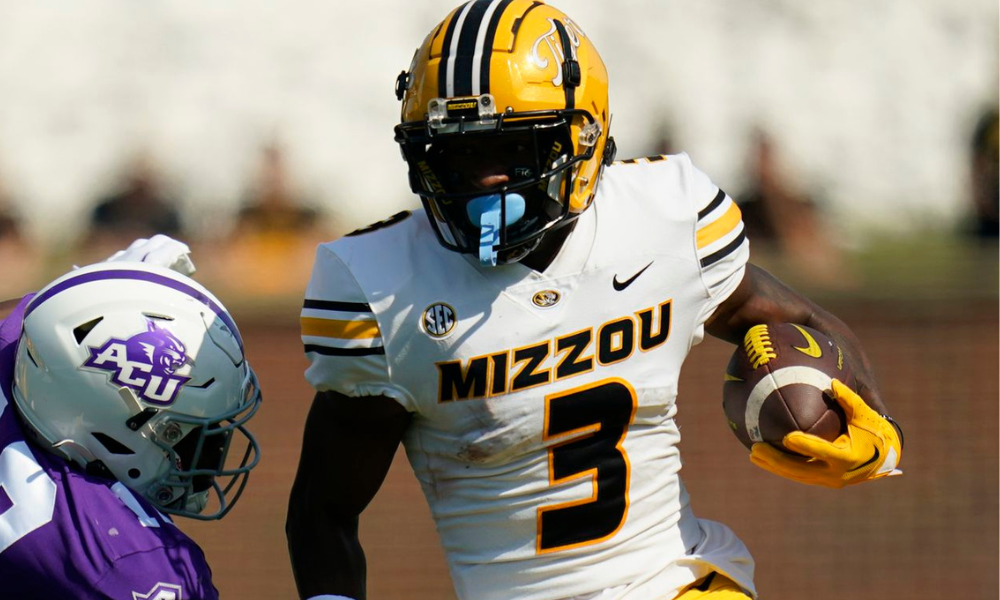 The Memphis Tigers have been 6-6 in both of the last two seasons under Ryan Silverfield, who was promoted internally following the departure of Mike Norvell in late 2019.
In 2022 the Tigers' record led them to the Servpro First Responder Bowl against Utah State, a game that they won 38-10 to drive some momentum into the 2023 college football season.
Now we turn our attention to the 2023 schedule and take a look at some of the best players the Tigers will face as they try to take the next step from a middle-of-the-pack team to a contender in the American Athletic Conference. Is Memphis able to compete with promising quarterback Seth Henigan, who will now go into his third season at QB for the Tigers?
In what will be an intriguing season for the program, these are eight of the best players the Tigers will face this season.
Michael Pratt – Quarterback, Tulane
Michael Pratt took another leap in 2022 as the Tulane starting quarterback and has the potential to head to the NFL draft in 2024 as the highest-drafted quarterback to ever come out of the program.
Now three years into his college football career, Pratt is still believed to be underrated by those who watch him play on a regular basis. Watching the film, Pratt has excellent touch on his throws and mixes up his velocity well to accommodate different situations on the field.
He's a dual-threat quarterback who always threatens to take off downfield, managing 3,000 passing yards and 28 touchdowns in 2022 while also posting 596 rushing yards and ten rushing touchdowns.
Memphis will have a tough time contending with him this year as he makes what will likely be his final case for the NFL draft. That said, it's worth noting that the Tigers did, in fact, hold Pratt to 158 passing yards and one touchdown in what was one of his lowest passing totals of last season.
Shaadie Clayton-Johnson – Running Back, Tulane
The American Athletic Conference Offensive Player of the Year Tyjae Spears headed to the NFL after a successful season. This means some new faces will be expected to step up in the backfield.
Spears' departure has left some question marks about the backfield, and it might be that the Green Wave will take more of a running back-by-committee approach this coming season.
That said, Shaadie Clayton-Johnson was RB2 last season, carrying the football just 55 times but picking up 340 rushing yards and averaging 6.2 yards per carry.
The Green Wave also brought in senior transfer Shedro Louis, who spent the last four seasons at Liberty. Louis had 122 carries for 529 yards and eight touchdowns in 2022, so the Tulane backfield might be more of a handful post-Tyjae Spears than initially expected.
Taylen Green – Quarterback, Boise State
Taylen Green took over as Boise State's starting quarterback in Week 5 of the 2022 season against San Diego State, and after a slow start, began to settle into the role in the Broncos' offense.
The six-foot-six quarterback has an impressive pocket presence and an athletic profile that jumps off the page. He can roll out, take off, change direction, and reroute his runs to find space in the open field.
Green has a powerful arm, moves in the pocket well, and showed in matchups against Colorado State, BYU, and Utah State that he will be dangerous if he puts it all together. On the season, Taylen Green threw for 2,031 yards and 14 touchdowns in 10 starts while rushing for another 620 yards and ten rushing touchdowns.
He's a big quarterback you must be prepared for physically in the pocket and as a runner.

Luther Burden III – Wide Receiver, Missouri
Missouri landed five-star wideout Luther Burden last year over Georgia and Alabama, leaning on the young man's opportunity to play close to home to land one of the top wide receiver talents in the country.
As a freshman, Burden contributed 398 yards and six touchdowns, and every time he touched the football, he looked like he could make something explosive happen. Questions about the play calling and quarterback play potentially limited his production last year, but Burden will step into an even more significant role in 2023 at Mizzou.
The Tigers leading wide receiver, Dominic Lovett, transferred to Georgia last season, meaning a more significant target share for Burden, who will be more in tune with the offense and system this coming season.
He is a very shifty talent who has a sensational burst and gets a lot of work out of the backfield on screens an end-around. If you don't blanket him, he can really hurt you and might be one of the best players Memphis has to deal with all season in 2023.

Cody Schrader – Running Back, Missouri
Cody Schrader spent the 2018-2021 seasons at Truman State in the Great Lakes Valley Conference and transferred to Missouri as a graduate student for the 2022 season.
In 2021 he was a unanimous All-GLVC first-team selection, leading Division II football with 2,074 rushing yards on 300 carries while adding 24 touchdowns.
Schrader was splitting carries with Nathaniel Peat in 2022 for the Missouri Tigers, and that will likely be the case again this season. He picked up 169 rushing attempts for 739 rushing yards, averaging 4.4 yards per carry and posting nine rushing touchdowns. Combined with quarterback Brady Cook and the depth with Peat, the Tigers' run game could be a problem, and then you need to account for Luther Burden on just about every play too.
Memphis will need to be exceptionally well prepared for the Missouri Tigers, going on the road to play the SEC outfit for only the fifth time in history. These two schools last met in 2018 when the Missouri Tigers won the game 65-33.
Preston Stone – Quarterback, SMU
Preston Stone is the highest-ranked recruit in SMU Mustang history, and this season, he's primed and ready to take over as QB1.
Stone had offers from Alabama, Florida, Georgia, and several other major programs in college football but chose to stay in Texas and build his legacy at SMU. He threw just 28 complete passes in five appearances in 2022 in his second year on campus, and now heading into year three, it's his time to lead the program.
Tanner Mordecai transferred to Wisconsin, leaving the door open for Preston Stone to enter the limelight. The talented quarterback has learned a lot while waiting in the wings, and with SMU prepped to unleash him in the 2023 season, Memphis will need to do its homework to avoid the sting of a highly touted recruit.
Jordan Kerley – Wide Receiver, SMU
Jordan Kerley spent his first season at Arizona State before transferring to SMU, where he's been for the past two seasons. Catching passes from Tanner Mordecai last season, Kerley managed 588 receiving yards and six touchdowns as WR2 behind Rashee Rice.
Rice, of course, moved on to the NFL draft and will now be playing with Patrick Mahomes and the Kansas City Chiefs, leaving an opportunity for Jordan Kerley to step into a dominant WR1 role.
Preston Smith is excited to play with Kerley, and the two could form a strong relationship over the next couple of seasons. At six-foot-three, Kerley presents a big target and is tough to cover one-on-one. If he takes the jump, he's expected to this season; he should easily be a 1,000-yard receiver this year and one of SMU's most dangerous weapons.
Dante Wright-Wide Receiver, Temple
In last year's Temple vs. Memphis matchup, it became apparent that the Owls lacked talent at key skill positions, particularly in the wide receiver department. Moreover, their quarterback, EJ Warner, was still in the early stages of development as a first-year collegiate starter. However, the rematch promises to be far more intriguing when the two teams meet again at Lincoln Financial Field. One player adding excitement to the mix is wide receiver Dante Wright.
Having transferred from Colorado State following the coaching regime change under new head coach Jay Norvell, Wright brings a fresh dimension to the Owls' offense. Though built as a slot receiver, his abilities extend well beyond catching simple slant passes.
With explosive speed and agility, the former Ram excels at creating mismatches on the inside, leaving linebackers, safeties, and slot cornerbacks struggling to defend him. Additionally, Wright demonstrates remarkable proficiency in winning one-on-one battles on the outside, making him a multi-dimensional threat to watch out for. The Tigers' defense will undoubtedly have their hands full contending with his dynamic playmaking skills.
Show Your Support
Support the great work of the Strike 7 Sports Memphis Tigers Section by purchasing licensed NCAA fan gear. Items ranged from Memphis hats, jerseys, t-shirts, socks, and so much more. We would greatly appreciate it if you would purchase these items from the text link below. The revenue generated from today's offer goes into the funding of the Strike 7 Sports platform. Click on the link below if you are interested.