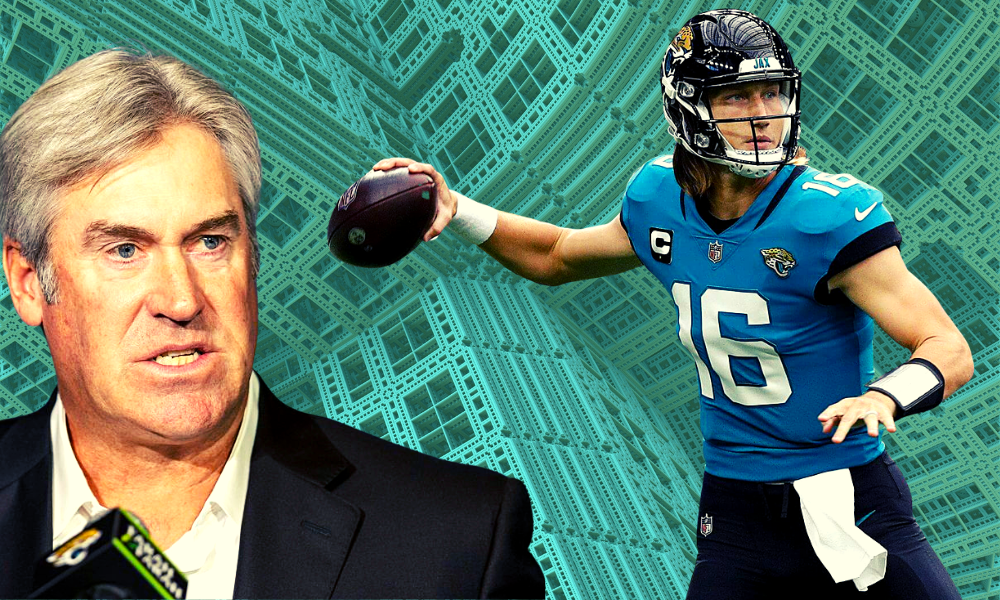 When the Jacksonville Jaguars selected Trevor Lawrence with the 1st overall pick in the 2021 NFL Draft, his upside was viewed as a generational talent at the QB position. However, his first season showed that he was far from that narrative. The former Clemson Tiger could not overcome the disfunction of the Jaguars organization. Lawrence would finish his rookie season as Jaguars starting QB with a 3-14 record, which placed them in last place in the AFC South.
Regarding statistics, Lawrence threw for 3,641 yards, 12 touchdown passes, against 17 interceptions. Those are not numbers that would signify that the Jaguars have a generational talent at quarterback. But the root of Lawrence's downfall in year one goes squarely on the shoulders of former head coach Urban Meyer.
Meyer was involved in numerous controversies ranging from alleged infidelity to questionable hires on his staff. He was fired halfway through the season with a 2-11 record. Based on the optics, Meyer seemed out of touch on how an NFL franchise is supposed to function daily. Once the 2021 season had concluded, the Jaguars hired Super Bowl-winning head coach Doug Pederson. Pederson's previous stint with the Philadelphia Eagles includes a 42-37 record and 4-2 in the postseason.
However, as a head coach, Pederson's greatest attribute is his ability to develop quarterbacks. Pederson led the Eagles to a victory on the biggest stage at Super Bowl LII despite having a backup quarterback under center. At the time, Pederson's starter Carson Wentz was on his way to becoming the league's Most Valuable Player for the 2017 campaign. Unfortunately, a torn ACL sidelined him for the remainder of the season. Only a handful of head coaches can pull off what Pederson accomplished at the closure of the 2017-2018 season. He will bring that type of mentality over to the Jacksonville Jaguars.
With Pederson at the helm, their top priority will be establishing stability. The organization has never really had a quarterback with Lawrence's upside. He has all the prerequisites for a team to endure long-term stability as a successful NFL franchise. During free agency, the Jaguars spent a total of $175.3 in guaranteed money, according to ESPN.com.
The $175.3 million breaks the previous spending record set by the New England Patriots in 2021. In addition, the team signed players such as Christian Kirk, Brandon Sheriff, Zaye Jones, Foye Oluokun, Darious Williams, and Evan Engram to bolster a Jaguars team that lacked playmakers last season. Also, tailbacks Travis Etienne and James Robertson return from season-ending injuries from last year.
"I don't think you want to go into free agency signing seven guys every year," Pederson said via USA Today. "I don't think that's the model. And now we have the draft coming up that can also help with 12 draft picks to bring in more talent, depth, and competition. But the guys we signed will be impact players, you know, right away."
In the draft, Jacksonville may have selected Travon Walker as a potential cornerstone player on defense. Walker was taken number one overall by Jacksonville. As Pederson stated, the moves were made to reverse the losing fortunes of the organization. Not saying that those losing fortunes will mean a playoff appearance in 2022, but going from a three-win team to an eight-win squad is a significant step in the right direction.