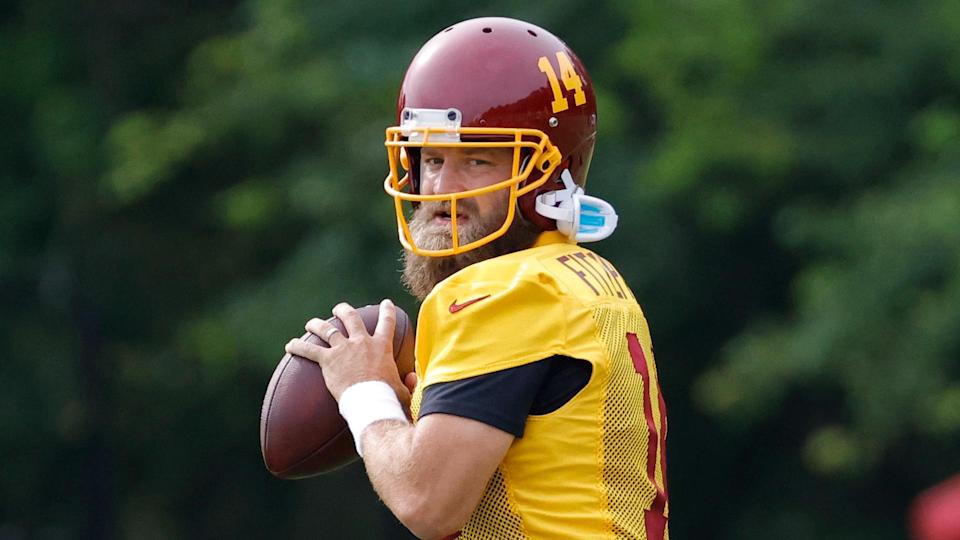 Despite being inconsistent at the most critical times, the Washington Football Team decided to sign Ryan Fitzpatrick to a one-year deal. The Harvard graduate has a proven track record to perform like an elite-level passer for a stretch of games and then fall back to Earth as the season progresses. Head Coach Ron Rivera is living up to his "Riverboat Ron" mantra that made him popular with the Carolina Panthers.
He is definitely taking a gamble on a quarterback that has never led an NFL franchise to the playoffs in his entire 16-season career. In the past, Rivera has made some risky decisions that have paid off when it comes to on the field production.
One situation that comes to mind is the decision to name Alex Smith the Football Team's starting quarterback during the middle of last season. Smith was coming off a gruesome leg injury that ended his season in 2019. The decision to name Smith the starter for WFT going forward allowed them to capture their first NFC East title since 2015.
The Football Team went 5-1 in games started by Smith. He would eventually retire from playing football once the 2020 season came to a close. With Smith retiring and releasing former first-round pick Dwayne Haskins, a huge void was left at the quarterback position.
During the wild card game against the Tampa Bay Buccaneers, backup QB Taylor Heinicke showed flashes of what he can become as a potential signal-caller with the Football Team. However, a small sample size of what a young quarterback can do in just one game is not enough to make a commitment long-term. Instead, WFT re-signed Heinicke on a one-year deal.
Numerous reports stated that the Football Team was interested in quarterbacks such as Marcus Mariota, Deshawn Watson, Matthew Stafford, and Russell Wilson. None of those rumors materialized into anything as the team decided to close in on signing Fitzpatrick to a one-year deal in March.
Former Dolphins' QB Ryan Fitzpatrick reached agreement with the Washington Football Team on a one-year deal worth $10 million that could grow to $12 million with incentives, per source. Fitzpatrick is expected to head to camp as the starter, with competition from Taylor Heinicke.

— Adam Schefter (@AdamSchefter) March 16, 2021
The move to sign Fitzpatrick has come with mixed reactions around the league. Some view the move as not being aggressive enough to find a more reliable option at quarterback. In contrast, others believe that adding Fitzpatrick is more than enough for WFT to win the NFC East once again. Bleacher Report staff writer Gary Davenport listed Fitzpatrick as his concern for Washington.
The Washington Football Team won the NFC East last year. They have a solid array of skill-position talent, a decent offensive line and maybe the best front-to-back defense in the entire league.

Washington has all of the ingredients it needs to make real noise in the postseason if it can get consistent play from veteran quarterback Ryan Fitzpatrick.

The 38-year-old expects Washington to field a potent offense in 2021.

"The biggest thing with his offense, is we're able to spread the ball around to everybody and get everybody involved," Fitzpatrick said, per Julius Long of NBC Sports Washington. "It's going to be a tough offense to defend just because of all the pieces we have."

If Washington gets the quarterback who has a plus-17 touchdown-to-interception ratio over the past three years, that may well be the case. But if it gets the player who has thrown 169 career picks and has only two seasons with a record above .500 as a starter in 16 years in the pros, then trouble could be brewing in the nation's capital.
You cannot argue the points made in Davenport's piece listing Fitzpatrick as the number one concern for the Washington Football Team. Despite his popularity around the league and in numerous locker rooms, Fitzpatrick has never been a guy that can put a team on his back and win games when it mattered the most.
By far, the Football Team will be Fitzpatrick's most complete roster that he has ever been surrounded with. However, WFT did not have to deal with the threat of Dak Prescott and his cast of weapons on the Dallas Cowboys.
Also, the New York Giants went on a spending spree to improve their chances of capturing a division title this season. Any moments of inconsistency from Fitzpatrick could spell disaster for Ron Rivera and the Washington Football Team. The roster is solid enough for the 16-year veteran to lead the team to the postseason for the first time in his career.
Support the Strike 7 Sports platform's growth by heading over to Fanatics.com and purchasing officially licensed gear from the National Football League. Each purchase made through the text link below goes into the funding of the Strike 7 Sports brand. To proceed, click on the link below and enjoy shopping over at Fanatics.
Photo courtesy of Yahoo.com.