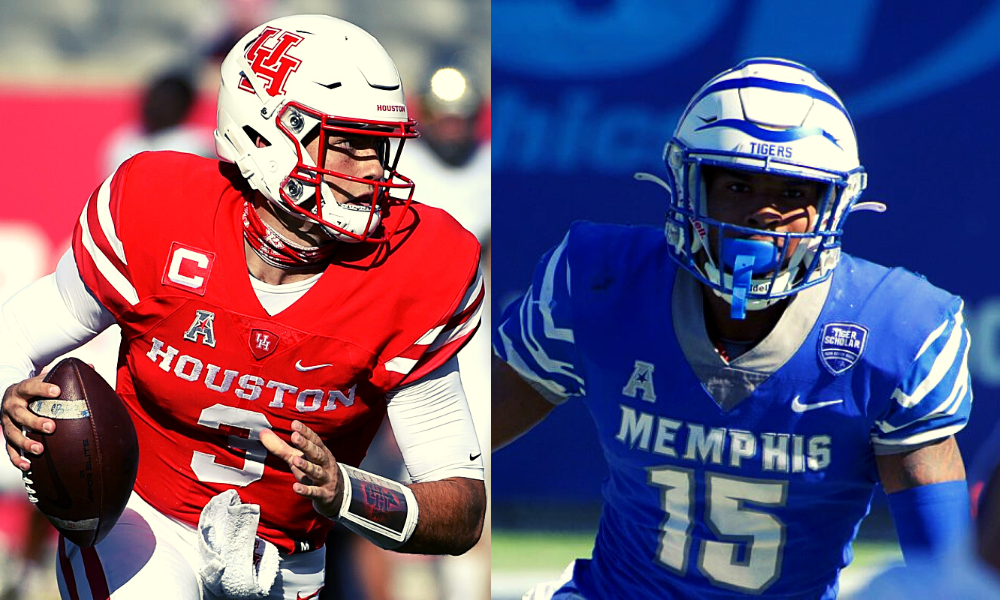 The Memphis Tigers will host the Houston Cougars for the last time at Simmons Bank Liberty Stadium. The Cougars, along with UCF and Cincinnati, will be joining the Big 12 Conference. When it comes to the actual game, a lot is riding on the line. The Cougars have not lived up to their lofty expectations going into the 2022 campaign.
They were the projected favorites to win the AAC title and walk into the Big 12 Conference with momentum for next season. So far, they have stumbled to a 2-3 record and are currently in seventh place in the AAC standings. A win over Memphis can get things back on track for the Cougars.
A loss can put them further behind in the chase to win the AAC and possible changes in the future. Memphis is on a four-game winning streak and is ranked first in the conference standings. Despite winning four-straight games, the Tigers have won utilizing methods that the fanbase is unaccustomed to watching. Those victories have a significant portion of Memphis fans wondering if this team has turned the corner from last year's 6-6 finish. Those doubts can go away this Friday with a victory over the Cougars.
What Does Memphis Need to Do to Win?
Memphis is going into a matchup with a Houston team with evident flaws. They are ranked dead last in the AAC in total defense and have surrendered over 330 yards passing in three previous games. The Tigers must attack the Cougars' deficiencies on defense in the earlier moments of Friday's game. Their offense cannot afford another first half where they cannot be productive as a unit. Memphis can avoid those situations if their wide receivers can hold on to the football and create separation from Houston's defenders. Their defense must account for star receiver Nathaniel "Tank" Dell. He is the most vital asset regarding the Cougars' passing attack. Dell is also a threat on kick/punt return situations as well. While the Tigers may not erase Dell's significant impact, they must minimize it to a certain extent.
What Is Going to Happen?
While the Cougars may be desperate to get things back on track this Friday, all signs indicate Memphis winning this game. The Tigers seem to perform differently on a primetime stage at home. Memphis currently has a record of 10-0 on games not played on Saturday. They are also 3-0 in three previous meetings against Houston at the Liberty Bowl. I don't expect the Tigers to hold the Cougars to only three points as they did against Temple last week. Houston has an offense that is capable of getting into shootouts if possible. You can expect a close game, but Memphis will pull away in the end.
Houston  34
Memphis 45
Show Your Support
Support the great work of the Strike 7 Sports Memphis Tigers Section by purchasing licensed NCAA fan gear. Items ranged from Memphis hats, jerseys, t-shirts, socks, and so much more. We would greatly appreciate it if you would purchase these items from the text link below. The revenue generated from today's offer goes into the funding of the Strike 7 Sports platform. Click on the link below if you are interested.
Sports Betting
Are you going to place a bet on the latest Memphis Tigers game or any sporting events happening throughout the week? If so, then you need to check out BetUs. BetUs is the ultimate destination for online betting, sports betting, live betting, racebooks, etc. If you are interested, click on the text link BetUs and you will be redirected to their website. We shall receive compensation if you decide to sign up through our affiliate link below.