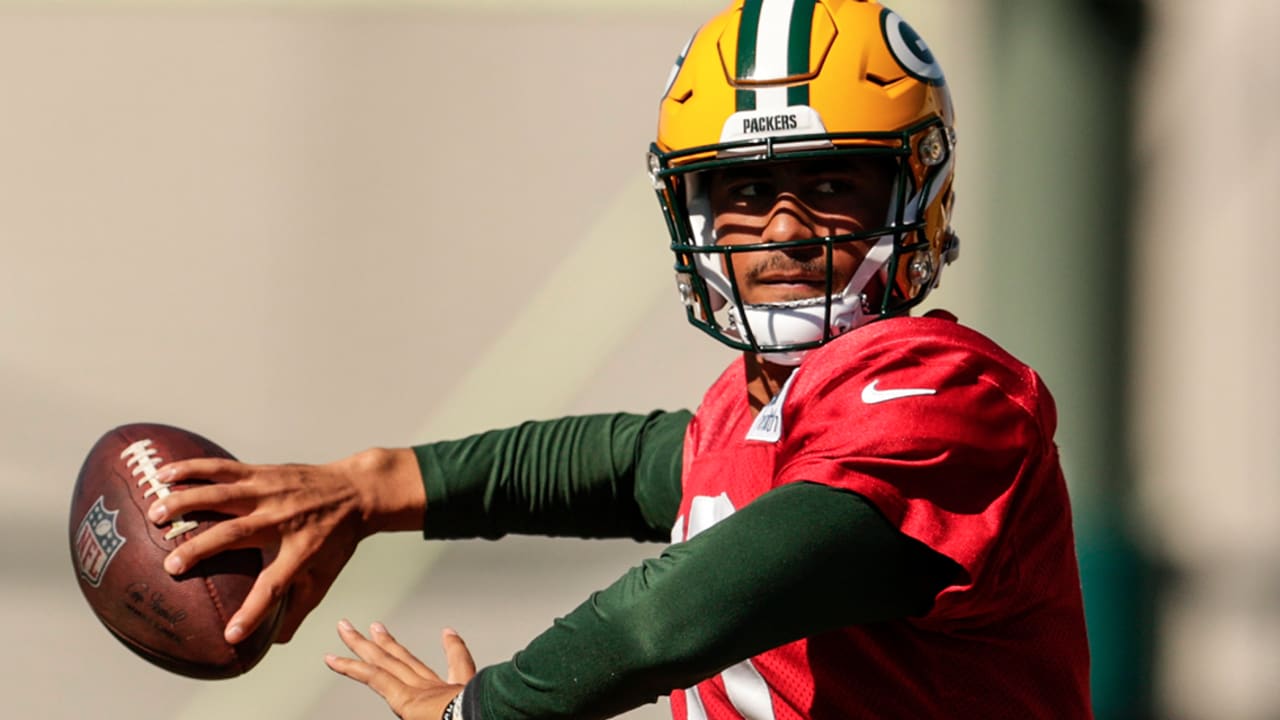 Suppose an individual has been severely affected by Aaron Rodgers's ongoing conflict between him and the Packers front office. In that case, it has to be Rodgers's potential heir apparent, Jordan Love.
The first time Rodgers talked to the public after the Packers selected  Love, he made one thing clear: Love never had any intentions of these transactions occurring.
Love did not ask to be the topic of a pick that would upset the future Hall of Fame quarterback. He didn't ask to be chosen by a team whose fan base was disappointed by the selection. And he certainly didn't ask for his name to be thrust into the most prominent sports dramas to kick off the summer.
The former Utah State standout is only 22 years old., the No. 26 overall pick in the 2020 NFL Draft who the Packers traded up for four years still left on Rodgers' deal with the franchise.
"The way I take it is; obviously, they know what they're doing with the Packers. They took a chance on me," Love said shortly after being drafted. "For the most part, I'm coming in just ready to work. Outside opinions do not matter to me, for the most part. Just ready to get in here and work."
Love was never expected to see action as a rookie. Nor was he supposed to play in his second season in Green Bay. What about his third year with the team? From the looks of it, Green Bay planned to move on from Rodgers based on how his contract was constructed and since young quarterbacks no longer sit on the sidelines for three years after being selected. Notable players that have achieved success by utilizing this route are Aaron Rodgers and Patrick Mahomes.
Because of the coronavirus pandemic, Love had no preseason games to display what he could do last season. He never put on his playing uniform for not one regular-season or playoff game since the Packers kept only two quarterbacks on the active roster on game days. Tim Boyle was Rodgers' backup. So even if beat writers watched Love throw into a net and to receivers without any duress a few times each week last season, no one knows how good he can be as a quarterback.
The only individuals who know how prepared Love may be are the individuals behind closed doors. Those are the people within the Packers' organization that have observed his practices religiously over the past year. And even they do not have an accurate assessment because he has never played in a game. Whether Love is ready for Week 1 in about four months may be a moot point if Rodgers and the Packers reconcile. But if they do not, how prepared Love is to quarterback the Packers might be the biggest question in the NFL.
"He's got a long way to go," Packers general manager Brian Gutekunst said after the first round of this year's draft. "But we're ecstatic for his development.
"Obviously, we think the world of Jordan and where he's going to grow and develop. I think it's pretty early to be able to tell you that because, with no preseason games last year and just kind of the no-spring, but we have a lot of confidence in his talents, in his work ethic, and where he's going to go. But it's a little early for that."
Due to the Packers organization's current climate, Love must prepare himself for anything that may come his way once the season starts. With a new league year on the horizon, Love will have ample opportunities to improve his craft as an NFL quarterback. Mandatory mini-camps along with the three preseason games should give the Packers coaching staff a glimpse of what the team could look like with Love under center. But there may be some competition arriving soon.
According to NFL Network reporter Tom Pelissero, Green Bay has signed veteran quarterback Blake Bortles. Pelissero stated that the decision to sign Bortles was because the team needed an extra arm and a natural fit for the offense. The Packers also run an offense like the one that Bortles was previously in when he was a member of the Los Angeles Rams. The move could also be viewed as a potential safety net just if the decision to trade Rodgers occurs.
Either way, Love's development as an NFL quarterback must happen immediately due to the nature of the ongoing situation with the league's reigning MVP. Because if not, Green Bay could be in a far worse position than the Indianapolis Colts when they decided to part ways with the future Hall of Famer Peyton Manning.
Support the Strike 7 Sports platform's growth by heading over to Fanatics.com and purchasing officially licensed gear from the National Football League. Each purchase made through the text link below goes into the funding of the Strike 7 Sports brand. To proceed, click on the link below and enjoy shopping over at Fanatics.
Photo courtesy of the Green Bay Packers.