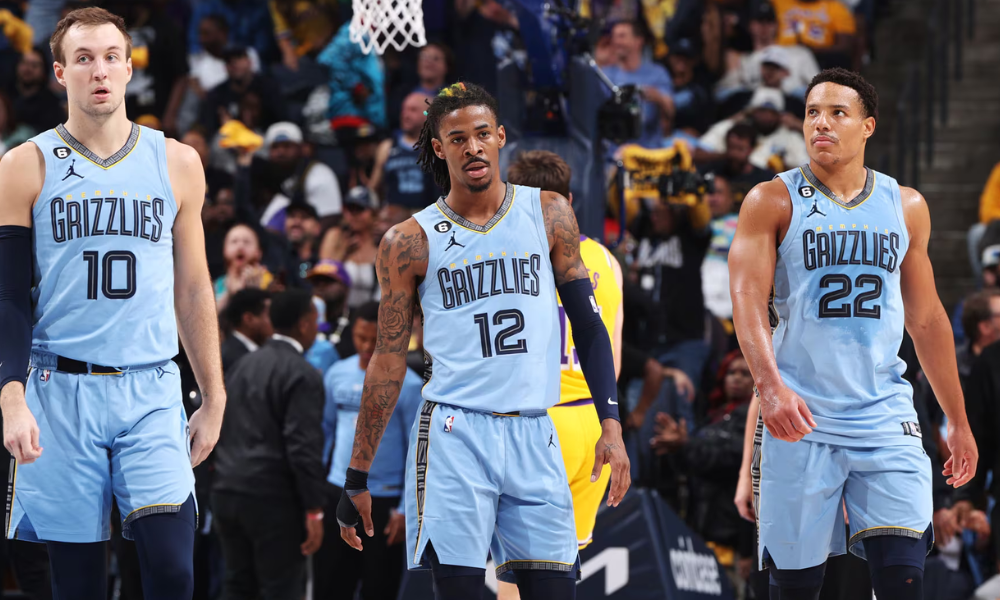 The 2022-23 NBA season for the Memphis Grizzlies was nothing short of chaotic, with several different narratives hanging over the heads of this young squad. Unfortunately, the Grizzlies didn't achieve the ultimate goal of making a deep playoff run and winning the NBA Finals despite finishing the regular season with a 51-31 record (2nd in Western Conference, 1st in Southwest division). Their season disappointingly came to a halt in the first round of the playoffs, where they faced the seventh-seeded Los Angeles Lakers. The Lakers had a star-studded roster that included LeBron James, Anthony Davis, and D'Angelo Russell, who torched the Grizzlies in the series. The Grizzlies ended up losing the series 4-2, despite winning the first two games on the road.
The loss exposed a lot of flaws regarding how the Grizzlies' roster is configured and how their front office failed to address them, outside the trio of PG Ja Morant (26.2 PPG), SG Desmond Bane (21.5 PPG), and Jaren Jackson Jr. (18.6 PPG) who all performed well this season. One of the main issues was the lack of veteran talent and experience on the team. The Grizzlies moved on from key players such as Kyle Anderson and De'Anthony Melton, who provided leadership, defense, and versatility to the team. Anderson signed with the Minnesota Timberwolves, where he became a starting forward for them, averaging 9.4 points, 5.3 rebounds, and 4.9 assists per game in his latest campaign.
Melton joined the Philadelphia 76ers, where he became a vital bench piece, averaging 10.1 points, 4.1 rebounds, and 1.6 steals per game. Instead, the Grizzlies doubled down on unproven young players that had a lot of upside but were clearly not ready to contribute at a high level. They drafted Santi Aldama, Jake LaRavia, Ziaire Williams, and David Roddy in the first round, but none of them showed consistency on both ends of the floor this year. Aldama showed some flashes of potential, tallying 16 points and five rebounds in Game 6 against the Lakers, shooting 47.0% from the field and 35.3% from three-point range on the season. LaRavia and Williams are still in the developmental stages of their careers, as they are 22 and 21 years old, respectively.
We have yet to see how these rotational pieces will turn out, but in the meantime, the Grizzlies don't have unlimited time to find solid supporting cast members to surround Ja Morant. Furthermore, the 2022-23 NBA Finals champions in the Denver Nuggets are a perfect blueprint to model a team after, over time. This is because they have a balanced mix of star power, veteran presence, and young talent. They have a 2x MVP in C Nikola Jokic (25 points, 12 rebounds, and ten assists per game this season), as well as a proven scorer in PG Jamal Murray, who averaged 26.1 points per game in the playoffs. These two work fantastically in the pick and roll, which is how Ja and Jackson Jr. should be utilized in their half-court offense next year.
The Nuggets also have a versatile SF Michael Porter Jr., PF Aaron Gordon, and a solid bench that includes G Bruce Brown, SF Christian Braun, and PF Jeff Green that could be called on at any time to make plays. This blueprint involves integrating talented young players with experienced veterans, not only providing stability and leadership, but also allowing the young talents to develop gradually without shouldering excessive responsibilities. The Grizzlies should take note and strive to replicate this approach, adjusting their roster to create a balance that maximizes the potential of their young core while providing the necessary support.
Additionally, they should try to reverse their "villain" image by garnering less negative media attention. A perfect first step to solving this was not re-signing SF Dillon Brooks, who could be argued as a root cause of the Grizzlies bad guy image. By creating a positive locker room culture with strong leadership, the Grizzlies can greatly increase their chances of winning big games. Nonetheless, it is imperative that the Grizzlies field an adequate team to remain competitive, especially with the impending suspension of their star player Ja Morant. Morant was involved in several situations this year, including but not limited to the flashing of what appeared to be a gun in an Instagram Live stream.
The NBA Commissioner Adam Silver has yet to state Morant's punishment, but as fans, we can expect a verdict very soon as Silver did state that discussions on the matter would resume upon the conclusion of the NBA Finals, which just concluded. Regardless, the loss of Ja Morant for any significant amount of time would be a huge blow to the Grizzlies' chances next season at a potential playoff run. The Grizzlies have shown that they have a bright future with their young core, but they also have a lot of work to do to reach their full potential.
They need to learn from their mistakes and make smart moves this off-season to improve their roster and culture. The path to success lies in constructing a roster that maximizes the potential of their young stars while ensuring a strong supporting cast capable of contributing consistently. Only then can the Memphis Grizzlies aspire to compete at the highest levels of the NBA. They undoubtedly have a window of opportunity to become a contender in the West, but the roster as well as the front office must act fast before that championship window closes.