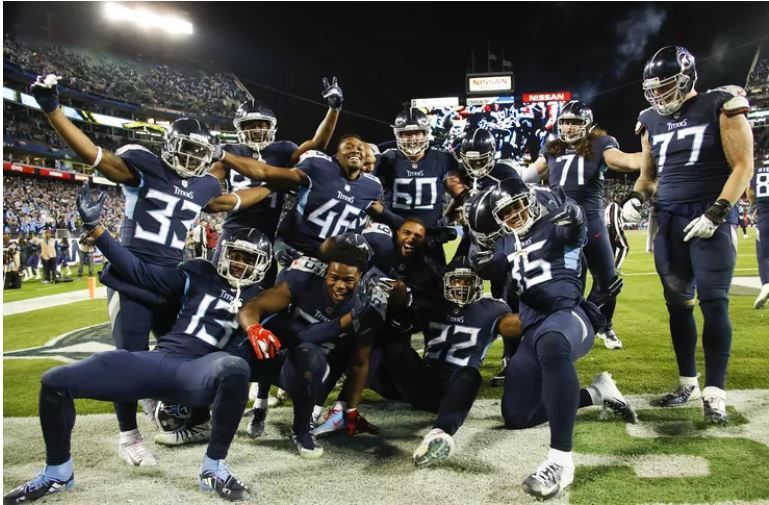 By Rob Heileman
The Tennessee Titans currently sit at 5-5, good enough for third place and two games out of first. They have four divisional games remaining, two of those games being against the 7-5 Texans, one against the Colts and one against the Jaguars. If the Titans can win four out of six, all their divisional games they will finish with a 9-7 record. If the Texans lose to the Patriots, they should also finish at 9-7, but the Titans will receive the head to head edge. So how can the Titans beat their divisional opponents four times?
Derrick Henry: In games where Henry has 15+ rushes and a YPC of 4 or higher, the Titans are 4-0. And in those four games, Henry is averaging 109 yards per game. While Jacksonville allows a league-high 5.3 YPC, the Texans allow the ninth most YPC with 4.6. Henry needs to be given the ball early and often against these two teams to open options up for quarterback Ryan Tannehill who boasts a 111.52 passer rating in his last four games.
Although Tannehehill began his season with a mediocre outing week 6, he was coming in off the bench and still finished with an 81.3 completion percentage against Denver's top 5 defense against the pass.
If the Titans can rally for wins against the Jags and Texans twice, they will still need a win against Indianapolis. The first matchup resulted in a 19-17 victory for the Colts, so neither team is far above the other. I predict another low scoring game to occur on December 1st. With star running back Marlon Mack out for at least a few games with a fractured hand, it is entirely possible, almost likely the Titans scrounge out a win on the road.
Aside from the win against the Colts, Tennessee also needs them to drop two additional games out of their remaining four. The two toughest games remaining on the Colts schedule are at New Orleans and home against the Panthers the following week. If the Colts finish at 9-7, they will most likely win the common game win percentage tiebreaker against the Titans, thus requiring a record of 8-8.
For Tennessee to be able to run the ball continuously, they will need to keep the game close. Their middle of the pack rush defense and well below par defense against the pass needs to improve in these four crucial divisional games. But I believe the divisional matchups are in the Titans favor despite being 0-2 in divisional games as both games were early in the season and under a different quarterback in Marcus Mariota. The Titans are relatively hot, and with a game-winning touchdown drive against the Chiefs last week, their eyes should be fixated on the prize, a divisional title is entirely within reach.
Photo courtesy of Frederick Breedon/Getty Images.