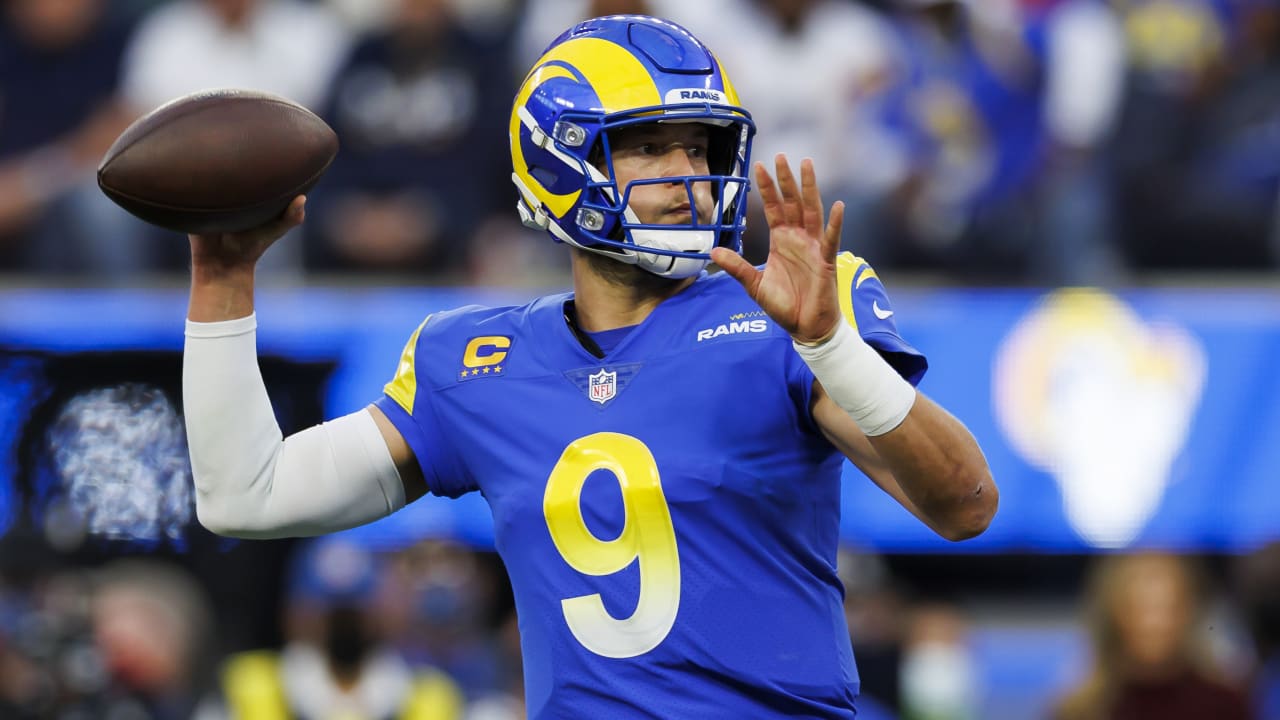 Last season, Matthew Stafford demonstrated what could be possible when a quarterback with untapped potential plays with a franchise with a clear vision. Stafford played his first 12 seasons with the Detroit Lions. Detroit selected Stafford with the first overall pick in the 2009 NFL Draft. During his time with the Lions, Stafford's compiled a record of 74-90-1, three playoff appearances, and played under three different head coaches. At the end of the 2020 campaign, Stafford and the Lions agreed to part ways. Once Stafford was available to be traded, the Los Angeles Rams immediately jumped on the opportunity to acquire the Pro Bowl quarterback.
The Rams sent QB Jared Goff two first-round picks and a third-round selection in return for the services of Stafford. As a result, Stafford's career has skyrocketed to new heights as the starting QB for the Los Angeles Rams. In his first year with the Rams, Stafford threw for 4,886 yards, and 41 TDs, against 17 interceptions. He would cap off his first year in Los Angeles with a Super Bowl victory over the Cincinnati Bengals.
Even though it was Stafford's first-ever Super Bowl win, his trajectory as a great quarterback has changed. Days after the Super Bowl ended, there have been countless debates on Stafford's resume being Hall of Fame worthy now that he has a world championship. The talk of him going to Canton has died down; for now, he can ensure that he stays on that path with another stellar season with Los Angeles.
A quarterback's level of success coming off a Super Bowl run is a telling sign of what could be in store regarding long-term stability. Unfortunately, a quarterback's success has yielded mixed results throughout the Super Bowl era. Nevertheless, some players at the position, such as Drew Brees, Patrick Mahomes, Joe Montana, and Tom Brady, could maintain their dominance level, making them Super Bowl-winning QBs. In contrast, others have not repeated what made them successful before winning a Super Bowl.
Regarding Stafford, he has put himself in a solid position to maintain his status as a top-level QB in a post-Super Bowl year. He signed a four-year extension worth $160 million in March, keeping him in Los Angeles through the 2026 season. The contract was set up to lower his cap hit for the 2022 campaign.
According to Spotrac, the Rams reduced Stafford's cap number from $23 million to $13.5 million this season, a savings of $9.5 million this year. His cap hit is manageable in 2023, as well, at just $20 million. That's the 12th-highest among quarterbacks. In addition, the transaction has allowed the Rams to surround Stafford with a competitive roster. They were able to sign free agents such as linebacker Bobby Wagner and wide receiver Allen Robinson. Superstar DT Aaron Donald also decided to remain with the team after thinking of retiring.
"I don't think (turning the page) is that difficult. You get out here and practice, we realize it's a different team, it's a different year," Stafford said. "Just because we did something last year doesn't mean anything's going to happen this year. We got to go out there and earn it. Those opportunities that we got to play in those games last year were earned.
"You ask yourself what kind of opportunities are you willing to earn? It comes with sacrifice and hard work and being a great teammate and all that kind of stuff. You ask yourself that before you step out onto the field. It motivates you and gets you ready to go. You understand that everything that we achieved as a team was earned last year, and we're going to go have to go out there and earn it again this year."
With a slightly weak NFC, the Rams can easily dominate the conference once again. Moreover, the roster is formidable for at least another two seasons. Stafford's post-Super Bowl success will dictate if he will be mentioned in the upper echelon of great NFL QBs.