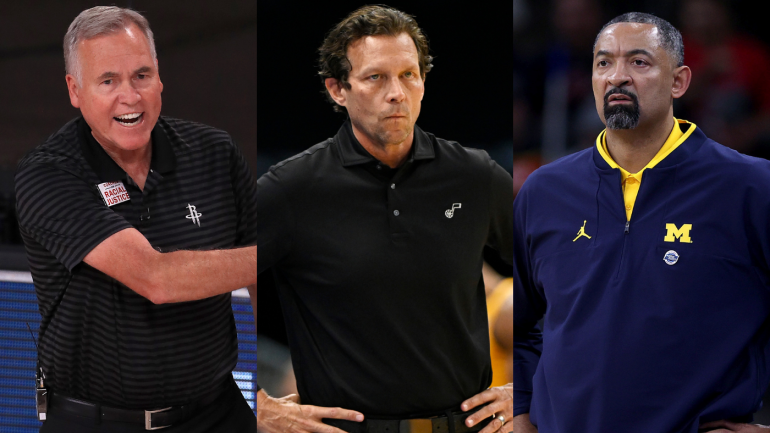 Frank Vogel only lasted three seasons as the head coach of the Los Angeles Lakers. He was fired after the team finished the year with another dismal outing. If you know anything about how the Lakers operate, you know that their head coach is only viable as long as they are winning. Once a sign of mediocrity creeps, they are gone, plain and simple. Unfortunately, simply qualifying for a playoff berth is not the Lakers' standard.
The organization intends to contend for championships every year. Regardless of whether it was Vogel's fault, the front office felt like they had to move in a different direction. Today, the staff at Strike 7 Sports have come together to share their thoughts on three ideal candidates for the Lakers head coach position.
Derrick Branch
Choice: Quin Synder
Since coming from the college ranks, Quin Synder has demonstrated that he can turn an NBA franchise into a perennial contender. Under his guidance, the Utah Jazz is returning to levels that we have not seen since the days of Karl Malone and John Stockton. However, in today's era of NBA basketball, the landscape is different. As a result, the Jazz roster that consists of Donavan Mitchell and Rudy Gobert could change drastically once the season is officially over.
Synder only has one-year left on his contract, and no decision has been made on him being a long-term option as head coach. If the Jazz part ways, then Synder needs to be highly considered by the Lakers. They will need to act fast because Synder is rumored to be the successor of future Hall of Fame Spurs head coach Greg Popovich.
Brian Bada
Choice: Kenny Atkinson
One of the most significant decisions the Lakers will make this offseason is who they will hire as their head coach. There are solid options out there, but there is one that stands out, in my opinion. Kenny Atkinson (who is currently an assistant for the Golden State Warriors) is who I would hire if I were the Lakers. Atkinson is one of the best coaches in the NBA. He understands the modern game from every angle.
Also, the former Nets head coach has been an assistant with two of the Laker's division rivals, so that is a nice advantage. Steve Kerr, the head coach of the Golden State Warriors, had this to say about when he hired him.  "He has been a great addition to our staff. He is very analytically driven. He is an outside-the-box thinker. The perfect guy to have on the staff to initiate conversation, to initiate ideas you might not otherwise think of, with data to back it up, Just a fantastic coach, and really lucky to have him," explained Kerr.
Liaudwin Seaberry
Choice: Terry Stotts
For the Los Angeles Lakers head coaching position, I would recommend Terry Stotts. Yes, he never won anything in his previous stops around the association. However, he's dealt with superstars (Damian Lillard being the most recent). While postseason success eluded him in Portland, he's still an experienced coach that can handle Lebron James and Anthony Davis. Stotts would bring the stability needed at a tenuous time within the Lakers organization, and he's well-respected around the Association.
Honorable Mention: Darvin Ham
Bucks assistant Darvin Ham has been a part of Mike Budenholzer's staff in Atlanta and Milwaukee. He knows what it takes to build a championship roster. Ham is a choice that LeBron James and his agency Klutch Sports would greatly approve of, according to ESPN's Kevin Arnovitz. "I know as a source that he was on the ok list of the LeBron James/Rich Paul (group) last time, that cohort," Arnovitz said.