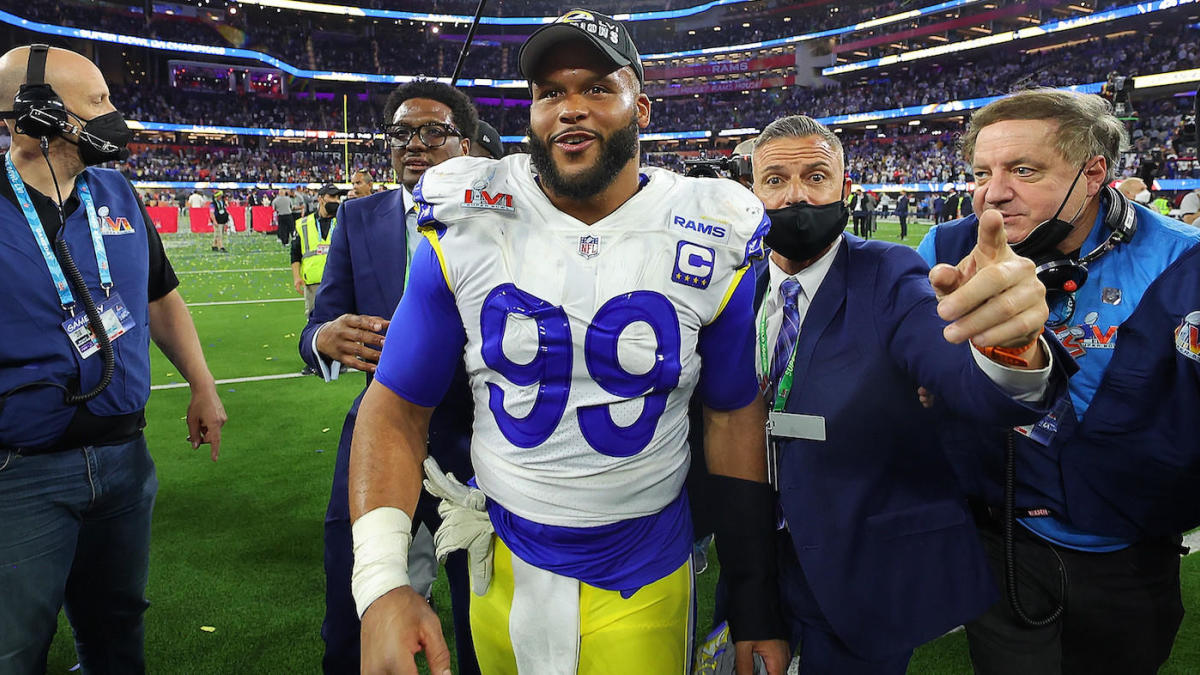 Before the Super Bowl last week, Aaron Donald had accomplished everything a player can accomplish except winning a Super Bowl.

He now has done that with the Rams beating the Bengals 23-20 last Sunday in a classic game. He made the play of the game by forcing Bengals quarterback Joe Burrow to throw the ball quicker than he wanted to. He had to deal with double and some triple teams and still had an effective game.

Many people have now questioned if he is the greatest defensive player ever. His resume is pretty impressive. He has won a Super Bowl,3× NFL Defensive Player of the Year (2017, 2018, 2020), NFL Defensive Rookie of the Year (2014),7× First-team All-Pro (2015–2021),8× Pro Bowl (2014–2021), Deacon Jones Award (2018), NFL 2010s All-Decade Team, Sporting News 2010s All-Decade Team, and PFWA All-Rookie Team (2014). Donald has had multiple seasons for a defensive tackle where he averaged at least ten sacks or more. Any other great defensive tackle has never achieved those numbers.

NFL Network's Brian Baldinger (a very respected mind in NFL circles) made a video on why he thinks Donald is the greatest interior defensive lineman ever.

It is very interesting that he only said the greatest interior defensive lineman ever. That means he must feel like Donald still has some room to grow into the best defensive player ever.

Stephen A. Smith, a popular sports commentator on ESPN, had a very interesting take on Aaron Donald.

"The way people talk about Aaron is similar to the way people talked about Lawrence Taylor, but I will leave it to the likes of Bill Belichick and the other professionals to make the distinction between them. Donald didn't need the Cincinnati Bengals to prove his greatness, and he has been doing this against everybody all year long and throughout his career. Aaron Donald is a man amongst boys, he is something to behold, and all I'm saying is that AD is in the talks of being the all-time great amongst all those guys who played in the past," explained Smith.

Smith shows by this comment how tough this debate is for him, but he leaves it to the football experts like Bill Belichick to decide who the greatest defensive player is.

It is fair to say he is the best defender of this generation. However, the greatest defender ever is probably still Lawrence Taylor, but it is ok to put Donald in that conversation. If he adds more to his resume before he is done playing, it may not be a debate, and he may be alone by himself.
Support the Strike 7 Sports platform's growth by heading to Fanatics.com and purchasing officially licensed gear from the National Football League. Each purchase made through the text link below goes into the funding of the Strike 7 Sports brand. To proceed, click on the link below and enjoy shopping over at Fanatics.
Get the latest stories on the NFL directly to your inbox by signing up for the Strike 7 Sports NFL Newsletter. Sign up here.
Photo courtesy of cbssports.com