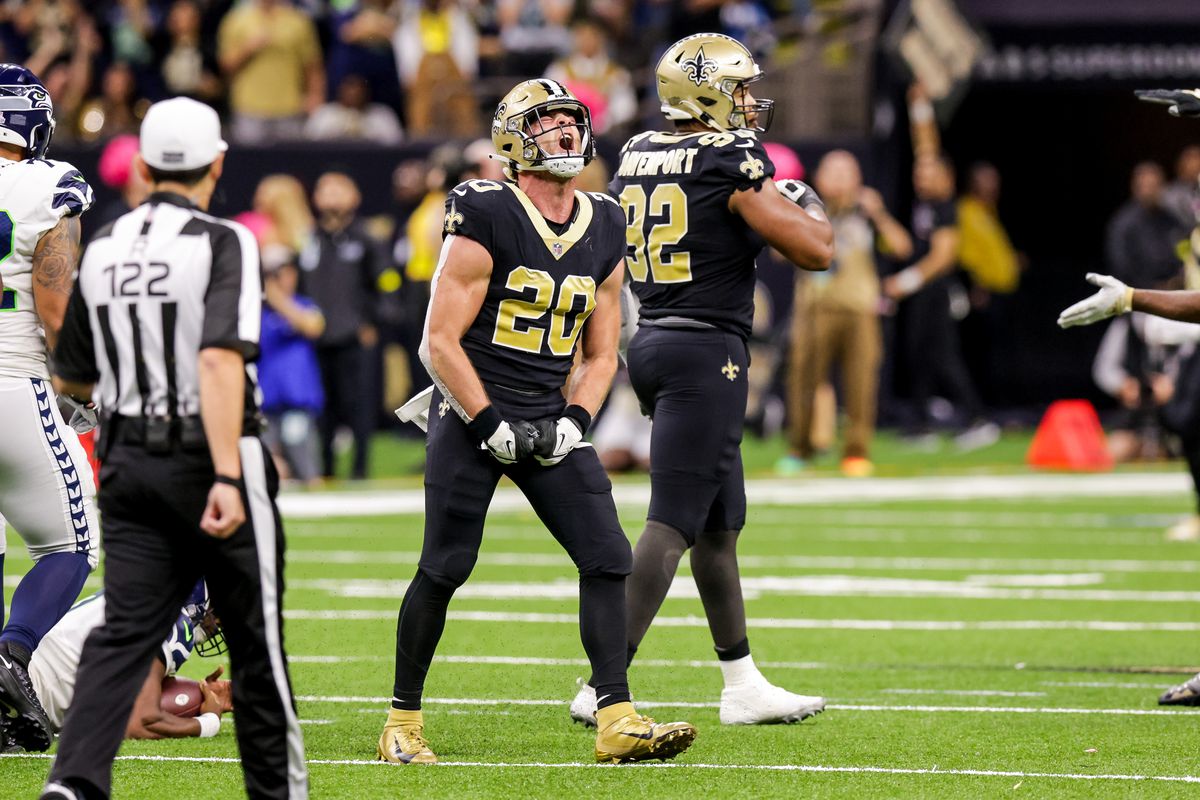 True greatness is tough to earn, both with the fans and with the NFL itself, but several all-time New Orleans Saints linebackers have undoubtedly earned that respect.
The legendary Sam Mills embodied what the linebacker position was supposed to be. He had been told he was undersized his entire career and rejected multiple times because of it, but when he landed in New Orleans in 1986, those who had closed the door on him would quickly realize their mistake.
Mills teamed up with Vaughan Johnson in the late 80s to form the 'Dome Patrol' linebacker group as a part of Jim Mora's Saints defense. In fact, Jim Mora once said that Sam Mills was the greatest player he ever coached.
The two middle linebackers, plus Rickey Jackson and Pat Swilling on the outside, formed one of the all-time units in Saints football, and their prowess led to much of the Saints' success in the late 80s and early 90s.
Both Mills and Vaughan Johnson are legendary Saints linebackers. Mills posted five seasons of over 100 tackles during his nine years with the Saints, including a career-high in his final season with 155 tackles in 1994. Johnson was every bit as impactful within that defense, too, and was undoubtedly one of the hardest hitters the franchise has ever seen.
The 'Dome Patrol' are all members of the New Orleans Saints Hall of Fame, and Sam Mills was inducted into the Pro Football Hall of Fame in 2022.
Is Pete Werner the Next Man Up?
 Learning from Demario Davis has helped Pete Werner to develop into a key piece of the Saints defense. The 2021 second-round pick out of Ohio State came in and got to work underneath Davis, who is everything you want in a veteran presence for your football team both on and off the field.
Werner himself spoke glowingly about the impact of having a guy like Demario Davis by his side. He has been picking his brain, learning from him, and in doing so, is learning not only how to approach the game physically but how to keep the fire burning with great linebackers helping to mold the Saints' highly competitive defense.
In his rookie season, Werner saw action in 14 games and looked particularly good in back-to-back weeks in Weeks 4 and 5. The Saints Week 4 matchup was Werner's second game as a pro, and he recorded nine tackles in a standout performance in which he only played 40 snaps in rotation. The following week he saw twice the action and was once again one of the Saints' most influential players with 13 tackles against Washington.
When the 2022 season came around, Werner was expected to take a big leap and step into a starting role in the middle of the field. He came out in Week 1 against Atlanta and once again recorded 11 tackles, matching his career high from the Washington game the previous season.
Through the first nine weeks of the 2022 campaign, Werner was looking set to be every bit of what the Saints had hoped he'd be when they drafted him. He's a great scheme fit who plays hard coming downhill and can stuff the run when filling the gaps from the second level.
At that point, Demario Davis and Werner were one of the highest-performing linebacker duos in the league, but injuries broke up the party. Werner injured his ankle in the Week 9 game against Baltimore and would have to have surgery before rehabbing his way back into the lineup.
The ankle injury cost Werner six weeks, and he wouldn't return until Week 15 against Atlanta. He then picked up a hamstring injury which cost him the Saints' Week 16 game, and even though he was suited up and ready to go, he only played a part-time role in the season's final two games.
Year two showed Saints fans that the former Buckeye can indeed be a key player for their defense's future, which will be vital in year three. The guys who have led this Saints team for years now are not going to be around forever, and Demario Davis is one of those.
Big Shoes to Fill
Along with Cam Jordan, Davis is one of the biggest influences on this team, and there is going to come a time when he looks to hand that role off to Pete Werner. So, in year three, it will be crucial to see Werner step up again and take a commanding position in the defensive setup.
Demario Davis is now 34 years old and will be 35 by the end of the 2023-2024 campaign. When you look at his production, his tackle numbers are slowly coming down year after year, with Davis going from 103 tackles in 2019 and 99 in 2020 to 75 in 2021 and 63 in 2022.
That needs to become a natural transition in Pete Werner picking up the volume as Davis eventually takes a backseat. I'd expect to see more leadership from Werner this season in preparation for that situation to arise inevitably.
Werner looks prepared for the moment. He was unlucky with injuries last season, but when he's healthy, he's every bit of what you look for in a dominant interior linebacker.
It might seem like high praise and a little controversial to be a rival player, but Werner is a very similar archetype to Luke Kuechly, who played the game at the very highest level with the Carolina Panthers for the entirety of his career.
Both guys fly around the field chasing the football down on every play, and Kuechly was one of the very best hitters in the gaps on running downs. Also, the former Panther could step into coverage with elite athleticism for his size, covering tight ends and receivers coming across the middle of the field. Werner has that same skillset, and if he can get to that level, the Saints will be in a great spot for several years to come.
Additional Pressure
 There is a lot of pressure on Werner because of the lack of current alternatives on the Saints' roster. Depth at linebacker has been a real concern for the fan base, and that concern was felt when Werner got injured this past year.
The two starters are one of the best combinations in the league, there's no doubting that, but behind them, there's very little to fall back on. New Orleans is likely going to need to address that in the offseason, either via the draft or free agency, especially if Demario Davis is considering retirement by then.
Pete Werner's development will depict exactly what the Saints need to look for in the market. If he assumes the lead role, a secondary linebacker to play next to him is the ideal scenario. If New Orleans feels like they need a new leader, it likely ends up being a more expensive recruit.
Summary
Having watched Pete Werner play both in live games and coaches' tape this past season, there is no doubt he has the capacity to be a leader on the Saints' defense. He has all the traits and tremendous upside as a player while having the right attitude to the game and to his dedication to the franchise.
Prior to the injury, it looked as though Werner could have had his breakout year last season, and while the pressure might be on in year three, he's on that natural upswing anyway.
If it all works out as planned, the Saints have a cornerstone talent to mold their defense around for years to come. Werner was a great draft pick and had exceptional value in the second round, and together with the likes of rookie Bryan Bresee, corner Paulson Adebo and pass rusher Payton Turner, the future of the Saints' defense could be in great hands.
Show Your Support
Support the great work of the Strike 7 Sports Saints Discussions Section by purchasing licensed NFL fan gear over at Amazon. Items ranged from Saints hats, jerseys, t-shirts, socks, and so much more. We would greatly appreciate it if you would purchase these items from the text link listed below. The revenue generated from today's offer goes into the funding of the Strike 7 Sports platform. Click on the link below if you are interested.