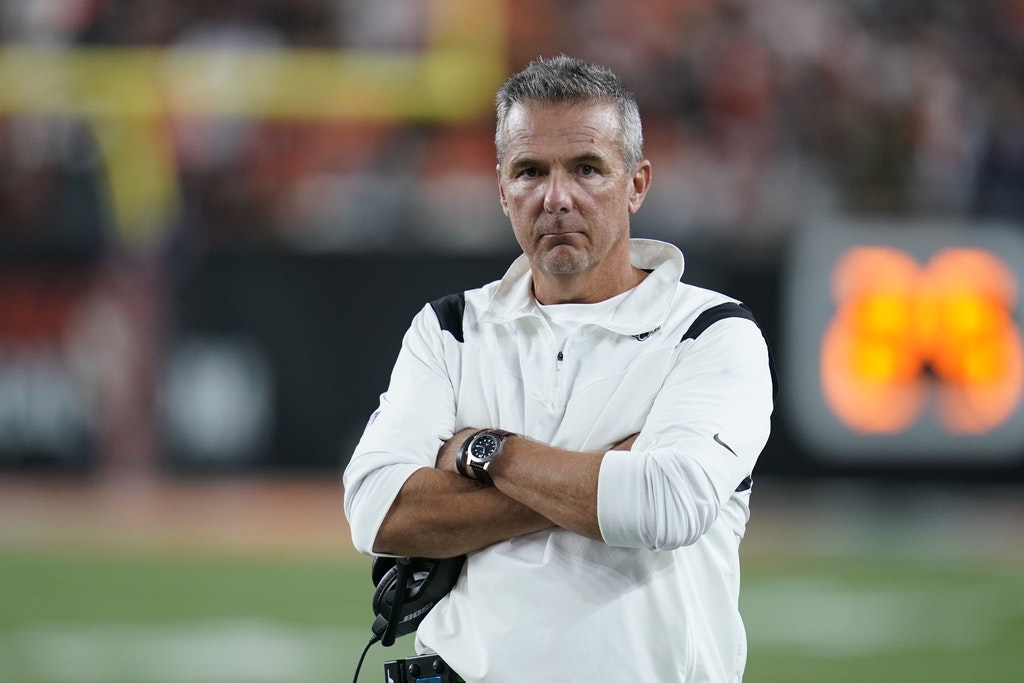 Two words to describe Urban Meyer's start to life in Jacksonville? Not great.
When the Jaguars hired the 3-time collegiate national champion and one of the most successful head coaches in college football history to take the place of Doug Marrone, it was hard not to get excited about the sheer prospect of the move. Risky, yes, but this was a coach with a fantastic track record who was inheriting a roster with promising young pieces, led by first overall pick and rookie quarterback Trevor Lawrence. The headlines practically wrote themselves.
And while it's true that Meyer's four-game tenure has created plenty of headlines so far, it's hard to imagine that any of them are hanging on the coach's refrigerator door.
The most turnovers in the league. The second worst scoring drive percentage. The third most yards allowed on defense. Just one takeaway in sixteen quarters of football. Four games, four losses.
That is Meyer's early legacy with the Jacksonville Jaguars. A coach so revered in the college game has looked utterly lost in the opening weeks of his first season as a head coach in the NFL, and while the Jaguars were never a team that people expected to compete in 2021 – they owned the first overall pick at May's NFL Draft for a reason – the product on the field has been some of the worst football the 904 has been forced to suffer through since the early 2010s.
In fact, it's hard to imagine how the early days of Meyer's tenure could get any worse.
Well, at least it was hard to imagine. That was until videos of Meyer at a bar getting close with a woman who wasn't his wife were leaked just a day after Jacksonville's loss to the Bengals on Thursday Night Football, tossing more gasoline onto an already blazing fire of frustration both inside the organization and within the fan base.
After Thursday's primetime loss to Cincinnati, Meyer reportedly chose not to fly home with the team. He elected instead to spend time with his grandchildren in Columbus and visit his restaurant, Urban Meyer's Pint House, on Friday night, where people at a nearby event recognized and tried to take photos with him. In the days that followed, two videos leaked of the Jaguars coach touching and receiving a dance from a younger woman who appeared to be the same in both videos.
In fact, it got to such a point that the Jacksonville Jaguars' social media accounts put out an official statement from team owner Shad Khan, acknowledging the leaked footage and stating that Meyer will have to "regain our trust and respect" – an unprecedented step for a professional sports team to make in the social media age.
Meyer has since apologized to, well, everybody. He reportedly spoke with Khan, apologized to his family, and even went as far as to hold individual meetings with every single position group to discuss what happened and express his apologies. The team and its ownership have been receptive, but the central question still remains: is this yet another sign that the Urban Meyer appointment was a bad idea?
And was this in and of itself a fireable offense? No. But for a coach as accolated and controversial as Urban Meyer, every single action will be put under the microscope by fans, the media, and even personnel within the Jaguars organization. Criticism will come easier, and the leash will get shorter. That becomes even more true when the team is consistently losing. And the team is losing.
It's not just the results. In fact, you can argue the Jaguars are closer to winning a game now than they were in Week 1, considering Cincinnati required a second-half comeback to knock off Jacksonville in primetime last Thursday. And even if they haven't been getting closer to that elusive win, it's still a ballclub that's lost nineteen straight games and finished 1-15 a season ago. Turning a ship like that around requires a long-term, herculean effort.
But if the ship is going to be turned around, it must start with the person at the helm. And in Jacksonville's case, the person at the helm has guided the team to one of the worst starts to a season for any team this decade, looked unprepared in preparation at times, and is one week removed from finding himself in an off-the-field controversy 24 hours after losing a heartbreaking game in primetime.
So with Meyer, the question is not if he possesses the football acumen required to fix the Jaguars. He's a proven winner. He's worked with young talent. He knows the game. That's not the concern.
The concern is if he can command the trust and respect within the locker room for long enough to get the chance to do it.