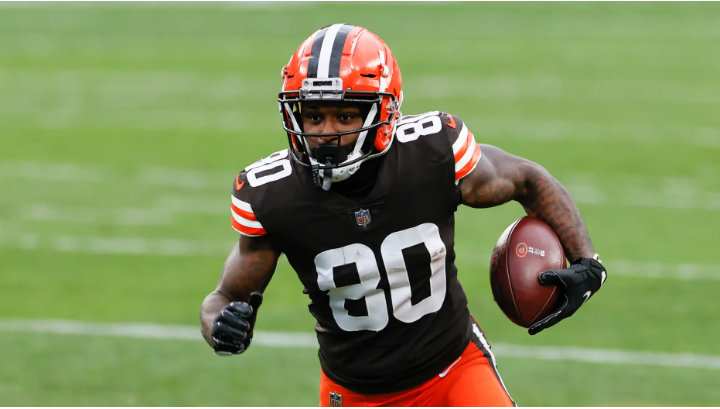 The New Orleans Saints signing free agent WR Jarvis Landry was exciting for so many reasons. First, Landry is an LSU alumn and a Louisiana native. He is the second free agent signing that was a home-grown talent. Former St Aug star Tyrann Mathieu was the first under the Dennis Allen regime. Landry's contract was a one-year deal worth up to $6 million. His base salary for 2022 will be $3 million. Landry can earn incentives on the agreement based on how his production will turn out for the upcoming year. Overall, Landry's skillset brings something to the Saints' wide receiver group that they lacked last season. Here are three areas where Landry will significantly boost the Saints' wide receiver group.
Can Step Into the Michael Thomas Role if Needed To
Landry joins an upgraded receiving core that includes Michael Thomas and rookie Chris Olave. Based on all reports, Thomas is on track to be ready for Saints training camp. However, if Thomas suffers a setback in his recovery, Landry would be able to step in and fill the void that Thomas left behind. He does most of his damage in the slot, but he can be effective on the outside. Landry has never had a season similar to what Thomas had in 2019, but his resume is almost identical. The former Lutcher Bulldog is a five-time Pro Bowler and has recorded the most receptions for a receiver during his first six seasons with 564. In addition, he has had multiple years where he has eclipsed or nearly achieved a 1,000-yard season.
Receiver Core Becomes More Well Rounded
With the addition of Jarvis Landry and Chris Olave, players such as Marquez Callaway and Deonte Harty will be pushed further down the depth chart. However, that does not mean that Callaway and Hardy cannot be effective in their roles. One of the attributes that made Sean Payton's system so potent was that it could be unpredictable for a defense to stop. On any given Sunday, quarterback Drew Brees would distribute the football to multiple wideouts, and the Saints would achieve success.
However, during his final years with New Orleans, the offense would stagnant in big moments such as the playoffs. That's because of the limitations of Brees and the team only having one reliable target in Thomas. With the presence of Landry, Olave, and Thomas, defenses will have to think twice about who they will try to double team.
Separation Ability
By no means is Landry going to be a guy who blows the top off a defense. However, he is a wideout that can create separation and make plays. The Saints lacked those traits with last year's receivers. There were many times when the offense was off the field after the third down. Pass catchers could not create any separation from defenders. That was primarily due to having players such as Callaway playing in roles that he is not accustomed to being in as a wideout.
Show Your Support
Support the great work of the Strike 7 Sports Saints Discussions Section by purchasing licensed NFL fan gear. Items ranged from Saints hats, jerseys, t-shirts, socks, etc. We would greatly appreciate it if you would buy these items from the text link listed below. The revenue generated from today's offer goes into the funding of the Strike 7 Sports platform. Click on the link below if you are interested.