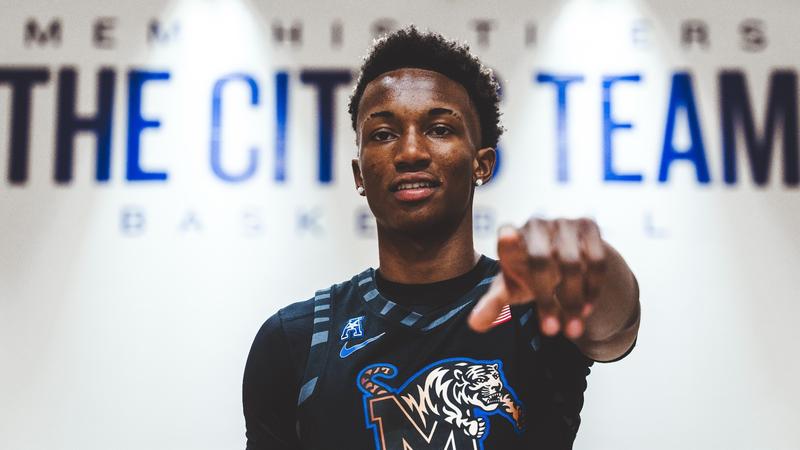 After the Tigers' early exit from the NCAA tournament, head coach Penny Hardaway and the rest of the staff hit the ground running to replenish the roster. Once the transfer portal officially opened, they were able to land one of college basketball's most coveted players. Over a reported 120 programs were vying for the services of Jonathan Pierre. But the Florida native decided to take his talents to the University of Memphis. What can happen to a prospect when he can develop his game and become an impact player is incredible. That was indeed the case for Pierre. Coming out of high school, Pierre only had one scholarship offer from Nova Southeastern. With the ability to impact the game from multiple positions, Pierre's arrival is set to revolutionize the Tigers' wing position and elevate the team to new heights.
Pierre's journey to Memphis is a testament to his unwavering determination and undeniable talent. Despite garnering interest from powerhouse programs such as Oklahoma, Auburn, LSU, and Duke, Pierre boldly decided to forge his path and join the Tigers. This decision speaks volumes about his confidence in Memphis' program and its ability to harness his potential. The Tigers, renowned for their commitment to player development and success on the court, have undoubtedly landed a gem in Pierre.
During his time at Nova Southeastern, Pierre showcased his versatility and basketball IQ. Standing at an impressive 6-foot-9, he can impact the game from the wing and forward positions. His size, agility, and court vision allow him to exploit mismatches and create scoring opportunities for himself and his teammates. Pierre's offensive prowess was on full display as he averaged 14.5 points per game and 3.4 assists, highlighting his ability to dominate at the Division II level. Pierre helps guide the program to an impressive 67-1 record in two seasons at Nova Southeastern. Also included during the historic run were an appearance in the Elite Eight and a Division ll national championship.
One area where Memphis struggled last season was identifying a compatible third-scoring option. While they boasted talented players, the Tigers often relied heavily on their star players, such as Kendric Davis and DeAndre Williams. With Pierre now in the mix, Memphis may have found the missing piece of the puzzle. His offensive versatility and scoring ability make him a prime candidate to emerge as the team's reliable third-scoring option. Pierre's knack for getting to the basket and his improved three-point shooting will undoubtedly add a new dimension to the Tigers' offensive arsenal.
Regarding the three-point shooting, Pierre's long-range accuracy is another aspect of his game that Memphis will benefit from. His shooting stroke is smooth and consistent, making him a lethal threat from beyond the arc. While his three-point shooting was impressive at the Division II level, shooting an impressive 40.5% from deep, there may be questions about whether he can maintain that efficiency against the heightened competition of Division I basketball. However, Pierre's work ethic and commitment to his craft provide a reason to believe that he will seamlessly transition and continue to be a reliable long-range threat for the Tigers.
Coach Penny Hardaway and the rest of the coaching staff in Memphis are undoubtedly thrilled to have Pierre on board. His versatility, scoring ability, and three-point shooting make him an asset that will significantly enhance the Tigers' roster. Not only does he bring depth to the wing position, but his presence will also create matchup nightmares for opposing teams. Pierre's ability to exploit mismatches and make intelligent decisions on the court will undoubtedly open opportunities for his teammates and add a new layer of offensive creativity to the Tigers' game plan.
As the upcoming season approaches, all eyes will be on Pierre and his impact on the Memphis Tigers. With his arrival, the team is poised to make a deep run in both conference play and the NCAA tournament. His versatility, scoring ability, and three-point shooting will be invaluable assets as the Tigers look to cement their status as a college basketball powerhouse. Pierre's journey from Division II to Division I is just the beginning of what promises to be an exciting chapter in Memphis basketball history.
In conclusion, Pierre's arrival at Memphis is a game-changer for the Tigers. His versatility, scoring ability, and three-point shooting make him a force to be reckoned with. Memphis' ability to secure its commitment over other powerhouse programs speaks volumes about its program's allure and potential.
Show Your Support
Support the great work of the Strike 7 Sports Memphis Tigers Section by purchasing licensed NCAA fan gear. Items ranged from Memphis hats, jerseys, t-shirts, socks, and so much more. We would greatly appreciate it if you would purchase these items from the text link below. The revenue generated from today's offer goes into the funding of the Strike 7 Sports platform. Click on the link below if you are interested.