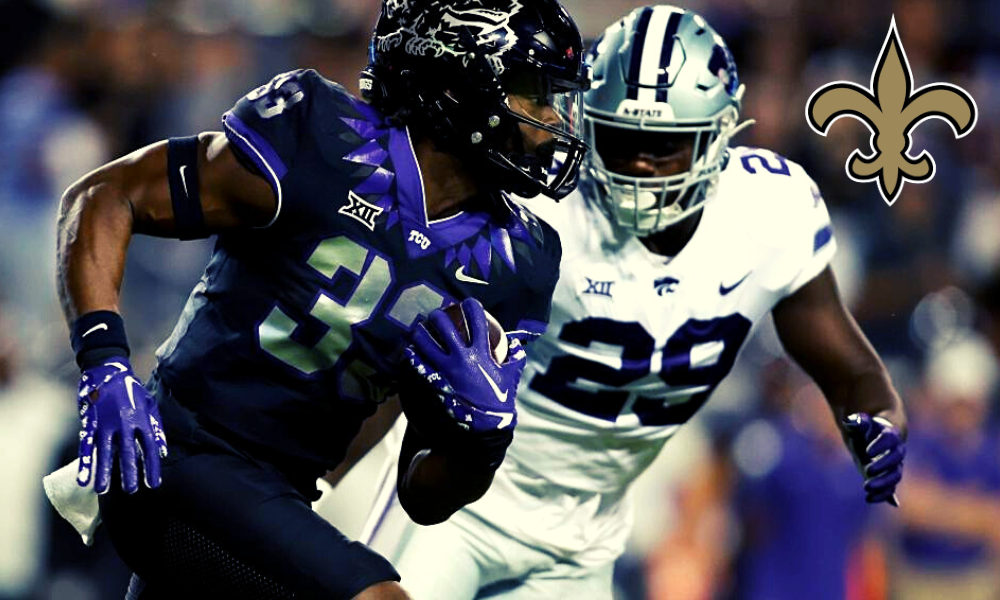 Fantasy football enthusiasts have a special affection for running backs, dedicating considerable time and effort to research this position. While rookie draft picks are generally expected to have an average performance compared to their draft value, the dynamic nature of football means that any running back, whether a rookie or a veteran, can quickly rise in value. Interestingly, rookie running backs have a history of achieving remarkable feats. In the past decade alone, four running backs have been recognized with the esteemed AP Offensive Rookie of the Year award, namely, Eddie Lacy (2013), Todd Gurley (2015), Alvin Kamara (2017), and Saquon Barkley (2018).
Naturally, the success of running backs in the NFL significantly affects their fantasy production. Given the right circumstances during the offseason and training, running backs can overcome initial concerns and recapture their performance level in college. This article will closely analyze Kendre Miller's potential impact on fantasy football in his debut season.
Kendre Miller's College Career and Accolades
After his somewhat productive career at Mount Enterprise High School, Miller decided to join the TCU football program. During his first year in 2020, Miller showcased his skills in 9 games for the Horned Frogs. He ran for 392 yards on 54 attempts. As a sophomore in 2021, Miller continued to shine on the field and played in 10 games. In 2021 he rushed for 623 yards on 83 attempts with an average of 7.5 yards per carry and scored 7 TDs. In addition, he also caught the ball 12 times for 118 yards.
Miller's most significant time in college was his junior year when he played in all 13 games for the Horned Frogs, truly displaying his talent as a running back. He rushed for an impressive 1,399 rushing yards on 224 attempts; he maintained an impressive 6.2 yards per carry. Notably, he scored an impressive 17 touchdowns, with only one fumble. In the receiving aspect, Miller made 16 receptions for 116 yards.
Kendre Miller had an exceptional collegiate career at TCU, marked by remarkable achievements. He became TCU's first 1,000-yard rusher since 2016, accumulating an impressive team-best 1,399 yards. This was the highest rushing yardage by any TCU Horned Frog since LaDainian Tomlinson's record-breaking season in 2000. Miller's impact exceeded yardage, as he had a streak of five consecutive 100-yard games, unmatched since 2002, and reached the 100-yard mark in seven of his final 12 games. He concluded his college journey with 26 rushing touchdowns, ranking ninth in TCU history.
Miller earned First-Team All-Big 12 honors in 2022 and was recognized by the Associated Press as a First-Team All-Big 12 player. His impressive average of 7.2 yards per carry in his first year ranked fifth in TCU history for a single season. Before college, Miller showcased his versatility by excelling as a quarterback in high school, rushing for 2,508 yards and 34 touchdowns, earning the title of District 10-2A-II Overall Most Valuable Player. Miller's skill, consistency, and dedication impacted TCU's football program.
Miller's Draft Position and Expectations
The Saints took Miller as 71st overall, which was somewhat expected given the offensive situation. Miller checks a lot of boxes when it comes to what teams want in a running back prospect. First, he has the ideal size for the position, standing at 6 feet tall and weighing 220 pounds. When you watch him play, it's clear he's a downhill runner who can grind out yards after contact. Also, Miller has decent vision and adeptness at following blocks, effectively maximizing his opportunities on the field. As with any draft pick, the hopes for the Saints' newest member are that he will be great for years and years. But also, given the Saints' current situation as an overall team, the expectations are high, and every fan wants Miller to be the next Alvin Kamara.
Miller's Role in the Saints' Offense
It's too soon to say anything, but Kendre Miller is currently projected to be slotted as the 3rd-string running back, sitting behind Alvin Kamara and Jamal Williams. This may not be the most desirable situation from a fantasy football standpoint. Still, it's worth noting that Kamara's status for the upcoming 2023 season remains uncertain, and he could potentially face a suspension. Nevertheless, even with Kamara's situation, Miller is still expected to occupy a backup role behind Williams. As a result, Miller's playing time will likely be limited in the early games unless he can demonstrate to the coaches that he can take the lead role or at least deserves an equal share of opportunities alongside the other running backs.
Potential Obstacles to Miller's Fantasy Success
Currently, competition is the biggest issue for Miller's fantasy production. But he can be an excellent asset for dynasty fantasy leagues because Miller is only 20 years old, and he is expected to be with the Saints till he is 25 years old. Kamara and Williams both be above 30 by then. This gives Miller a slight edge over his aging competitors. Even if Miller doesn't get much playing time in his rookie year, he can still use that time to learn the ropes and develop his playing style. But here's the thing: don't ignore that he might break out in his first year. Sometimes all it takes is one spectacular game to grab everyone's attention. It is therefore recommended to draft Miller only in the dynasty leagues and keep an eye on general fantasy leagues.
Miller's fantasy value in the New Orleans Saints is an intriguing prospect. While he currently faces competition within the team, his young age and the potential departure of older running backs in the future could provide him with increased opportunities. Miller's skill set and ability to learn and develop further make him an attractive option in dynasty fantasy leagues, where his long-term potential can be maximized. With the right circumstances and opportunities, Miller has the potential to be an asset and a player worth investing in for fantasy football success.
Show Your Support
Support the great work of the Strike 7 Sports Saints Discussions Section by purchasing licensed NFL fan gear. Items ranged from Saints hats, jerseys, t-shirts, socks, and more. We would greatly appreciate it if you would buy these items from the text link listed below. The revenue generated from today's offer goes into the funding of the Strike 7 Sports platform. Click on the link below if you are interested.