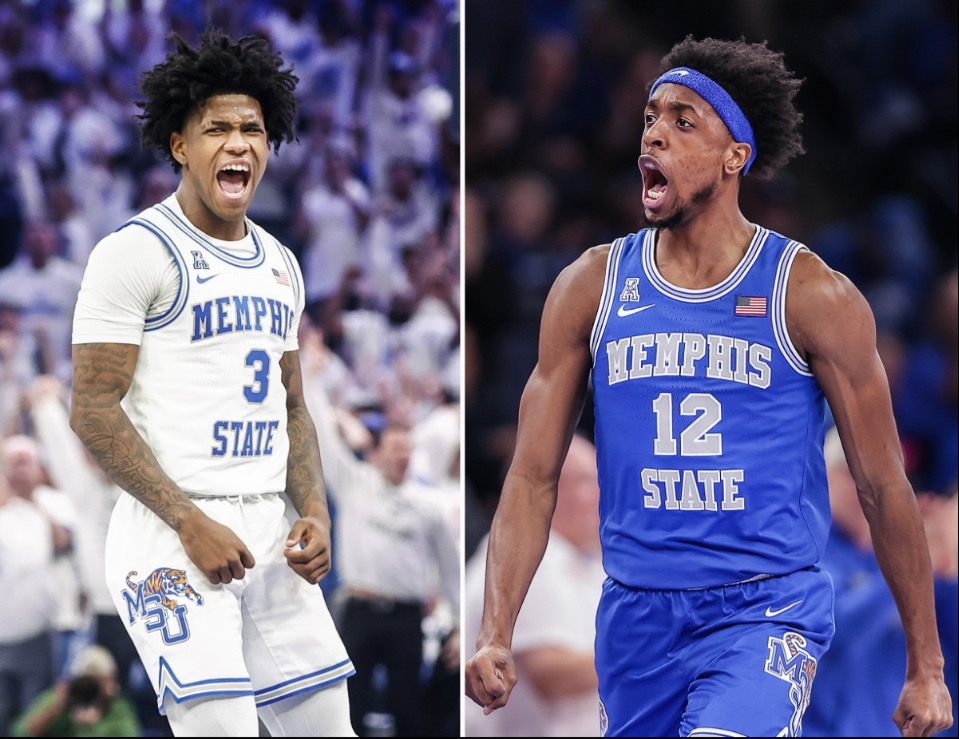 If you closely follow Memphis Tigers' Men's basketball, you know how vital Kendric Davis and Deandre Williams are to the team's success. In most of their games this season, either Davis or Williams led the team in scoring. Their contributions are finally being recognized from a national perspective. In a post written by 247 Sports, Isaac Trotter, Davis, and Williams were listed among college basketball's top 10 dynamic duos. The tandem came in at 8th on the list.
"It feels like Memphis is mad when a possession ends without Davis or Williams taking the shot. Davis has been one of the most impactful transfers in all of college basketball. He's a chore to stay in front of at all times. Williams has basically played college basketball for 100 years, but he has saved his best for last. Williams has become an even better 3-point shooter, and he splashes midrange jumpers like it is nothing."
During the AAC tournament, everyone saw how dangerous Davis and Williams can be when locked in as a tandem. In Friday's victory over UCF, they combined for a total of 68 points in the 81-76 win to advance to the tournament's semifinal round. Williams's 35 points were a season-high, while Davis's 33 points was another typical day for the AAC's all-time leading scorer. In the third matchup against the Tulane Green Wave, the Tigers avenged the two losses during the regular season.
Davis and Williams had another huge day when they combined for 47 points. Once again, Williams led the way with 27 points, while Davis chipped in with 20. The score reflected an entirely different outcome from the regular season, where Tulane remains competitive in both matchups.
The final result would be a 40-point victory that catapulted the Tigers into the conference final round for a second-straight year. With Marcus Sasser out with an injury, the Tigers took advantage of his absence by soundly defeating the Houston Cougars to earn their first AAC championship under head coach Penny Hardaway. However, it was the third-straight game that both Williams and Davis put on a show to let everyone know how difficult it can be to stop them as a top guard/forward combo. Davis led all Memphis scorers with 31 points.
With the conference tournament out of the way, Memphis can now focus on the NCAA tournament. They will play in a region with teams such as Purdue, Kentucky, Kansas State, Duke, and Tennessee. The Tigers were listed as an 8th seed in the East region and will face 9th seed Florida Atlantic in the tournament's opening round. Memphis may play in an area with some of college basketball's blue blood programs. Still, it's another opportunity for Davis and Williams to prove they are one of college basketball's best duos. Their presence on the court gives Memphis an element they have not had in a long time.
Here the seven duos that were ranked ahead of Williams and Davis.
1. JAIME JAQUEZ & TYGER CAMPBELL, UCLA
2. TRAYCE JACKSON-DAVIS & JALEN HOOD-SCHIFINO, INDIANA
3. JALEN WILSON & DAJUAN HARRIS, KANSAS
4. MARKQUIS NOWELL & KEYONTAE JOHNSON, KANSAS STATE
5. AZUOLAS TUBELIS & OUMAR BALLO, ARIZONA
6. JORDAN HAWKINS & ADAMA SANOGO, UCONN
7. DREW TIMME & JULIAN STRAWTHER, GONZAGA
Show Your Support
Introducing Atlas VPN, the perfect partner for Strike 7 Sports enthusiasts! With Atlas VPN, you can enjoy lightning-fast internet speeds and unrestricted access to your favorite sports content anywhere in the world. Plus, for every subscription purchased, a portion of the proceeds go directly to supporting the Strike 7 Sports brand. By subscribing to Atlas VPN, you're investing in your online security and privacy and the growth and success of your favorite sports brand. So why wait? Sign up for Atlas VPN today and support the Strike 7 Sports community while enjoying the ultimate online experience.
Sports Betting
Are you going to place a bet on the latest Memphis Tigers game or any sporting events happening throughout the week? If so, then you need to check out BetUs. BetUs is the ultimate destination for online betting, sports betting, live betting, racebooks, etc. If you are interested, click on the text link BetUs and you will be redirected to their website. We shall receive compensation if you decide to sign up through our affiliate link below.