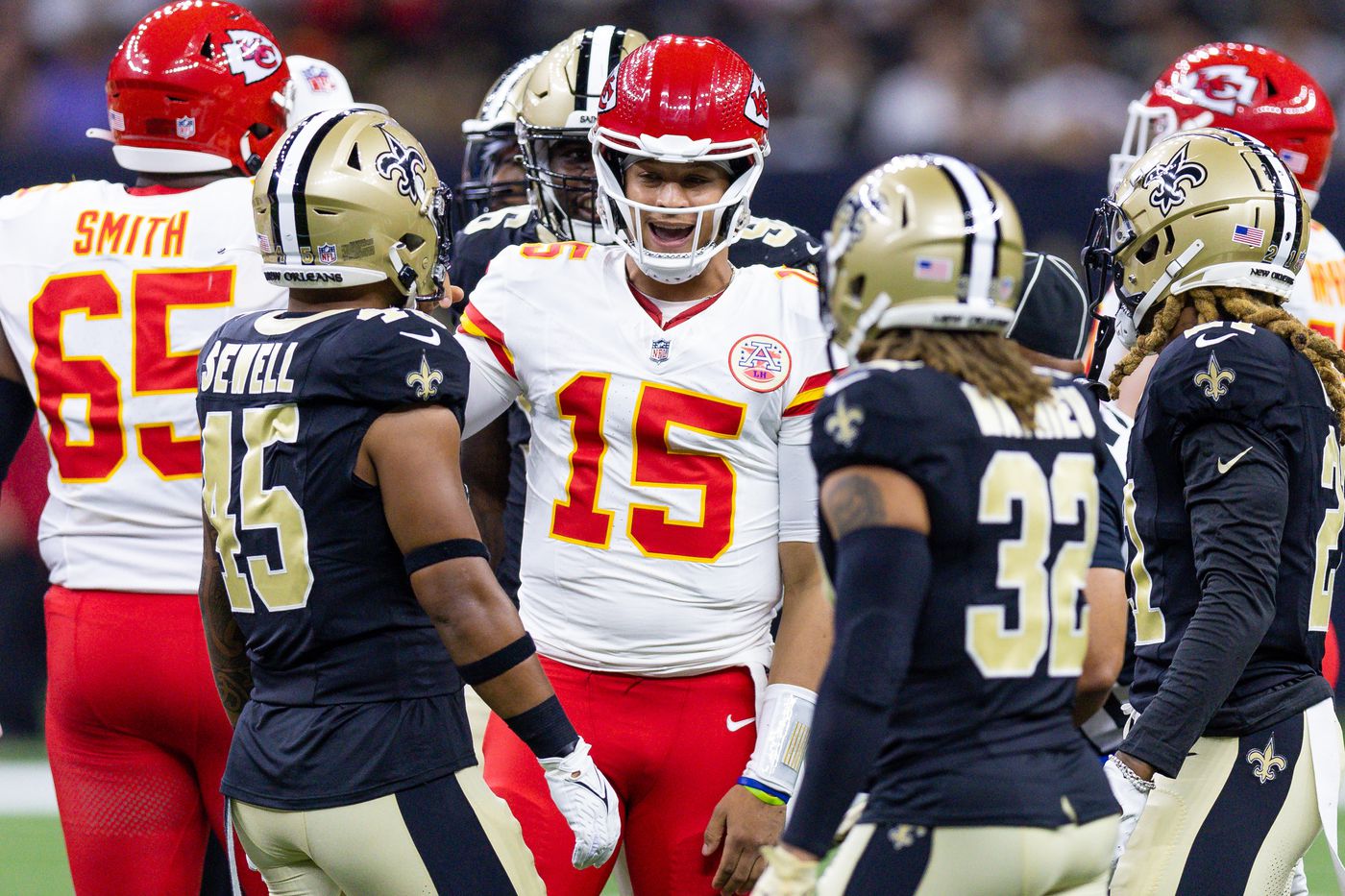 In a pivotal matchup that marks the onset of the football season, the New Orleans Saints faced off against the Kansas City Chiefs in what can only be described as an insightful preseason opener. This game presented many lessons, glimpses of potential, and areas of improvement, each of which warrants a closer look. Here are four takeaways that we observed from Sunday's' matchup.
1. Derek Carr's' Stellar Debut in Saints Colors
After a notable tenure with the Las Vegas Raiders, Derek Carr marked his first game with the Saints with distinction. Carr showcased his prowess during his sole drive by efficiently completing six out of eight attempts, amassing 70 yards, and connecting for a touchdown. His debut, no doubt, infused optimism and excitement for the season ahead.
2. A.T. Perry: From Draft Underdog to Standout Rookie
A.T. Perry, the former Wake Forest wideout, raised eyebrows when the Saints acquired him in the sixth round — a placement many experts considered a significant underestimation of his skills. On his professional debut, Perry echoed that sentiment. He was a beacon for the Saints, hauling six receptions for 70 yards, including a touchdown. His performance demonstrated his talent and indicated he might be the draft's dark horse.
3. Concerns Rising Over Saints' Running Back Depth
The game against the Chiefs exposed vulnerabilities in the Saints' rushing department. Rookie running back Kendre Miller's outing was less than inspiring, with a meager five yards from four attempts. To add to the woes, Miller's knee injury, currently under evaluation, might sideline him further. This setback comes when the team already grapples with the absence of their star back Alvin Kamara, who will be serving a suspension.
Meanwhile, Eno Benjamin's Achilles injury has ruled him out for the season. The confluence of these setbacks highlights the pressing need for reinforcements. With Kareem Hunt leaving the Saints' facility without finalizing a deal and considering his subsequent non-committal workout with the Colts, New Orleans might have to revisit and potentially sweeten their offer to fortify their running back depth.
Update: According to NFL insider Jordan Schultz, the Saints will work out former Chiefs running back Darrell Williams on Monday.
4. Jake Haener: Promising, But Not Quite Ready for QB2
The Saints training camp saw numerous reports and highlights lauding Jake Haener. But as the preseason game against the Chiefs revealed, on-field performance against a genuine opponent offers a more accurate barometer of a player's potential. Haener's stats were respectable, with ten completions out of 17 attempts, accumulating 105 yards, and registering a touchdown and an interception. His leadership and skillset shone during the game's final moments, guiding the Saints to a touchdown. Yet, despite his commendable performance, he isn't poised to displace Jameis Winston as the second-choice quarterback — at least not yet.
What Lies Ahead?
The Saints will head to the West Coast for a joint practice with the Los Angeles Chargers a few days before their preseason matchup on August 20.
Show Your Support
Support the great work of the Strike 7 Sports Saints Discussions Section by buying licensed NFL fan gear. Items ranged from Saints hats, jerseys, t-shirts, socks, etc. We would greatly appreciate it if you would buy these items from the text link listed below. The revenue generated from today's offer goes into the funding of the Strike 7 Sports platform. Click on the link below if you are interested.