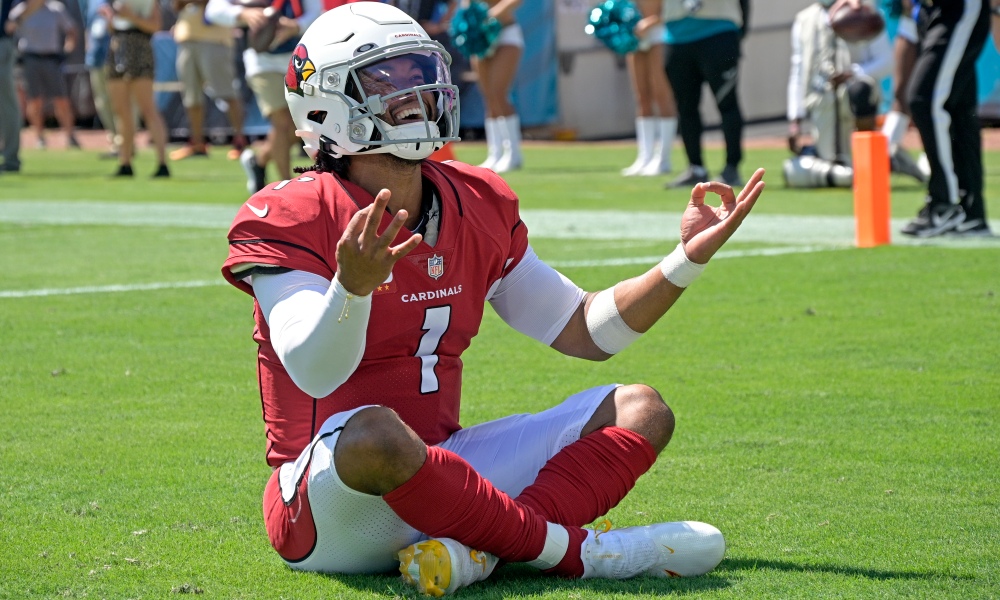 Patrick Mahomes, Josh Allen, Aaron Rodgers, Tom Brady – if you looked at an NFL MVP prediction article at the start of the season, those were the names you could bank on seeing.
But with three impressive games under his belt to start the year, a new name has entered the chat: Arizona Cardinals quarterback Kyler Murray.
Murray has long been known as the electrifying, dual-threat quarterback at the centerpiece of an exciting Kliff Kingsbury offense. He showed flashes of brilliance in a rookie season in which he was one of the only bright spots on a Cardinals team that finished 5-10-1. An even more impressive sophomore campaign in which he threw for 26 touchdowns and just barely missed the 4,000 passing yards mark proved to fans that he was the real deal. Now, in his third year in the league, it looks like he's made his biggest jump yet.
Currently, Kyler Murray is one of just three quarterbacks to eclipse 1,000 passing yards this season (Carr, Brady) and he's done it in fairly commanding fashion. He hardly broke a sweat in Week 1 against Tennessee, a game in which the Cardinals won by 25 points and Murray went for 289 yards and 5 total touchdowns. He followed that up with an eye-catching 400-yard game in a nail-biter against a stingy Minnesota defense in Week 2 – one of only four quarterbacks to reach that mark in a single game this season – and a Week 3 win in Jacksonville saw Murray come alive late and go for 316 yards and a rushing score.
But where some preseason MVP favorites have been building their resumes by hurting teams through the air, Kyler Murray has been doing it with his legs as well. He's found paydirt in each of the Cardinals' first three games of the season – a feat not repeated by Derrick Henry, Saquon Barkley, or Dalvin Cook. In fact, the only player in the entire league who's scored a rushing touchdown in each of the first three weeks of the season is the man taking snaps for Arizona.
And it's not just moments of individual brilliance that have me convinced that Murray is currently leading the MVP race. His full body of work, compared to other quarterbacks, has been right up there with the best. He's thrown for 1,005 yards through three games, which is good for third in the league. His seven passing scores put him inside the league's top ten (despite a game against Jacksonville in which his only appearance in the end zone came via his legs) and he was the first quarterback in the league to reach ten total touchdowns – a stat in which he still leads.
Statistically, he's been one of the league's best quarterbacks. But there's one other advantage that he has over the others in the conversation, and it may carry the most weight.
His team is still undefeated.
So far, every other player in the MVP conversation has tripped up somewhere. Aaron Rodgers was humbled by the Saints on the opening week of the season. Patrick Mahomes took his first career September loss on Sunday Night Football in Week 2 against the Ravens, and then came up short again against Justin Herbert and the Chargers a week later. Tom Brady's Buccaneers didn't lead at any point in their game against the Rams in Week 3. The Bills got tripped up in Week 1. Russell Wilson's Seahawks have lost back-to-back games. It's actually quite shocking that so many leading MVP candidates aren't getting out of the month of September with an unblemished record. It's even more impressive that Kyler is the last one standing.
Don't take it from me, either. Take it from Vegas. After entering the NFL season ranked anywhere between the eighth- and twelfth-favorite to take home the league's MVP award, Murray has climbed all the way up the ladder and now owns the best odds to win the trophy at the time of writing. Before the season kicked off, his best odds sat all the way at +1800. After a fantastic opening three games, that has plummeted to +550.
There's still plenty of football to be played, and there are a number of outside quarterbacks who look to be entering the conversation with Murray. Derek Carr looks to have turned back the clock to 2016. Justin Herbert just came out on top of a back-and-forth duel with Patrick Mahomes. Running backs like Derrick Henry and Nick Chubb have looked fantastic to start the season.
But Kyler's improvements – from his rookie season to 2019, and even more so from last season to the start of this one – make the mind wonder what his true ceiling is in 2021. His talent and potential are undeniable, and he's playing in an offensive scheme under Kingsbury that likes to score points (103 is tied for the most in the league!). He'll get his chances to put up lopsided numbers.
Of course, there's still thirteen weeks to play, and quarterbacks like Patrick Mahomes, Tom Brady, and Aaron Rodgers are only going to get better as the season progresses. But as the month of September appears in the rearview, it's not Mahomes, Brady, or Rodgers that's leading the candidates around turn one.
It's Kyler Cole Murray.