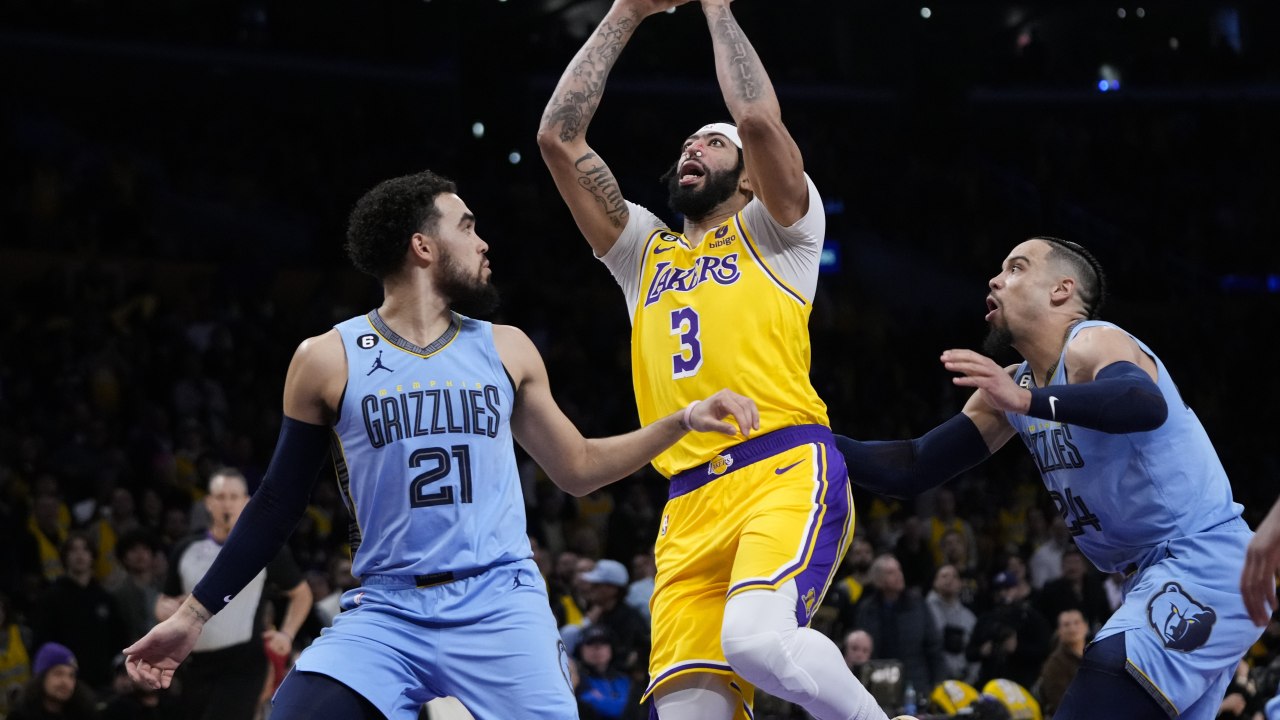 When Anthony Davis is locked in, he is a top-five player in the league. And that's what the Memphis Grizzlies witnessed on Tuesday night. The former number-one overall pick dropped 30 points and grabbed 22 rebounds in last night's 112-103 victory over the Grizzlies. The Former Kentucky Wildcat is difficult to stop when he is healthy and plays on the court. Memphis did a poor job of countering his production in Tuesday's defeat. Jaren Jackson Jr. led all Grizzlies' scores with 26 points.
His teammates Xavier Tillman, Tyus Jones, and Dillon Brooks chipped in with 11, 16, and 13 points. But it was enough to rattle AD and the Lakers. Their bench had players such as Austin Reeves and Rui Hachimura combined for 34 points as part of the Lakers' second unit.
As for the Memphis bench, it was an off-night. Trade acquisition, Luke Kennard has to get more involved in the offense's production, especially with Ja Morant out of action. Kennard only played 19 minutes and scored six points in Tuesday's loss. Another player out of sync on Tuesday was shooting guard Desmond Bane. Despite playing 35 minutes, Bane only scored seven points and was 0 of 5 on 3-point attempts.
The loss was the Grizzlies' third-straight and second without the presence of star PG Ja Morant on the court. The two-time All-Star is currently out until further notice due to off-the-court incidents that the NBA and a reported probe by Denver police are currently investigating. Morant was seen on an Instagram live video celebrating with an apparent firearm in the footage. "The margin for error is really small right now," coach Taylor Jenkins said. "It's our third rough patch of the year. We always find a way to respond."
When asked when Morant would return to action, Jenkins could not give a definite answer. "We're in touch with him every single day," Jenkins said. "He's still a huge part of what we do. As I said the other day, we love him. We want what's best for him. We support him. … It's a healing process, so if everyone expects something to change overnight, we've got to (do) due diligence and be respectful in that. We're talking about Ja being in a better place personally and also professionally, so to put a timetable on it is disrespectful, in my opinion."
As Jenkins stated in his first statement on the loss, it's their third rough patch of the season. However, with their player out of action for the time being, someone needs to step up and become the closer they do not have. Even with Morant in the fold, Memphis has difficulty closing out in the second half. The team has enough talent to get by without him, but when they cannot finish off an opponent in the fourth quarter, that can lead to a downward spiral as the race for the playoffs slowly picks up.
What Lies Ahead
The Grizzlies return home to FedEx Forum for another colossal game when they host Steph Curry and the Golden State Warriors.
Show Your Support
Introducing Atlas VPN, the perfect partner for Strike 7 Sports enthusiasts! With Atlas VPN, you can enjoy lightning-fast internet speeds and unrestricted access to your favorite sports content anywhere in the world. Plus, for every subscription purchased, a portion of the proceeds go directly to supporting the Strike 7 Sports brand. By subscribing to Atlas VPN, you're investing in your online security and privacy and the growth and success of your favorite sports brand. So why wait? Sign up for Atlas VPN today and support the Strike 7 Sports community while enjoying the ultimate online experience.