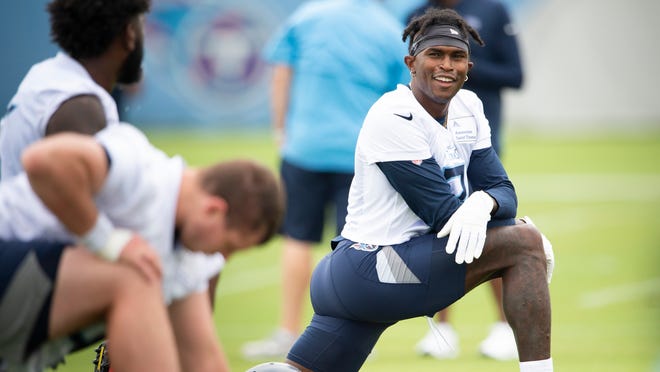 The Latest Moves by the Tennessee Titans Show They Are All in to Win a Super Bowl Title

The Tennessee Titans have made tremendous strides under the Jon Robinson and Mike Vrabel regime. They have made it to the postseason the past two seasons and were one win away from the Super Bowl in 2019.
They have not gotten over the hump, so they knew they had to make some moves this offseason to have a chance to get to the Super Bowl. Also, Robinson and Vrabel see that they have a two-to-three-year window to try to win the Super Bowl with the core of guys they have.
The Titans have made many good moves this offseason, but the last two have been essential decisions that address vital needs. The first move was trading for Julio Jones. They needed to get another receiver to go with A.J. Brown after losing Corey Davis in free agency.
Now, the Titans can be one of the best offensive teams in the NFL. NFL defenses cannot take away everything. If the defenses try to load the box to stop star running back Derrick Henry, they will leave one-on-one opportunity with Julio Jones and A.J. Brown. If they try to double Julio Jones or A.J. Brown, that will be one less defender to stop Henry, which will make the Titans give the ball to Henry more.
The Kansas City Chiefs are still the team to beat in the AFC, and the only way to defeat them is to have a potent offense that can keep up with them. The second move they made and probably the most important move they made outside of trading for Ryan Tannehill is to hire a data analyst to help with analytics.
Analytics is an essential tool that sport's teams use in the modern era of sports to help them with many things that use data. For example, the Philadelphia Eagles stated that a lot of the success that ultimately helped them win the Super Bowl in 2018 had to do with their willingness to embrace analytics.
The Titans decided to bring someone in their organization who could help them with that. They could still add a few more pieces with the remaining cap space to fill in other roster holes. They could use another pass rusher, tight end, and veteran quarterback.
This team can beat anyone in the NFL and ultimately win the Super Bowl if they put all the pieces together.
Support the Strike 7 Sports platform's growth by heading over to Fanatics.com and purchasing officially licensed gear from the National Football League. Each purchase made through the text link below goes into the funding of the Strike 7 Sports brand. To proceed, click on the link below and enjoy shopping over at Fanatics.

Photo courtesy of The Tennessean