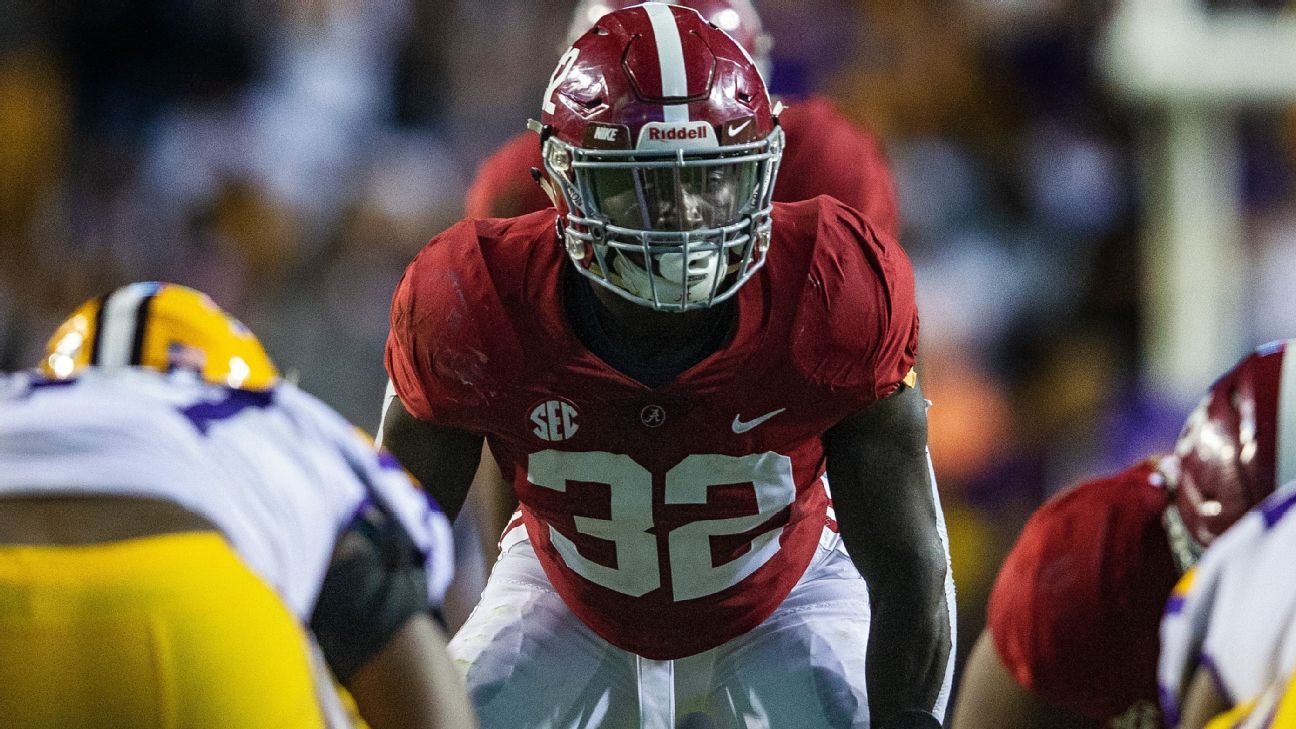 Four Linebackers that the Saints Should Target in the 2020 NFL Draft
The buzz about the 2021 NFL Draft is well underway. Mock drafts from various publications are popping up left and right on which players will be joining the professional ranks of playing football. As for the New Orleans Saints, many draft experts project that the Saints could go in the direction of selecting a cornerback or a linebacker in the first round of this year's NFL Draft.
The team has needs in various positions on defense such as cornerback, linebacker, and defensive tackle. One particular area of the defense that will need to be addressed going into training camp is the linebacker position.
More preferably, the linebacker that lines up next to All-Pro Demario Davis. Last season, Kwon Alexander was acquired in a trade from the San Francisco 49ers. Alexander performed exceptionally well during his time with the Saints defense. Offenses could no longer attack the Saints as they had done in earlier parts of the season.
That is due to the presence of Alexander being on the field. He came in and became a starter in his first game of being with the team. Alexander's run with New Orleans was cut short after he suffered a torn ACL injury versus the Minnesota Vikings last season. Due to Alexander's impending salary, the Saints decided to release the former LSU linebacker. Alexander can still return to the Saints, but it will be on a much lower number due to the salary cap constraints.
Even with the return of Alexander to the Saints roster, he still will have to prove that he is back to being at full strength. He suffered the torn ACL injury in the second to last game of the season. Outside of Adrian Peterson, it is tough for a player to be ready to perform by week one of the following season, especially if they are coming off an injury such as Alexander versus Minnesota.
Linebackers such as Kaden Ellis and Chase Hansen can be impact players for the Saints defense. But they have failed to stay healthy for an entire season. Saints Discussions list four linebackers that the team needs to have on their radar once the 2021 NFL Draft begins. Each linebacker on the list will have a scouting report that shows what they can excel at on the field along with their shortcomings.
1. Zaven Collins: Tulsa
Scouting Report
Positives: "Explosive, game-impacting linebacker who was a three-year starter for Tulsa. Instinctive, breaks down well, and quickly locates the ball handler. Forceful up the field and plays with balance as well as body control. Gives effort defending the run and attacks assignments as well as opponents. Big, strong, and defeats blocks to make the play."
Easily gets back to playing balance off the initial block and quickly changes direction or alters his angle of attack without losing momentum. Terrific pass rusher who bends off the edge with speed. Explodes through gaps to penetrate the line of scrimmage. Very effective making plays in space, fluid moving laterally and shows speed in pursuit. Stays with assignments, possesses solid ball skills, and stands out in coverage."
Negatives: "Not overly quick. Occasionally gets caught upfield and out of position."
Analysis: Based on the footage of Collins, he is everything that the Saints were hoping for in last year's pick in Zack Baun out of Wisconsin. Collins is very capable of playing in coverage situations and may be able to become the guy opposite of Cam Jordan that can come and contribute. His 6'4 frame at the linebacker position makes him an intriguing selection for the Saints at 28.
2. Jeremiah Owusu-Koramoah: Notre Dame
Scouting Report
Positives: "Explosive linebacker with a three-down game. Instinctive, quickly locates the ball, and sells out making plays. Gives outstanding effort, breaks down well, and shows terrific range on the field. Effectively uses his hands to protect himself, plays with force, and possesses a closing burst bearing down on the action. Gets depth on pass drops, works to get his head back around, and shows solid ball skills. Flows well laterally, displays ability in pursuit, and runs ball handlers down from the backside."
Negatives: "Not a stout tackler. Struggles handling blocks head-on."
Analysis: It's not always good to make comparisons to great players in the league compared to rookies. Still, Owusu-Koramoah could be the Saints version of Bucs linebacker Devin White. His ability to quickly locate running backs coming out of the backfield could benefit the Saints defense in many ways. Owusu-Koramoah is also proficient in locating the football.
The Notre Dame linebacker's knack for getting his hands on the football is something that changes the momentum of a lot of games for New Orleans going forward.
3. Jabril Cox: LSU
Scouting Report
Positives: "Athletic, disciplined run-and-chase linebacker with solid size. Agile, fluid moving laterally, and gets tremendous depth on pass drops. Efficient, instinctive, and goes sideline to sideline covering a terrific amount of area. Remains disciplined with assignments, effectively reads the action, and takes proper angles to plays."
"Quickly picks up coverage assignments, stays with backs downfield, and plays to his 40 time. Fluid in his hips, possesses good change-of-direction skills, and really stands out in coverage. Effectively uses his hands to protect himself and is rarely off his feet."
Negatives: "Not overly stout and doesn't stack well against the run. Struggles taking on blocks."
Analysis: The Saints selecting Jabril Cox would finally end the infamous "The Saints do not select LSU players" narrative that is always discussed on social media networks and team message boards. Cox is a well-disciplined linebacker and understands the importance of taking proper angles on plays bodes well for the Saints. His inability to properly take on the run can be masked due to the Saints' stout rush defense.
4. Dylan Moses: Alabama
Scouting Report
Positives: "Underrated linebacker coming off a somewhat disappointing campaign. Plays with outstanding awareness and instincts, and remains disciplined with all his assignments. Athletic, covers a lot of area on the field, and shows tremendous range in both pursuit and coverage. Fluid, flows to the action laterally, and takes proper angles. Efficient gets out into space to make plays, and wraps up tackling. Breaks down well, does an outstanding job using his hands, and is rarely off his feet. Fluid pedaling in reverse. Does not bite on ball fakes and does a great job quarterbacking the defense."
Negatives: "Seemed to lose some explosion after his 2019 injury. Was not the same playmaker last year as he was in previous seasons. Out-positioned from the action by blocks."
Analysis: In almost every mock draft that's out there, Alabama linebacker Dylan Moses is not listed as one of the top players at the position. That's mainly due to Moses suffering an injury during the 2019 season.
If the Saints can choose Moses in the later rounds of the draft, the selection could be a steal. Moses attributes can fit in any system at the professional level. Not every player is capable of recovering from torn ACL injuries at a fast rate. The selection of Moses would be a high-risk versus high-reward pick for the Saints.

Player scouting reports are from Pro Football Network's Tony Pauline.
Analysis written by Saints Discussions on Strike 7 Sports lead writer Derrick Branch.
Support the work of the Saints Discussions on Strike 7 Sports by purchasing the brand new 2021 New Orleans Saints Official NFL Draft Hat. The hat will be worn by the players that get the call from Commissioner Roger Goodell that they will be playing for the Black and Gold.
We would greatly appreciate it if you would purchase these items from the text link listed below. The revenue generated from today's offer goes into the funding of the Strike 7 Sports platform. Click on the image below if you are interested.