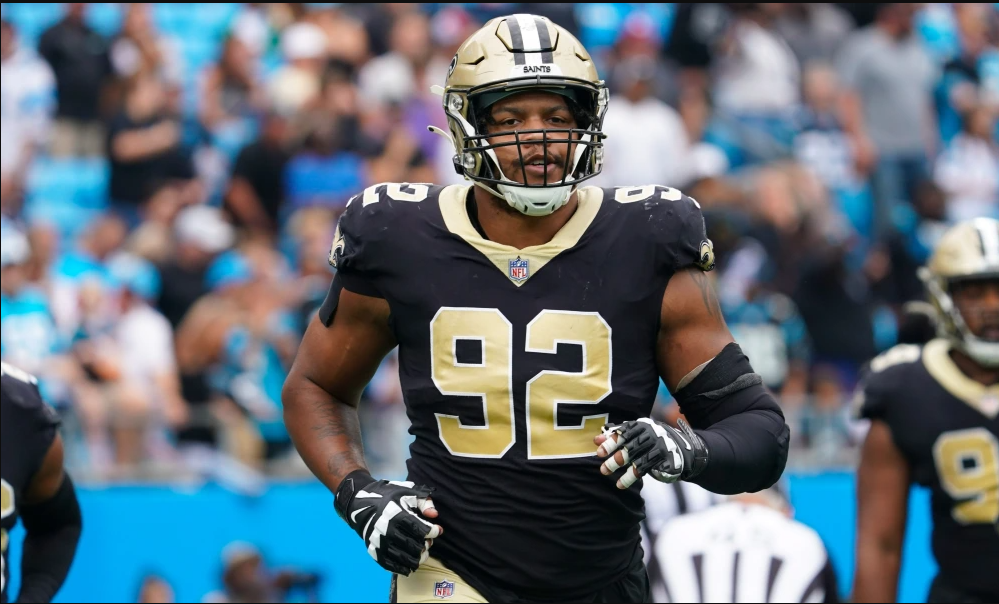 All signs have pointed towards defensive end Marcus Davenport not re-signing with the New Orleans Saints once free agency kicks off on March 15. The team has every right not to extend the former UTSA standout. The notion was that Davenport would be a highly coveted free agent that the Saints would re-sign to a lucrative contract. Davenport did not build off his career-high 9.5 sack campaign in 2021. Instead, the former first-rounder only recorded 0.5 sacks this season.
When the Saints selected Davenport in 2018, he was viewed as a player with unlimited potential as a pass rusher. His inactivity has sometimes led to many debates on social media, YouTube, and message boards about the Saints passing on Lamar Jackson and drafting Davenport instead.
Until the Saints find the right guy at quarterback, the discussion will be a never-ending debate. In a recent NFL free agency mock draft for 2023, CBS Sports NFL writer Cody Benjamin predicted that Davenport would sign with the Houston Texans.
"Five years into his career, Davenport's name is still a bit bigger than his resume. But Houston needs immediate and long-term help off the edge, and at 26, he's still got room to grow. He also flashed Pro Bowl ability in 2021 with a nine-sack breakout. If anyone could help him reach the next level, it'd probably be DeMeco Ryans, who led San Francisco's nasty front."
It's not a far-fetched idea of Davenport signing with the Houston Texans. The team has a tone of cap space and could sign him to a short two to three-year deal to see if he finally lives up to his potential. The Texans hired 49ers defensive coordinator DeMeco Ryans as their new head coach. Ryans was instrumental in the growth of a 49ers defense that has been the best in the league for the past two seasons.
Show Your Support
Support the great work of the Strike 7 Sports Saints Discussions Section by buying licensed NFL fan gear. Items ranged from Saints hats, jerseys, t-shirts, socks, etc. We would greatly appreciate it if you would buy these items from the text link listed below. The revenue generated from today's offer goes into the funding of the Strike 7 Sports platform. Click on the link below if you are interested.