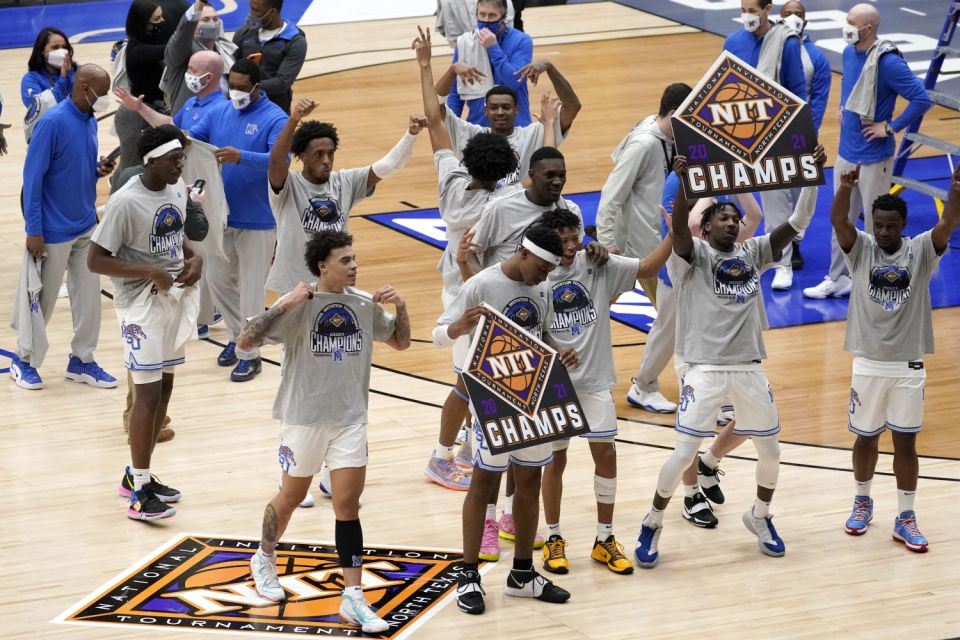 Mississippi State Versus Memphis: NIT Finals Recap
Final Score: MISS ST-64-MEM-77
Location: Comerica Center, Frisco, Texas
The Memphis Tigers did not qualify for this year's NCAA tournament, but they still could finish the season on a positive note. On Sunday, the Tigers won their first NIT title since 2002, when they defeated the Mississippi State Bulldogs 77-64.
Memphis dominated from the start and would never look back as they cruised to their second NIT title. Whenever the Bulldogs tried to reach the Tigers' lead, Memphis quickly responded by making big shots.
Guard Boogie Ellis had another big day by scoring 23 points in Sunday victory over Mississippi State. Olive Branch, Mississippi native D.J. Jeffries continues his contributions coming off the bench as he scored 15 points. Throughout the NIT tournament, the Tigers have played the best basketball that we have seen under Head Coach Penny Hardaway.
Except for the two close losses to Houston, the Tigers played like a team that deserved to be a part of the NCAA tournament scene. By winning the NIT tournament, the Tigers have much-needed momentum to go into next season. The team deserves to be ranked as a preseason top 25 club to start the 2021-2022 campaign.
"We have so much talent that we kind of get in each other's way. If we could ever figure it out, man, we could be scary. We lost to Houston twice without Alex Lomax, who is our best defensive guard and our leader. To be able to win this thing without him shows what these guys are made of, so we're headed in the right direction." Hardaway said at the postgame press conference of the NIT championship game.
The Tigers' current starting five consists of DeAndre Williams, Lester Quinones, Landers Nolley ll, Boogie Ellis, and Mousse Cisse. If those five players mentioned return for next season, then Memphis, without question, will be an Elite 8 team for 2021-2022, especially if they continue to perform as they have been during the NIT tournament.
Even if the Tigers lose some of the five starters mentioned to the NBA, Coach Hardaway is known for finding talent using methods such as the transfer portal and his ability to lure four and five-star recruits to the program. Memphis fans should have a lot to be proud of, as this team finished the season on a high note by winning the NIT championship. The many possibilities of what this program could accomplish in the future are endless.
Support the great work of the Strike 7 Sports Memphis Tigers Section by purchasing licensed NCAA fan gear. Items ranged from Memphis hats, jerseys, t-shirts, socks, and so much more. We would greatly appreciate it if you would purchase these items from the text link listed below. The revenue generated from today's offer goes into the funding of the Strike 7 Sports platform. Click on the link below if you are interested.
Memphis Tigers Fan Gear Offers from Fanatics.com.
Photo courtesy of The Associated Press.